Pol Granch Spits Out His Feelings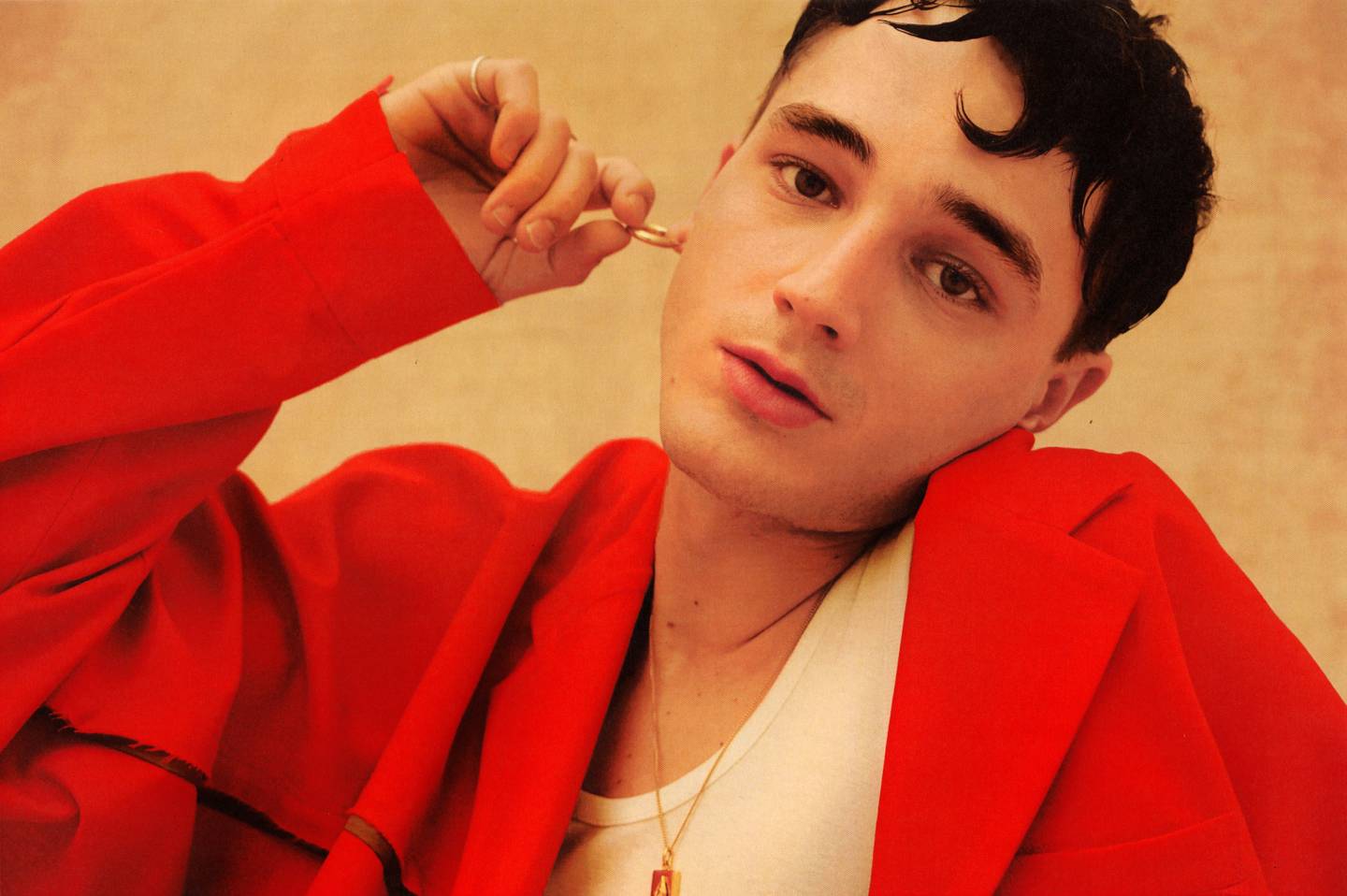 Pol Granch Spits Out His Feelings
33
Life is coming at Pol Granch faster than a flying spit wad. In the past year and a half, the Spanish singer-songwriter has gone from local celebrity to global pop star. On the heels of the smash hit "Tiroteo" with Marc Seguí and a feature role in the Netflix series Elite, Granch released his new album Amor Escupido today (October 28). The title translates to "Spat-Out Love" in English, and on the record's 16 tracks, he lets his feelings fly over moody instrumentals that span rock, pop, and house music. That alternative angst has landed Granch a nomination for Best New Artist at this year's upcoming Latin Grammy Awards.
"It's like an explosion in my head that I can't believe," Granch tells MTV News in Spanish over Zoom. "It's a dream! I'm very thankful. The truth is it's an achievement because it's very exciting to see that after working so hard that good things are coming."
Though Granch's success may appear to have happened overnight, his journey has been years in the making. He was born Pablo Grandjean in Madrid to a French father and a Spanish mother. That multicultural experience is reflected in the artists he grew up listening to, from French singers Francis Cabrel, Jacques Brel, and Johnny Hallyday to Spanish pop star Dani Martín. Granch was also listening to bands like Blink-182, My Chemical Romance, and Tokio Hotel. Another staple in his house was The X Factor series. "I followed all versions around the world," he recalls. "I loved it and fantasized about all of that."
Granch's dreams seemed within grasp when Factor X was revived in Spain in 2018 after a decade off the air. "When it came to my country, it gave me a lot of hope," he says. "I participated in the casting to try my luck, and I was lucky and they picked me." Granch competed as part of Italian singer Laura Pausini's team. After weeks of singing for the Spanish public, he was voted the winner in July 2018. "I'm eternally grateful to the show for everything that I learned there and the maturing process it allowed me to go through," Granch says. "Everything started happening at once and I couldn't believe it."
Granch solidified himself as a bona fide pop star in Spain with his self-titled EP in 2019 and his debut album, Tengo Que Calmarme, the following year. However, Granch's global breakthrough came when he collaborated with fellow Spanish singer Seguí for the darkly dreamy "Tiroteo" Both artists traded verses about a romance that felt like being held at gunpoint. "From the first moment, I was confident that this would be a hit because it was a beautiful creative process," Granch says. "I'm super grateful that they had me be part of the song." In 2021, Puerto Rican singer Rauw Alejandro jumped on the remix, which saw the success of the collaboration skyrocket around the world.
As the "Tiroteo" remix racked up over 393 million streams on Spotify, Granch was also cast in Elite, the Netflix series that helped Mexican singer Danna Paola's music career reach a wider audience following her starring role. Granch's followed suit. In seasons four and five, he played haughty French-Spanish prince Phillipe von Triesenberg, marking Granch's first major acting role, which he admits was a new challenge. "I worked very hard to do my very best and I don't think it was bad," Granch says. "I haven't watched it because I get embarrassed and I don't want to see myself. [The show] opened many more doors for me and allowed people who didn't know about me before to get to know me."
With Granch under a global spotlight, his controversial past has started to resurface. Homophobic and sexist tweets from a Twitter account that he had when he was 15 years old started making the rounds online. Spanish rapper Sara Socas called him a "misogynist" after she claimed he disrespected her at a party in 2019. And last year, Granch was accused of "mocking" his ex-girlfriend Natalia Lacunza during a concert. In March, he posted a lengthy apology video on his Instagram account. "I want to clarify that I am not like that, and I am not that kind of person, and therefore, I apologize to all the people who may have felt offended at some point by me because that was never my intention," he said in the video. "I strongly defend a society in which everyone can have the same rights and the same opportunities regardless of gender and sexual orientation."
Granch previously apologized for the tweets in 2020, but he wanted to do it again on Instagram given all the recent claims. "It was a necessary message to make," he says. "I still have the message up so people can see me and get to know who I am." About the tweets, Granch says that he was a "stupid kid" who was trying to fit in the wrong crowd. On his past relationships, he adds, "Like all relationships, there have been processes more toxic than others, better than others, and worse than others." He reiterates, "I asked for forgiveness for everything that has to do with me and the hurt that could have caused because I'm not a bad person. There's no room for hate."
Granch mentions he lives with a lot of anxiety and that his album Amor Escupudo was an outlet for those emotions. He describes Amor Escupudo as a diary where he spits out his feelings. Embracing the recent pop-punk revival, Granch unleashes a guttural scream in the emo "No Te Bastó, Mi Corazón" and promises things will get better in the electrifying "Kriño." He also channels his angst into the synthpop tearjerker "Solo x Ti" and his deep house love song "De Colegio" that includes a sinister trap drop. Granch recorded the R&B-infused "No Pegamos" in Spanish and French.
Granch singles out the album's most telling track as his favorite, the racing "Velocidad a Tope." The song is about going full speed ahead, and with the recent momentum of a Latin Grammy nomination, he's not slowing down anytime soon. Granch is working on a second part of Amor Escupido and will make his big-screen debut next year.
"Now I'm more conscious of what I'm doing," Granch says. "I have more discipline, I'm working harder, and everything is much more clear. I'm already creating things for the future."