Jin's Journey As 'The Astronaut' Has Just Begun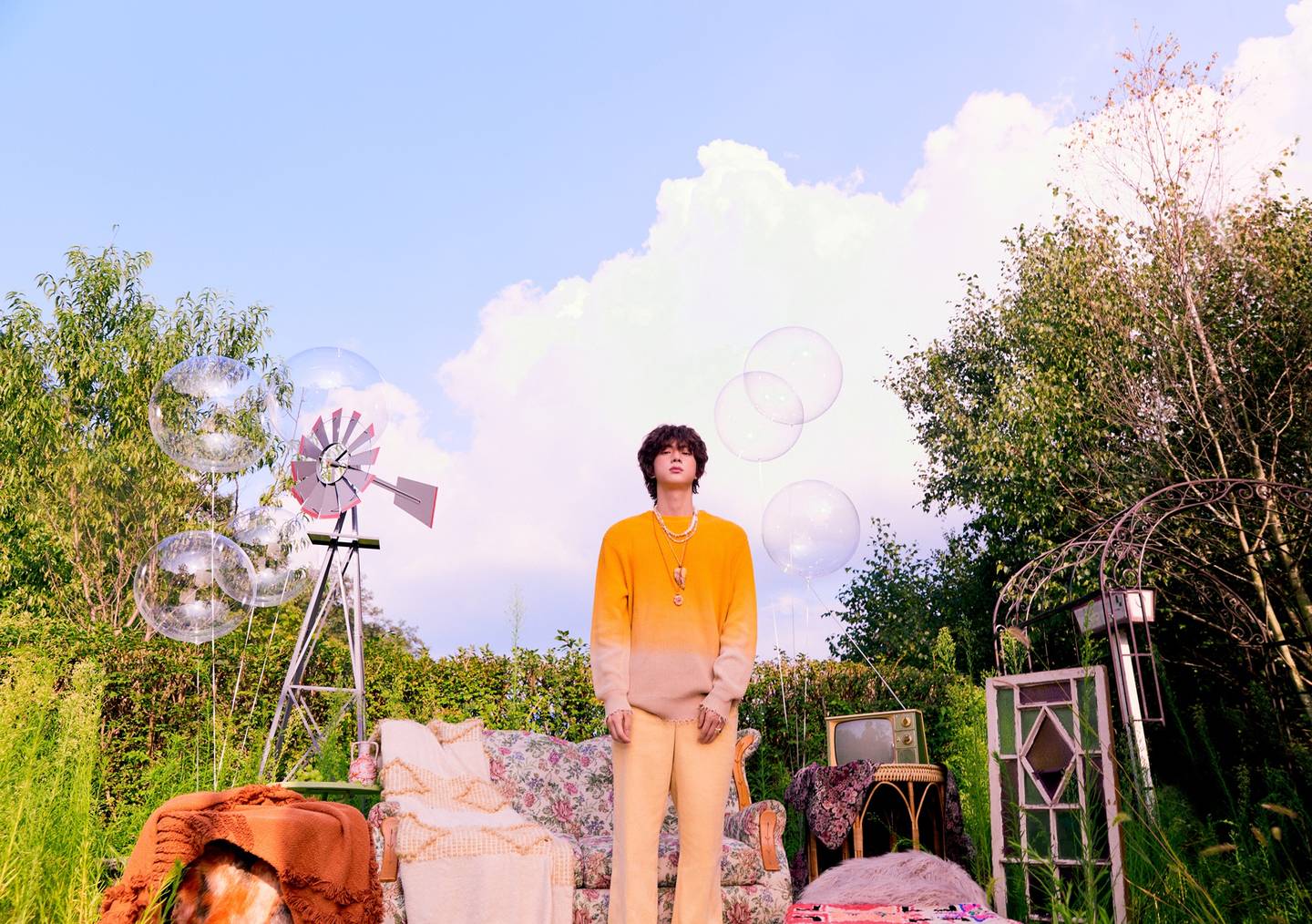 Jin's Journey As 'The Astronaut' Has Just Begun
44
For almost a year, debates about whether or not BTS should be exempted from South Korea's compulsory military service have raged. However, it wasn't until a few weeks ago when the group members and their label, Big Hit Music, confirmed the group's forthcoming conscription, after conquering the city of Busan for their Yet to Come in Busan concert. The statements said all members would enlist once their respective individual schedules have been completed — starting with BTS's oldest member, Jin.
But what also stood out from the statement was the announcement of Jin's highly anticipated solo project. On the tail of the successful energy-boosting 2021 solo single "Super Tuna" — "I hope many people don't know this song!" he said on rapper Lee Youngji's YouTube Show No Prepare. "It's very embarrassing." — the Korean superstar has gone from land to sea to, now, space in his musical journey. In what can be seen as the ultimate passion project, Jin's artistic path comes full circle with his brand-new single "The Astronaut," out today (October 28).
For over nine years, Jin, whose real name is Kim Seok-jin (known to fans as Mr. Worldwide Handsome), has made history and left his mark alongside fellow BTS members RM, Suga, J-Hope, Jimin, V, and Jungkook. But despite their outstanding global recognition, Jin is still grounded and yearns to do more.On "The Astronaut," Jin connected with his longtime favorite musical act Coldplay as co-writers on the track. (Their song follows last year's chart-topping, certified platinum BTS/Coldplay collaboration "My Universe.")
Following the themes of space, Jin uses "The Astronaut" as a sonic metaphor for his own story, as he blasts into an uncharted new chapter of his life. The song also serves as a love letter to Army when he sings, "When I'm with you, there is no one else."
Just days before his debut performance of the track in Buenos Aires for Coldplay's live broadcasted concert, we caught up with Jin to break down his solo project, his journey, and his artistry.
MTV News: How did this all come about? Because you were always a fan of Coldplay, then you got to work with them last year. Was it from the moment Chris Martin gave you his guitar then?
Jin: When Chris gave me his guitar, I was honestly just too happy to think of anything else at that moment. As you know, I am a big fan of Coldplay! I wanted to write a song with the theme of space, so I reached out to them. The first time BTS and Coldplay were collaborating, I just felt unreal. This time feels a bit different as we wrote the song together. And it's very meaningful to me.
MTV News: How does it feel to become a successful fan?
Jin: It's usually hard to even imagine yourself doing something together with your idol, right? That's why it felt so unreal at first, and I thought to myself, "Oh, I'm pretty big now." [laughs]
I feel that we became closer with each other during this project as I was more involved, compared to our previous collaborative work as BTS. But seriously, I still can't believe that this is actually happening!
MTV News: Can you describe the process of co-writing?
Jin: To me, writing lyrics is not easy. Even if I had a specific message I wanted to get across, writing the lyrics that blended in with the melody was hard. Nonetheless, I had so much fun because I was firm about the message I wanted to portray and show my love towards Army.
MTV News: For times in which you've co-written or assisted in arranging and producing your own projects, how do you cope with creator's block?
Jin: I'm a very simple person. I like straightforward expressions, so I don't try to make it hard. For instance, I write about something I saw earlier in the day just because it briefly caught my attention. So I don't think I've experienced a serious creator's block up until this point.
MTV News: Do you feel like there's more to prove about you every time you release a solo song?
Jin: For solo tracks, there is indeed some pressure that comes from me having to lead the song from the beginning till the end. I'd say it's more of proving to myself how much I've improved over the years rather than having to prove something — skills, creativity, etc. — to someone else. Of course, whenever I release new music, I always hope that our fans will enjoy it. I'm so grateful that our fans can resonate with me through our music.
MTV News: What was the feedback from the BTS members once they heard "The Astronaut?"
Jin: When they first heard the track, some of the members told me that this would be a great track to release in fall. That music also has seasonality. Our members have good taste in music.
MTV News: An astronaut is someone who is on a journey to get to a specific destination in space. In your career, where are you on your journey? Have you found your destination? If so, what is it?
Jin: I don't think I have any specific destination in mind. Rather, I always dream of performing onstage with our members and staying with our fans for a long time.
"The Astronaut" talks about an astronaut who accidentally lands on Earth, but decides to settle down to stay with his loved ones — Army. Anyone can face an unexpected situation just like the astronaut in the song. I believe if I go with the flow even in those unexpected situations, I would get closer to the desired destination one day.
MTV News: You've released a handful of solo tracks in the past: "Tonight," "Moon," "Epiphany," "Awake," "Abyss," and "Super Tuna." Which song is your favorite, and why?
Jin: If I had to pick just one, I'd say "Moon." I love the mood and I actively participated in the making of the track — writing the song, the lyrics, and designing the concept. I love the song! And I just realized both "Moon" and "The Astronaut" portray my love towards Army.
MTV News: You wrote the lyrics with the fondness for fans. As the year is about to come to a close soon, is there anything else you want to say to Army that you haven't had the chance to relay in the song?
Jin: I always have so much to say to our fans. Though I try to convey how much I love them and care about them in the lyrics, it's always never enough. Army makes me a better person and my life happier. Love you, always. [makes a heart with his hands]
MTV News: What's next for you?
Jin: I want to try so much more as an artist, and as an individual, Kim Seok-jin. You will get to see what I can show you more! And my everyday goal is to live a fun, happy life!
MTV News: Last question, Mr. Worldwide Handsome Jin. What would you like to be remembered as?
Jin: WWHF! Worldwide Handsome Forever!