Paramore Returns, Aly & AJ Bring Vibes, And More At Austin City Limits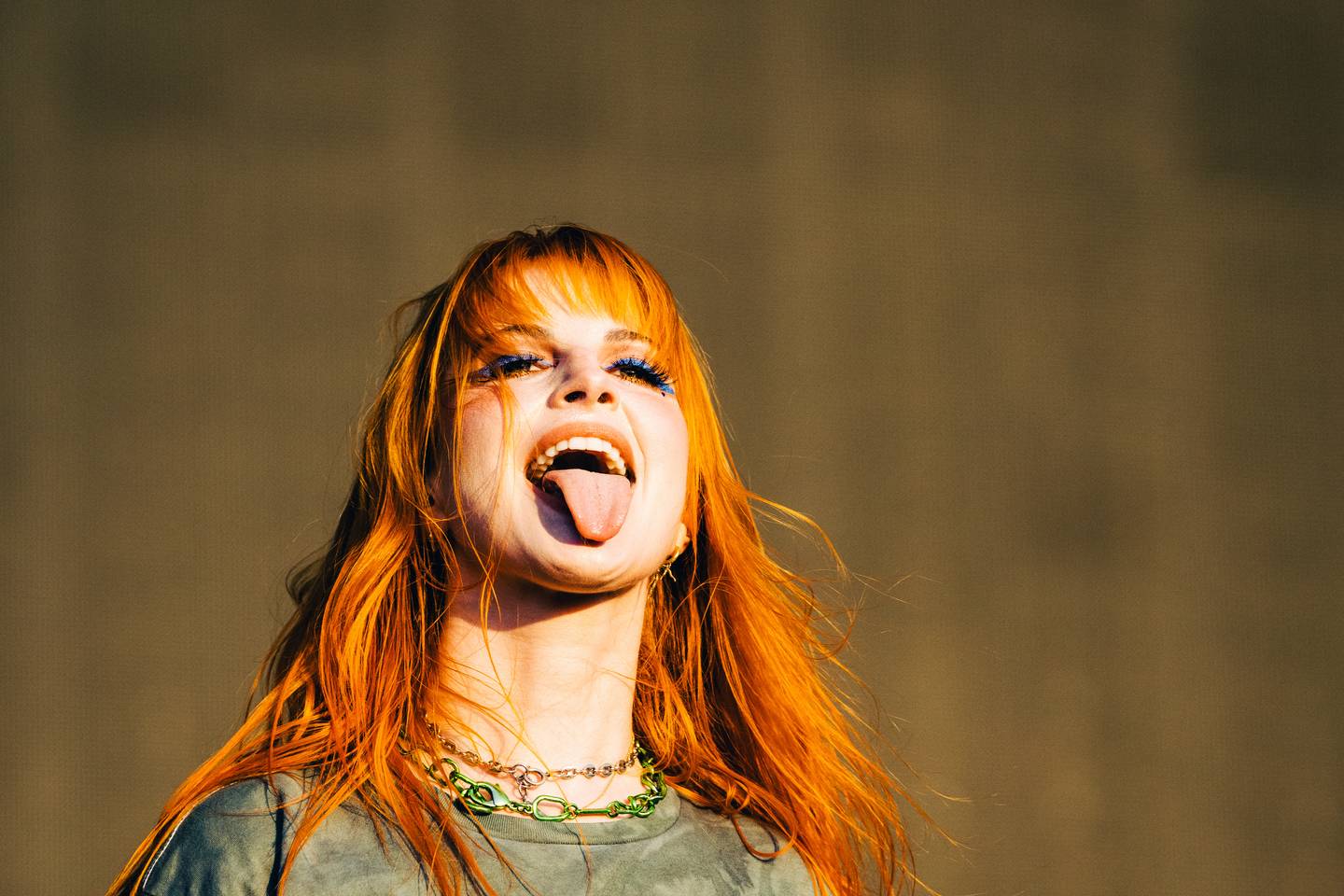 Paramore Returns, Aly & AJ Bring Vibes, And More At Austin City Limits
66
A lot has been made of Austin, Texas dubbing itself the "Live Music Capital of the World," but it certainly lived up to its reputation during the the first of the two weekend-long Austin City Limits Music Festival from Friday (October 7) to Sunday (October 9). There were tunes blasting out car windows, country crooners singing on the patios of restaurants, DIY rappers posted up on the street, and a variety of genres emanating from Zilker Park, where the festival sprawled out across eight stages. Nearly 75,000 people showed up each day for one of the most diverse lineups in recent memory, featuring the likes of Lil Nas X, P!nk, SZA, Red Hot Chili Peppers, Carly Rae Jepsen, and Kacey Musgraves.
The most mouth-watering part of ACL had to be the expansive BBQ Pitmasters tent and its surrounding aromas, marking the first time ever that the fest had dedicated this much territory to the art of barbecuing. The intense aroma of sizzling meats was matched only by the Texas sun, as festival goers braved 89-degree weather to see their favorite artists, who all seemed to share the same sentiment: "It's fucking hot." Still, the vibes were immaculate. Here's everything that went down during weekend one.
Jazmine Sullivan brought out the 'Heaux' in all of us
Fresh off this year's Grammys win for Best R&B Album, singer Jazmine Sullivan brought her concept album Heaux Tales to life on Friday afternoon, accompanied by Yo! MTV Raps host and effervescent DJ Diamond Kuts, who also served as emcee throughout the set.
Dressed in a matching bright orange jumpsuit and top, Jazmine broke up her performance with some of the spoken-word interludes from her 2021 LP, making sure the Black women who made her who she is today were well represented. She kicked off the show with a powerful performance of breakout hit "Bust Your Windows" and a soulful cover of "Killing Me Softly With His Song." While boss-bitch vibes were the prevailing mood, she did take a moment to slow it down. "I know y'all think all I do is bust windows out, but I'm really a lover, y'all," she told the crowd. "I want you to know that." After announcing it was "soft girl season," she launched into the entendre-laden slow jam "On It," and the crowd had no problem picking up what she was putting down.
Aly & AJ made their presence known
Sister duo Aly & AJ are a powerful force onstage, letting their brand of indie-pop wash over a crowd as they bounce between tambourine, guitar, and jiving. Their ACL set was mostly dedicated to performing buoyant tracks from 2021's A Touch of the Beat Gets You Up on Your Feet Gets You Out and Then Into the Sun, a summer-sounding, dream pop-leaning record that was tailor-made for festivals. They opened with the cascading echoes of "Break Yourself" before getting candid about how the COVID-19 lockdown inspired the jubilance of their newest music and one of their most romantic (and anti-social) love songs "Slow Dancing."
Of course, they couldn't leave without paying tribute to their Disney days. The final song in their set was the explicit, freshened up version of "Potential Breakup Song," which calls out an ex for forgetting their "fucking birthday," inspiring the crowd to get up on their feet, out, and then into the sun. As for the music that gets them moving? Backstage, in cowboy boots and matching denim jackets emblazoned with their names in hearts, they said anything by Tame Impala will do the trick ("They just played a show for the tenth anniversary of Lonerism," AJ said, turning to her sister. "I was like, 'Oh my gosh!'") and they're also looking forward to The 1975's Being Funny in a Foreign Language. "We love everything we've heard off the new record," Aly said. The two have also been hard at work on new music in between festival dates, and while they were tight-lipped about its release, they offered three words to describe it: "Soulful, Americana, sisterhood."
An un-P!nkable headliner
P!nk is known for her larger-than-life stadium shows, having broken records with her Beautiful Trauma World Tour back in 2019.  But there was an air of mystery surrounding the "Walk Me Home" singer's set, considering she hasn't released an album since 2019's Hurts 2B Human and has spent the past year keeping a relatively low profile outside of a few one-off shows.
Surprising no one, P!nk did not disappoint, taking the stage with a rousing performance of "Get the Party Started," which kicked off a handful of hits like "Raise Your Glass," "Try," "Just Like a Pill," and power ballad "Who Knew," which she noted had officially reached high-school age. The rest of her set was largely dedicated to covers fit for festival-wide scream-alongs, from a dazzling rendition of "Bohemian Rhapsody," to a beautifully unhinged take on 4 Non Blondes's "What's Up?" and stripped down versions of "Me and Bobby McGee" alongside longtime guitarist Justin Derrico and Bob Dylan's "Make You Feel My Love," which she used as a showcase for some newly learned piano skills.
Still, the highlight of the night came when she disappeared after "Blow Me (One Last Kiss)," then strapped herself into a massive rig. As the unmistakable opening chords of "So What" hit, she took a running start off the catwalk and soared high above the crowd. Without missing a beat, she sang through the kiss-off anthem while doing flips and jumping from pole to pole.  P!nk's mission seems to be that no matter who or where you are, you're going to get one hell of a show.
The undeniable return of Paramore
In case you missed the news – Paramore are back! Their main-stage set on Sunday marked only their third show in three years and their first time ever performing at Austin City Limits. "'Tis an honor," vocalist Hayley Williams said about playing before the Red Hot Chili Peppers, and they kicked off with thumping new track "This Is Why" before taking fans on a guided tour of the hits that have made them an emo, pop-punk, and dance-pop inspiration for nearly 20 years.
With her fiery red hair and a tee that read "End of the Fucking World," Williams made it clear that she had one directive for the audience: dance. Sporting yellow "dancing shoes" that she specifically requested her mother hand deliver before the show, she encouraged the audience to unleash their most uninhibited ugly wiggling. "Take one look at me and you won't feel self-conscious," she teased before launching into "Caught in the Middle." While the energy was mainly dominated by thrashing hits like "That's What You Get" and "Ignorance," Williams took a moment to slow it down with a haunting rendition of "Misguided Ghosts" before cranking the energy up to 11 with "Ain't It Fun."
Returning to the stage after the pandemic was a recurring theme throughout their set. "I love that we get to play at daytime," Williams admitted. "It feels so good to see everyone." After a buoyant performance of "Rose-Colored Boy" that interpolated "I Wanna Dance With Somebody," the band bashed right into "Misery Business," a song they had previously retired after critiques that it was potentially anti-feminist. "I know, I know," Williams teased, referring to its live resurrection. "You better show up and show out." A bird's eye view of the crowd would have shown a mass sea of headbangers – and a particularly on-the-nose sign reading "I'm a Parawhore." Before closing with "Hard Times," Williams took another moment to express her gratitude for getting to kick off another era of Paramore: "It's just really incredible to bring all of us together to do this, and I don't take it for granted."