Nikola Jokic shoving Cody Zeller goes viral and fans congratulate the Denver Nuggets on winning the 2023 NBA championship [VIDEO]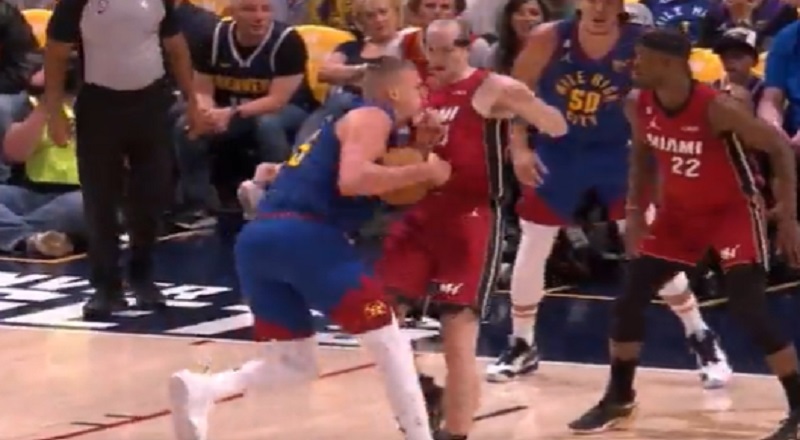 Nikola Jokic shoving Cody Zeller goes viral and fans congratulate the Denver Nuggets on winning the 2023 NBA championship [VIDEO]
13081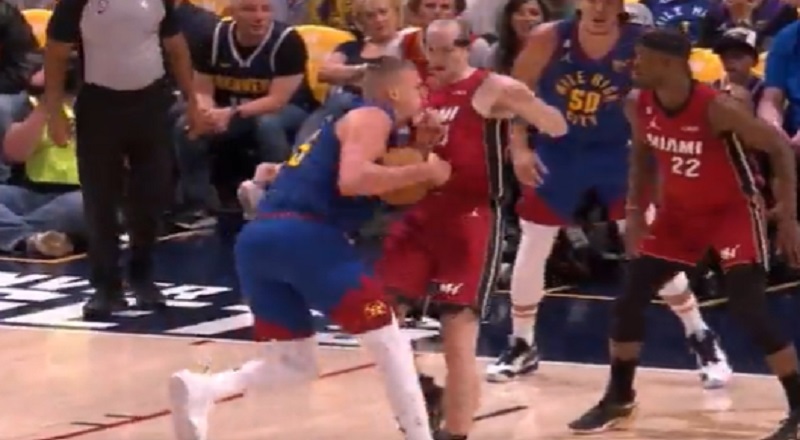 Nikola Jokic shoving Cody Zeller in Game 1 has gone viral
Nikola Jokic thoroughly dominated the Miami Heat in Game 1 of the NBA Finals. However, Jimmy Butler didn't seem too disturbed by it. Jokic came out of the gate doing what he does best. In his NBA Finals debut, Jokic had a triple double. He joins exclusive company in that regard. While all of that is notable, that's not what people are talking about. Instead, they're talking about how Jokic sent Cody Zeller to the ground. In their mind, that's enough to say the Denver Nuggets will win the title.
Nikola Jokic was the 40th draft pick in 2015. Despite that, he was immediately one of the best players in the NBA. However, it took a little while for the Nuggets to find their groove. Through this entire process, Michael Malone has been their head coach. However, it took time for guys like Nikola Jokic and Jamal Murray to become the leaders of the team. After that, it still took a little time, as people like Aaron Gordon joined the team via trades or free agency.
Nikola Jokic and the Denver Nuggets enter the 2023 NBA Finals as favorites to win the title. At 53-29, they have the best record in the West. While this makes them arguably the worst Western Conference one seed in NBA history, they have home court advantage in the NBA Finals. After all, the Miami Heat are a 44-38 play-in team that upset their way to the Finals. In Game 1, Jokic ended up giving Cody Zeller a strong push to the chest, which has gone viral.
Nikola Jokic shoving Cody Zeller in Game 1 has gone viral