Nigo 'I Know Nigo' Tells Listeners Nothing About Him Besides His Rap Playlist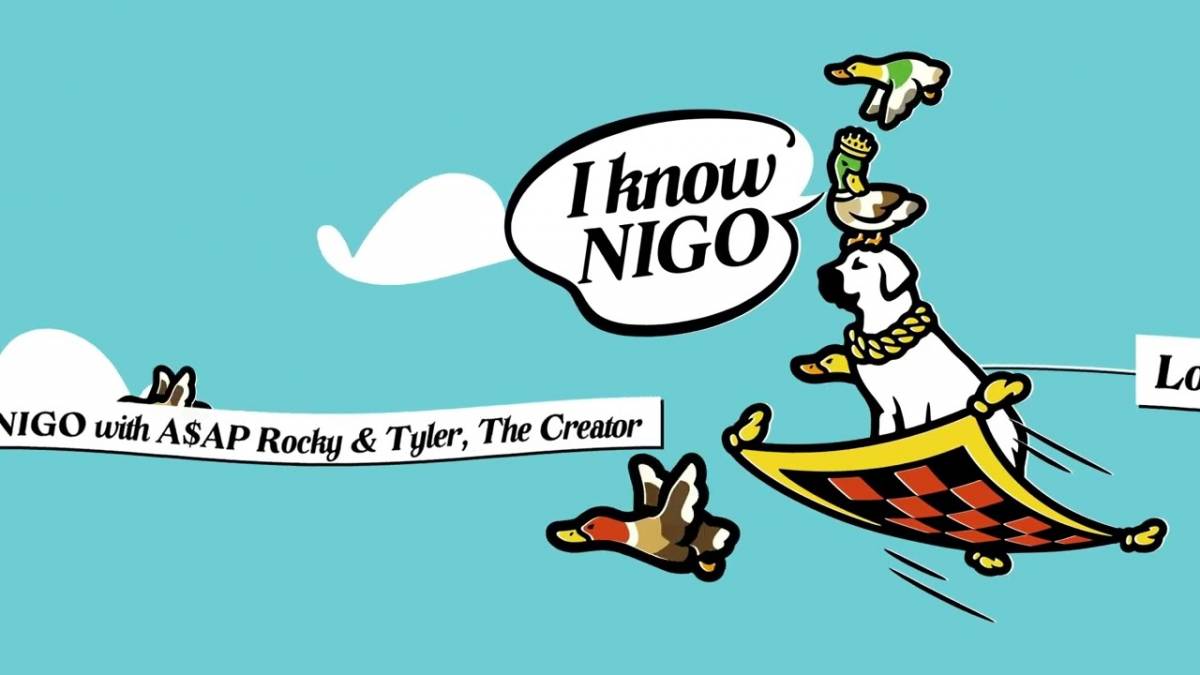 Nigo 'I Know Nigo' Tells Listeners Nothing About Him Besides His Rap Playlist
75
Buried deep in concrete in Tokyo, temperature controlled and carefully packed away, is the collection of Kenzo creative director and BAPE/Human Made founder, Nigo. Here, 1800s Levi's denim cohabits with Mickey Mouse memorabilia and diamond encrusted pendants, suits worn by PeeWee Herman and Bing Crosby, Eames chairs and Star Wars memorabilia. His collection numbers in the tens of thousands.
I Know NIGO!, his second solo album in 22 years, is another wing of his collection, a personal archive made public. But unlike his physical archive, this music says very little about the titular artist. The album gestures towards Nigo's taste in rap and his significance to the Hip Hop community, but it often feels like a grab bag of songs his collaborators don't care about, sending along an mp4 out of obligation rather than interest. Still, Nigo dutifully collects these artifacts, displaying them lovingly for the world to see.
Many of these songs were previewed at Nigo's inaugural Kenzo show this past January, held at the Galerie Vivienne in Paris where iconic fashion designer Kenzo Takada debuted his first collection in 1970, the year Nigo was born. Speaking at length with Vogue days before the show, Nigo said he was "conflicted between wanting luxury brands to concentrate on remaining authentic to luxury and street brands being represented by people that really understand that culture, and actually being in a position to fuse the two and enjoying it."
In this context, I Know NIGO! feels slightly radical, a way of reintroducing streetwear's counterculture sensibilities to a fashion world that sees hoodies and rap music as "non-design." But some of the album seems simply like a cash grab and obligatory hypebeast/trendy content just because.
Steven Victor has to be pulling Pop Smoke snippets from 2019 at this point. Victor Victor Worldwide is co-releasing this album with Republic, so what's another exhumed snippet if it drives 10,000 streams? It's embarrassing to think that this many grown adult men have convinced themselves a posthumous Pop feature ("Remember") will make them seem cool or street or whatever but hey, if the checks clear…
Lil Uzi Vert is on similar timing, turning in his umpteenth autopilot verse on "Heavy" since allegedly getting violent with ex-girlfriend Brittany Byrd in Los Angeles last summer. Moral squeamishness aside, this cannot be the same guy who made "New Patek." The jury is still out until he starts releasing serious singles or his next project, but "I ain't want no pussy baby just give me the headie" isn't a man rapping like he needs to be uncancelled.
On the other hand, the album's EDM songs sound totally awesome. Teriyaki Boyz reunion "More Tonight" throbs and strobes, 808s lurching into motion and synths spiraling deliriously after. While that song channels claustrophobic club nights at breakneck speed, Kid Cudi is all Ibiza beach parties til sunrise on "Want It Bad," which sounds like 2010 in the absolute best way — 4Loko, American Apparel bodysuits and pills that make Avicii think you're cool.
Surprisingly, Pharrell (who serves as co-executive producer) and Pusha-T hurt the album quite a bit, combining to score 1.5 good songs in four appearances. "Hear Me Clearly" sees Push rapping just as ferociously as he does on his solo work, even if it's no "Diet Coke." And "Functional Addict," with Pharrell, is an almost-good song with a schlocky, meandering chorus, though Gunna's verse and the squelching beat are a thrill.
Elsewhere, Pharrell tries and succeeds at ruining a good A$AP Ferg song with his best Tickle Me Elmo impression on "Paper Plates." As for Pusha-T's other contribution? If someone wants to listen to the Clipse in 2022, they're probably better off turning on an old Clipse album, even with the hype of Push's new album. 
By the end of I Know NIGO! it's Tyler, the Creator and A$AP Rocky who come out looking the best. It's a little anachronistic to hear Rocky rap "no buns in the oven/or babies in the stroller" on "Lost And Found Freestyle 2019," but when the beat switches and Tyler steamrolls in, pushing "a cum-colored Beamer and the inside blue," yes sir, real rap is back, baby. Also, Tyler doing extremely heterosexual songs about women taking forever to get ready has to be camp ("Come On, Let's Go").
Reviewing the aforementioned Kenzo show in January, fashion writer Rachel Tashjian described the collection as "straightforward," and that's an apt descriptor for many of the songs here. This sounds the way a Pusha-T song is supposed to sound. This sounds the way a Tyler, the Creator song is supposed to sound. These songs are practically prototypical, as if Nigo is trying to distill the essence of the music and musicians he admires.
The album's best song, "Arya," opens with delicate piano, then rumbling bass. A$AP Rocky nimbly darts through it all, flexing "beautiful whips/check out the handle, swish," backflipping his flows like an acrobat: "They need Jobs like Steve, I'm already on the iPhone 23." Much of I Know NIGO! is focused on preserving Nigo's favorite sounds in amber.
"Arya" is an all-too-fleeting moment when Nigo creates something familiar but novel, reconfiguring his influences into a bold vision of how things might be, rather than how they are. It sounds just as good as his clothes look.
The album has more misses than hits, and even the better songs are by and large footnotes for Nigo's famous friends. It's clear this A-list team fails to live up to the standard Nigo has set in fashion. Even after 11 songs, it's clear we don't know Nigo, no matter how much he tries to flaunt his tailored Rap Caviar.
REPEAT ME
FAN FEEDBACK
https://twitter.com/angellashonn/status/1508197715838226443?s=21&t=V8XKSEZvI2cz7yvxFDUjuQ
https://twitter.com/dlegoflores/status/1508178607704784903?s=21&t=g8Wdk1xi4pVRPPL-pnZbkA
https://twitter.com/elitoinfinity/status/1508172118772658180?s=21&t=W12C0UVKGTIj6W5qwsImIw