Ne-Yo, Ashanti, Robin Thicke and More to Perform at DJ Cassidy's 2023 'Pass The Mic Live! Tour'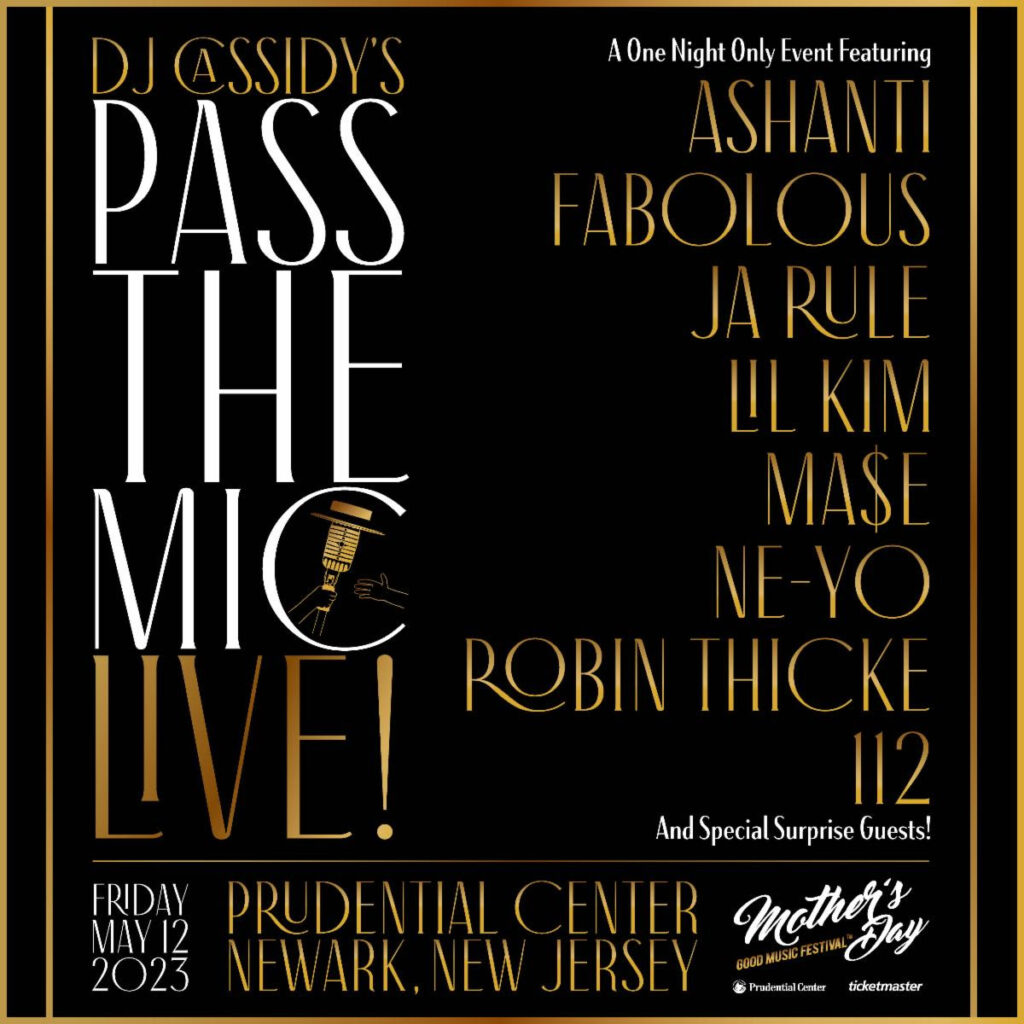 Ne-Yo, Ashanti, Robin Thicke and More to Perform at DJ Cassidy's 2023 'Pass The Mic Live! Tour'
89
DJ Cassidy has announced the return of his Pass The Mic Live! tour in partnership with the Black Promoters Collective. 
Kicking off the Mother's Day Good Music Festival weekend is DJ Cassidy's Pass The Mic Live! tour at Prudential Center on May 12.
He will be joined by Ne-Yo, Ashanti, Robin Thicke and 112, along with rap acts Lil Kim, Fabolous, Ma$e and Ja Rule. Additional surprise guests are to be announced. 
More one-night-only Pass The Mic Live! shows will follow the debut concert this spring, each with its lineup of entertainers.
Pre-sale starts Tuesday (Mar. 7) at 10 a.m. local time. It's offered exclusively to American Express cardholders until this Thursday, Mar. 9, at 11:59 p.m. ET. Tickets will go on sale to the public on Friday, Mar. 10.
[embedded content]
"I am overwhelmed with excitement and emotion as I announce the first in a series of one-night-only Pass The Mic Live! events," says DJ Cassidy.
"Transforming a show that began in my living room into a live arena concert is simply surreal. I am so honored to be uniting yet another iconic list of my musical heroes, this time live on stage, and I am so grateful for the Black Promoters Collective, whose grand vision, foresight, and experience is my guiding light."
"DJ Cassidy is a shining light in pop culture, and we are honored to partner with him on what is sure to be one of the most epic tours of the year," says Shelby Joyner, President of Black Promoters Collective and CEO/President of SJ Presents.
DJ Cassidy debuted Pass The Mic Live! as a live concert last winter at the Pegasus World Cup, a horse racing event at Gulfstream Park in Hallandale, Florida.
Before launching as a concert, Pass The Mic launched virtually amid the pandemic in 2020 and spawned a series of television specials on BET. He concluded his fruitful partnership with BET last year with a special edition of the series following its Hip-Hop Awards. 
Over 200 artists have participated in the show, including Chaka Khan, Boyz II Men, Patti LaBelle, Missy Elliott, Bobby Brown, Gladys Knight, Wyclef Jean, LL Cool J and many more.