Mariah Carey Confirms 'The Roof' Remake With Brandy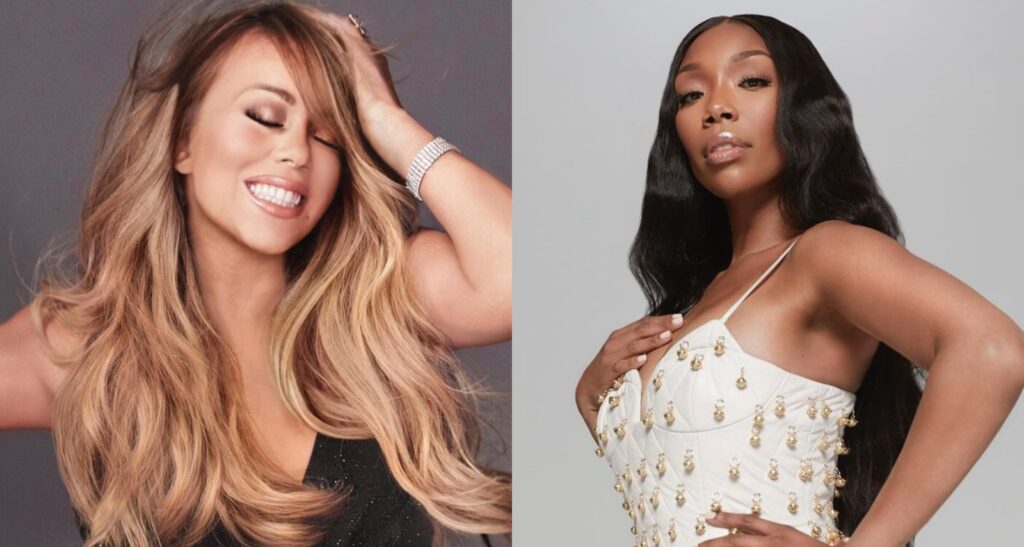 Mariah Carey Confirms 'The Roof' Remake With Brandy
49
The rumors are confirmed: Mariah Carey and Brandy have collaborated to remake "The Roof," a treasured song from Carey's 1997 album, Butterfly.
Yesterday (April 12), in celebration of The Emancipation of Mimi anniversary, Carey took to Instagram Live to find out fans' favorite tracks from the 2005 masterpiece. During the time, she also verified the reports about what she and Brandy recorded.
"Apparently, it's out there," said Carey while hanging with her daughter Monroe in the hot tub. "One of my favorite songs I've ever written, and one of my favorite female artists and friends — she's incredible. We love her."
.@MariahCarey confirms during IG live that she collaborated with Brandy on the remake of "The Roof", track from her legendary album 'Butterfly" pic.twitter.com/cRsXEwN2mD

— BRANDY LEGION (@BrandyLegion) April 13, 2022
Back in January, Brandy spoke exclusively to Rated R&B's Antwane Folk about what it was like to work alongside Carey.
"I can tell you the experience was so beautiful. She's breathtaking, number one. She has a beautiful soul," she shared. "When I was in the booth, doing whatever she wanted me to do, it was just beautiful to be coached by her. I loved working with her. That was a dream come true."
Carey first mentioned enlisting the services of Brandy for this remake in a December 2021 feature story with Harper's BAZAAR.
"The Roof" was highlighted on Rated R&B's 10 Underrated Mariah Carey Songs You Should Know list, which came out ahead of her album Caution in 2018.
Brandy is expected to appear in Carey's Masterclass, the iconic chanteuse's "first-ever class on the voice as an instrument."
View this post on Instagram
Debuting this Thursday, April 14, Find Your Voice With Mariah Carey is a course designed to help students get in touch with their singing abilities. Get more information on signing up here.
In other recent Carey news, she was crowned by RIAA as the top certified female artist for albums with 69.5 million equivalent units sold.
She also collaborated with Latto on the "Big Energy (Remix)," which features Carey singing the first verse of her hit single "Fantasy," as well as beautiful ad-libs.
On June 16, Carey will be inducted into the Songwriters Hall of Fame.
New music and movies are on the horizon for Brandy, who teamed up with her daughter Sy'Rai for an original song titled "Nothing Without You." It's taken from the soundtrack of Disney+'s new film Cheaper By the Dozen.
While on set for the upcoming Netflix's original holiday comedy film, Best. Christmas. Ever, she's breathing new life into her Full Moon album for its 20th anniversary. New Moon is an era Brandy's soon to embark on, featuring "new performances, new vocals [and] new visuals."