Lloyd Banks 'The Course Of The Inevitable 2' Continues His Late-Career Resurgence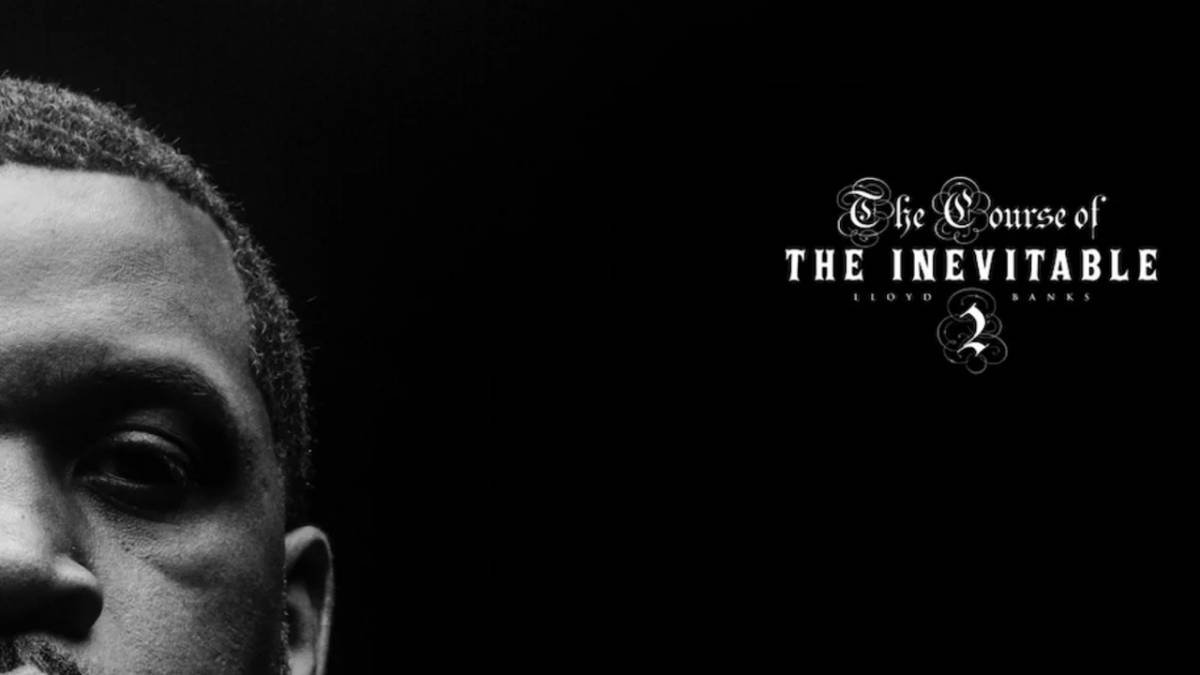 Lloyd Banks 'The Course Of The Inevitable 2' Continues His Late-Career Resurgence
79
During G-Unit's heyday in the early 2000s, Lloyd Banks served as protégé to 50 Cent. When Interscope entered into a deal with 50's G-Unit Records to develop artists, the bulletproof superstar tapped up his childhood friends Banks and Tony Yayo to be his first signees.
Within the trio, Banks contrasted 50's aggressive gangster themes and Yayo's hype man theatrics. He was bar heavy and made it look easy with his endless punchlines, impressing early mixtape listeners with "The Banks Workout" series and winning Mixtape Artist of the Year at Justo's Mixtape Awards two years in a row.
As he learned song structure from 50, Banks started to establish himself as a force in his own right. He became a punchline king, rounding into a hitmaker just like his mentor. Banks used this combination to execute 50's formula to platinum-selling success with his 2004 debut The Hunger for More. Through all the beefs, break-ups and reunions during G-Unit's prime, Banks was the flex tape that kept the machine together.
While in G-Unit, Banks attempted to try his hand at mainstream rap finding success with "Karma," "On Fire," "Beamer, Benz, or Bentley," and "Start It Up." But ultimately it wasn't as fulfilling as it was in his younger years, understanding the work it takes to promote a hit would eat into his family time. In Banks' later years, his hermitlike style of writing lyrics earned him respect as one of the most underrated emcees in the game. His rhyming style also changed.
Older and wiser, Banks branched out on his own. His mixtapes in the 2010s were lengthy snapshots influenced by the golden era of street rap. When Griselda rappers Westside Gunn, Conway The Machine and Benny The Butcher became the centerpiece for a return to edgy, guttural raps in the 2020s, Banks had a wide-open lane to tap into his South Jamaica, Queens roots and remind people of his resume. Younger artists like Russ understood this, and calling for a Lloyd Banks feature signaled a desire to lyrically spar with the best.
To Banks, The Course of the Inevitable means "to go backwards and remember what you're doing it for." So, The Course of the Inevitable 2 comes a year later and arrives at a time when the former G-Unit member's sword is the sharpest. He's dropped plenty of sequels for his album and mixtape franchises before, but COTI 2 proves that time has only made Banks more productive and consistent.
COTI 2 is tighter than the initial installment and made for the same 'real rap' heads who listen to Griselda, Roc Marciano, Stone God Cooks, Boldy James, and the like, resulting in an album that leans heavy into documenting street lessons learned. Atmospherically speaking, an album that's this ice cold dropping in the summer is on brand for the randomness of New York weather during this time of year.
When most people want a song of the summer so they can day drink and barbeque, Banks gives listeners songs on crooked apple scriptures ("No Reward"), fake friends who refuse to give you flowers ("Dead Roses") and playing two sides of the fence ("Don't Switch"). COTI 2 is pure grittiness, drawing inspiration from when Banks wrote his first raps in his small South Jamaica bedroom to capture the hunger and realness again.
The 40-year-old rapper taps into a similar rotation of features who made appearances on COTI 1. This far along into his career, Banks' isn't going to take risks and rap with artists that don't operate in the same environment as him. The selectiveness works in his favor, as Banks has no problem rhyming with New York's finest.
Returning guest and most sought-after rapper Benny The Butcher appears on "Living Proof" with another verse of the year contender. Instead of Styles P, who appeared on COTI 1′s "Food," Banks collabs with another LOX member, Jadakiss, on "Power Steering," a Top 3 fan favorite — that is if his Twitter responses are anything to go by. Banks raps on the song: "Been underrated too long, now, this shit's confusing/ My weight is up, anybody in my division is losin'/ Power moves to be made and I ain't tipping to 'em."
Conway ("Menace") and Yayo ("Don't Switch") are some of Banks' strongest collaborators on COTI 2, an example of Banks working with a rapper who was inspired by him and another who has kept him motivated all these years. For fans, Banks is continuing his run with Conway after the reception of "Juvenile Hell" and Banks with Yayo is just pure nostalgia.
Because this is a Lloyd Banks album, it'll take repeated listens to catch the best lines. Some worth mentioning are on album opener "Impact," where he raps: "I ain't gotta aim and come up with hits, my style an Uzi/ Camera lights, I got a lifestyle of clips fresh out a movie." On "Value of a Check: "Don't let them pump you up, I'm surgical with it, Alonzo." On "Dead Roses: "N-ggas gotta see your bloodstream to make your streams go up." And on "On My Way": "Back on my clumsy shit, jewels dropping/ My loose leaf found the gems."
In the current state of Hip Hop, there are active participants who focus on melody and vibes over lyrical substance. With Banks, he'll give you three verses, a smooth hook and won't step out of his comfort zone unless he has to. The reality is Banks isn't going to experiment with his sound or seek new producers to give him something fresh, resulting in COTI 2 sounding a bit monotone and an updated version of COTI 1. The album is made for a specific sector of rap fans who like to be immersed in this gray, concrete jungle, even on the sunniest of days. Still, this monochromatic, grimey palette begs for Banks to add a jolt of variety and depth to his beat selection.
Beyond that, COTI 2 is Banks confident of his status as a one of one who invented a style that is only replicated by others. "The comeback's been amazin'/ Here's to my gettin' money engagement/ Wrote my motherfuckin' signature in pavement/I'm not to play with," he raps on "Socialize," and this couldn't be truer.
There's plenty of reflections and wisdom from a rapper who's experienced both sides of his G-Unit fame. Now, a decade-plus removed from his last proper album H.F.M. 2 (The Hunger for More 2) — if you don't count last year's COTI 1 — fans can just appreciate that Banks is rapping again and doing it at a high level.
Repeat Me
Fan Feedback
I am in a bar and someone is playing Lloyd Banks and I want to find out who ?

— Run It Back Philly ◻️ (@iAmDjEastwood) June 25, 2022
Joey Badass and Lloyd Banks got the best hip hop albums of the year so far

— Elvis (@AnotherClassick) July 25, 2022
I'm sorry y'all not talking enough about this Lloyd Banks album. Yes I said Lloyd Banks. ?

— мel ? (@nycmina_) July 25, 2022