LAYA, Mahalia, Forest Claudette, And New R&B From Artists Ready For Mainstream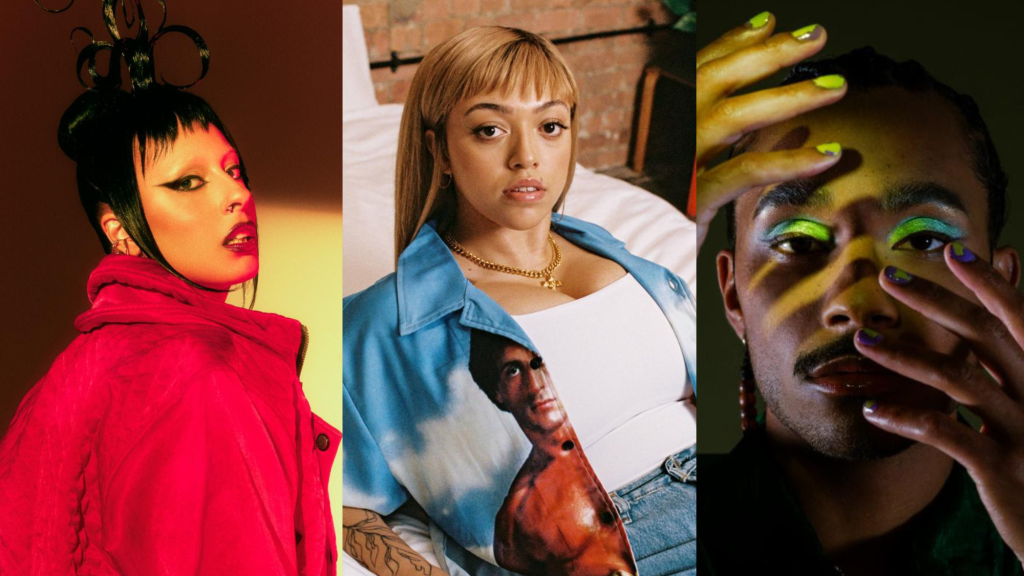 LAYA, Mahalia, Forest Claudette, And New R&B From Artists Ready For Mainstream
7622
This week's new music roundup is dedicated to the underdogs. These indie and non-mainstream acts are just as active as well-known headliners, but with a fraction of the recognition, they remain busy by being both talent and the team.
LAYA is set on dominating the summer with her new "f**k around and find out" anthem as Mahalia shares the final teaser from her sophomore album, IRL. However, the rest of this week's spotlighted singers caught our eye with the help of social media as we discovered the likes of Ashia Vu, Sion, Brian Cade, Forest Claudette, and more.
From having sought out the light in the midst of darkness and surviving on the shattering world of heartache to fighting through internal battles and systemic issues, each of these selections drew us in a listener-turned-fan. Check out VIBE's top R&B picks for this New Music Friday.
LAYA – "F'd Up"
LAYA is kicking off summer with her bold, defiant anthem, "F'd Up." It's the opener to her forthcoming new project, Bet That, slated for release in the coming weeks.
The infectious declaration begins with an inquisition—"Got me thinkin,' 'What's good?'/ You don't understand what's understood/ Out your face you'll say to me, some s**t that you know just can't be." She then draws you in on the chorus as she proclaims, "You got me f**ked up, put you on your back/ You got me f*ked up/ Quit with all that cap/ You got me f**ked up/ Like you don't know my a**."
LAYA describes the track as "raw, real, and utterly irresistible." "You ever have somebody try you? Tried you so hard and they ain't even know what they was talking about? Sounds like they got you f**ked up!" they added. "The solution? It's time to stand your ground and fight back. It's 2023, we not doing that this time. Time to put haters on their back and tell 'em, quit with all that cap—because you got me f**ked up!" 
Mahalia – "Ready"
Just a week ahead of Mahalia's highly-anticipated sophomore album, IRL, the British sensation shares the newest single from the LP.
On the heels of prior singles like "Terms & Conditions" and "Cheat" featuring JoJo, "Ready" is an assertive "statement of intent," proving just how equipped she is to conquer anything thrown her way.
The vulnerable track also happens to serve as the album's introduction. "It is a song that perfectly describes where I was at when I started writing this record," reflected Mahalia. "I was partially scared—mostly excited. It's been a long journey to get here but ultimately, I'm proud that I did. I loved this one as soon as I wrote it and I'm genuinely so excited for people to hear it. I'm finally ready for this album to come out and I hope everyone's ready to hear it!"
IRL is a celebration, just as much as its a reflection of moments and people who have shaped Mahalia throughout her adulthood.
Ashia Vu – No Energy
Ashia Vu's No Energy is a beautiful undertaking upon first listen. The eight-track EP comes four years after Ashia's debut and is a display on how she's making a name for herself in the R&B space.
Ask the New York-bred singer and she'll tell you that the project means "I have no energy for anyone or anything that doesn't align with my growth and healing." She continues, "This project takes you through my journey of discovering when it was time to let go of a relationship and protect my energy. When I realized I was completely drained and just wanted my peace and balance. Not just in my relationship, but in all aspects of my life—if something didn't bring me peace, I had No Energy for it. Each track walks you through my thoughts/emotions in the moments of me coming to terms with this realization. Finally valuing myself, my time, and understanding what it means to live in the moment and prioritize who has access to my time & energy, it's too precious."
Influenced by Jazmine Sullivan, Jhené Aiko, and Erykah Badu, Ashia Vu blends familiar instrumentation from the early 2000s with airy vocals as she dives into elements of freedom and self-love.
Sion – OYSTER
Houston has been known to birth some greats and Sion got next. "My life completely changed when I decided that the world is my oyster, and I hope my story can help someone else through theirs," she tells VIBE.
With her debut album, OYSTER, Sion journeys through self-discovery as her ethereal, dreamy vocals spotlight various part of her greater story from losing friendships and purpose before finding oneself and love yet again. She transports listeners into her orbit as she softly captivates us through records like "Angel" and "Ivory."
KOS – "Remember"
KOS (pronounced "chaos") is Long Beach's latest gift to R&B. Inspired by the likes of J. Cole, Ari Lennox, and Chlöe, she feels her music is "a representation of her trials navigating her community [while] her lyricism is unparalleled and atypical for R&B."
This can be heard in her newest single, "Remember," an upbeat musing after having dealt with the frustrations of heartbreak.
Of her music overall, KOS explains, "My music speaks to women and people going through any tough situation that tests you mentally and sometimes physically. It represents that you are always in control of your own destiny and you deserve to be happy. The most important message I want relayed to everyone who hears my music is to trust your intuition and the voice in your head and VALUE YOURSELF above anything and everything." The new single is a taste of what's ahead from the budding singer-songwriter.
Sheri John is a Brooklyn native with a tenacity for greatness. The soulful songstress has unveiled her new EP, The Phoenix, ahead of the arrival of her debut album, set to arrive later this year.
The full project is an exploration into her healing as she details the lows of a harrowing entanglement and guides listeners back into the light of newfound love within herself. For John, she feels the final track, "So Simple," is the one with the most replay value. She explains to VIBE, "'So Simple' is a refreshingly enchanting piece that is filled with an awe-like feeling that makes you want to listen to the song over and over again."
Forest Claudette – Everything Was Green
Forest Claudette is smooth like dark liquor. The Australian-American's newest EP, Everything Was Green, is an enticing vibrancy into their thoughts and emotions being personified.
"'Everything Was Green' follows the more impactful moments in my life over the past two years," Claudette shared in a statement. "I grew up in green, in the forest. Green represents everything I've known, everything that is safe and familiar. The songs aren't ordered chronologically. Instead, they map a cycle of thoughts and life that I've been experiencing since 2019: heartbreak, freedom, excess, gratitude, awareness and, finally, tracing most issues back to systemic injustice. I feel like these themes whirl around my head on a loop, near constantly. I go through phases of seeing them everywhere or seeking them out."
Standout records include "Violence," a mellow track about unimaginable loss at the hands of police brutality, the playful "Hi Vis Teeth," and the introspective "Two Years," where they "grappled with the idea of how to listen to or choose myself, and not feel like a selfish a**hole."
Brian Cade – "New Start"
Hailing from Fresno, Calif. comes newcomer Brian Cade with his new single, "New Start." It is the second single from his upcoming album titled SILK.
For those who swooned in the early days of Chris Brown and Ne-Yo, Cade is right up your alley. Unlike some other contemporaries, his goal while navigating the industry is to keep positivity and talent at the forefront.
He tells VIBE, 'New Start' is a reflection record that was birthed from the aftermath of a fresh breakup. As he deals with the void of the terminated relationship, Cade's emotive vocal range is a soundtrack for men in similar situations.