Kendrick Lamar, Baby Keem Accused Of Copying Drake's "Sticky" Flow On New Song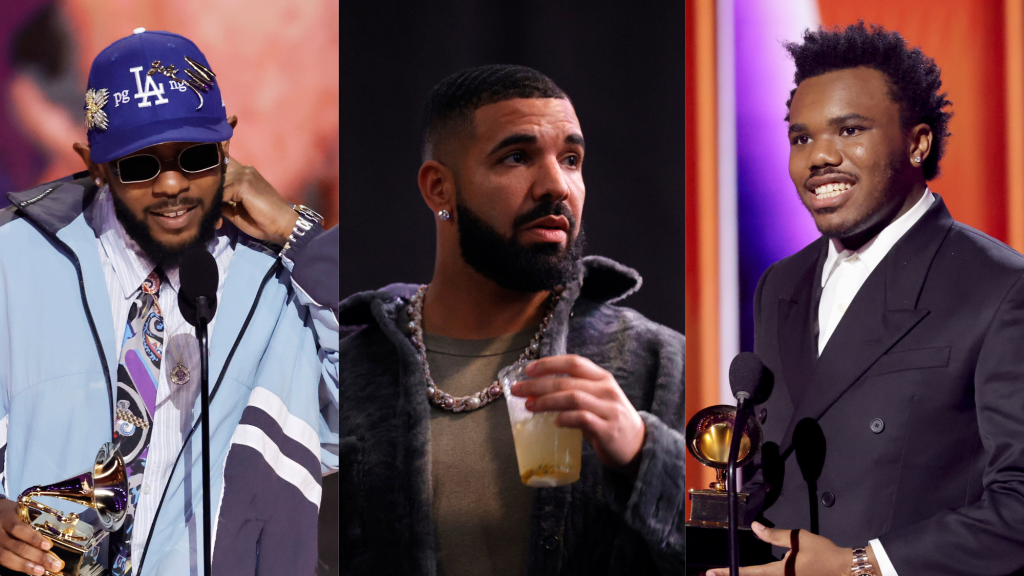 Kendrick Lamar, Baby Keem Accused Of Copying Drake's "Sticky" Flow On New Song
7622
Kendrick Lamar and Baby Keem have been called out for allegedly copying Drake's flow on their new track "The Hillbillies."
In the pgLang rappers' musical effort, the two trade bars about the finer things in life, with an accompanying visual showing them traveling the world together.
Despite the popularity of the Bon Iver-sampling track, many couldn't help but compare the song to Drake's Jersey-Club inspired "Sticky" from his 2022 LP Honestly, Nevermind. Despite Keem posting the song to Twitter and titling it, "The Hillbillies (Sticky Dub)," social media still proceeded to point out similarities in the two songs' beats, and more.
"Kendrick Lamar and Baby Keem used Drake's Sticky flow and this is how it came out," one person tweeted as another wrote, "Drake after listening to the new Kendrick & keem song" with a clip of Soulja Boy on The Breakfast Club yelling: "He copied my whole f**king flow! Word for word! Bar for bar!"
Another fan claimed Drizzy predicted that dance music would be "the new wave," with the tweet, "Yooo everyone f**king with that new Kendrick!! Now give Drake his credit for predicting dance music was the new wave cause Hillbillies is just Kendrick's version of Sticky."
On the track, Kendrick and Keem rap, "I don't buy much, I buy land, bro/ Cologne, Germany, four McDonalds, every time I land, bro/ Big Jay Rocks in both hands, bro, and all that/ And I'm best-dressed, movin' forward, yeah/ Tiny Taz Arn', yeah, all that, Compton cowboy, all that/ Yeah, big protein, one-hundred and fifty grams of protein/ Y'all gotta stop playin', bro, I swear, bro."
The blood-related rappers have yet to officially respond to social media's claims.
The pair's chemistry is undeniable, as they've collaborated before on "Savior" from Kendrick's Mr. Morale & The Big Steppers and on Keem's "Family Ties" and "Range Brothers" from his 2021 album The Melodic Blue. It's a possibility that the duo could be working on a joint project.
Last year, Keem spoke on creating a full-length project with his cousin, but mentioned that the ball is in Kendrick's court.
"It's up to him. I'm down…It's up to him, that's all I can say," he told Billboard. "The way we work — the chemistry is there. I think everybody was very instrumental [in making The Melodic Blue], but the Kendrick one is the one I definitely hold close to my heart because it was the first few collaborations that we had. And to be here based on those collaborations is really special to me."
He added, "It's like it's 50-50… It could happen and it couldn't, I don't know. It just really depends on a lot of factors that I don't have control over. So, it's just what the world wants. The world wants it, then it can have it."
Give "The Hillbillies" a listen above and take a look at the Neal Farmer-directed video below.