Keke Palmer, Kiana Ledé, Kenyon Dixon, And More R&B For Those With Their Heart On Their Sleeve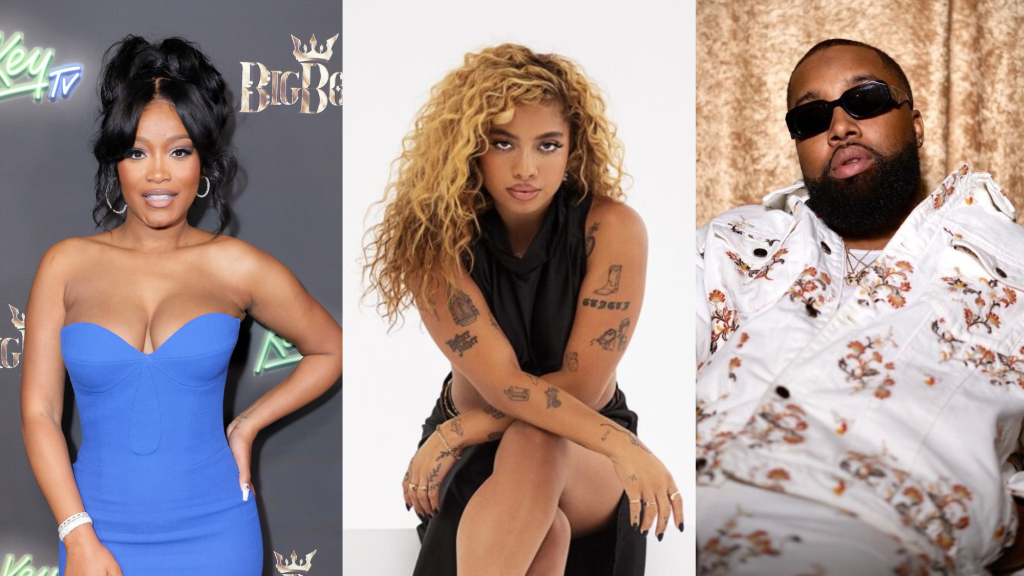 Keke Palmer, Kiana Ledé, Kenyon Dixon, And More R&B For Those With Their Heart On Their Sleeve
9270
This week's R&B releases are for the bold lovers and bosses who need balance.
Keke Palmer's musical journey is back in motion as the multi-hyphenate creative gets deep in her bag with Big Boss—the visual album. Kenyon Dixon and Kevin Ross issue a record for R&B purists and Kiana Ledé snatches souls with her sultry single, "Deeper."
Victoria Monét's incessant teasing of Jaguar II has fans on edge, but the party anthem with Buju Banton is a perfect summer soundtrack introduction. Josh Levi, newcomers TA Thomas, and Summer Dennis assert themselves as forces of nature with the arrival of their solo debuts and deluxe EP. So, if you're here to boss up, enjoy a fling, flirt a little, or go deeper with something pre-established, VIBE's top new R&B releases are sure to get you right.
Keke Palmer – Big Boss
Keke Palmer's new visual album, Big Boss, is here. The LP showcases the intimate details of the singer's life from 18-24 and how she's navigated the music and entertainment industries. Overall, she considers her new project to be her testimony.
"This film and album have been years in the making and my seat at the table has been EARNED baby," said the KeyTV founder on Instagram. The visual aspects are now streaming across the network's social channels and it is also Palmer's directorial debut.
Victoria Monét Feat. Buju Banton – "Party Girls"
Victoria Monét has unleashed the next installment into Jaguar II. "Party Girls" featuring Buju Banton is a summertime anthem that solidifies Monét as the lift of any party.
"Party Girls is an ode to women around the world who keep celebrations alive!" the songbird expressed in a statement. "If you recall any social gathering, nightlife extravaganza or day party you'll likely recall a moment where a woman made it so much more exciting! I wanted to make a song giving credit where it's due, while simultaneously curating a sensual Caribbean-infused R&B song to continue the fun to. I hope this song makes you feel sexy, empowered and appreciated!"
The LP is slated for release this summer and trust, it likely to be one of the best albums of the year.
Kiana Ledé – "Deeper"
This era of Kiana Ledé is grown and sensual. With the second single from her forthcoming sophomore album, the singer is requesting her partner to ignore precautions and dive in. What is there to fear? The amorous track was co-written by Naija and is perfect for last nights with your summer flings.
When speaking about her new album, she told Rated R&B, "I've been through a lot of drama and trauma, but I am looking at everything from a more mature, balanced perspective. Music is a space that I like to have to get some relief, and you'll definitely hear the space I've been in and the things I've been going through in the last two to three years."
Kenyon Dixon And Kevin Ross – "Slow Dancing (Remix)"
This remix may have been initiated by an A.I. challenge, but understand that this linkup between Kenyon Dixon and Kevin Ross is the real thing. In the beginning of the track, the crooners harmonize, "Real R&B sh*t. Just like you need it. KD and K. Ross, slow dance the remix."
This enticing remix is for lovers who need to pause on life and take a moment for an intimate embrace. "Y'all been waiting & what better way to celebrate great R&B than releasing more great R&B?!" teased Dixon. This is his first release since issuing Closer (Deluxe) and Ross' newest offering ahead of his next EP, Midnight Microdose, Vol. 1, set to land on May 26.
Mario Feat. Sabrina Claudio – "Like Her Too (Remix)"
Mario has enlisted Sabrina Claudio for the remix to his song, "Like Her Too." And just like the single implies, this song is peak duality.
"'Like Her Too' is a song [about] a woman loving every part of herself without judgment," Mario said about the original record. "[It] is where her freedom starts. As a man I support her wild untamed self while protecting her innocence." Despite Claudio being "cancelled" by many over some old colorist remarks, it appears some of her peers have granted her grace as an artist.
Jorja Smith – "Little Things"
Jorja Smith is commanding space for her new era. In another back-to-back release, she has issued her new flirty gem, "Little Things." It's about enjoying the spontaneity of new romances.
"The song is pretty self explanatory, I had a lil concoction—rum, ting and a magnum," Smith explained. "When we started creating this song I was just imagining hearing this walking into a party and seeing someone I'd had my eye on. It's fun!"
British Director Bolade Banjo has touched on the inspiration behind the video. "The lyrics and instrumental were very much dedicated to the direction of the video, it was about finding the stylistic language that made sense," Banjo noted. "Speaking with Jorja about how she wanted to approach this it became apparent; 'Little Things' was within itself…"
TA Thomas – "June 15th"
TA Thomas is stepping away from the shadow of his former group, Next Town Down, and into his own. His solo debut, "June 15th," depicts the grey area of relationship when it fades from "passionate to passive" and "illustrates the cold war battle of [dormant] disconnections and fleeting emotions."
Thomas explained the single exclusively to VIBE. "'June 15th" is a very special record to me. Not only is it my debut single, It's the day that I met someone who was a part of my life for a very long time," he shared. "The story starts with two lovers who basically grew apart from each other. If you could imagine what a Cold War relationship would feel like this is how I felt. It's one of many stories I told about this relationship on my project. 'June 15th' was the beginning of me being caught between two worlds and every song that followed dove into every emotion."
Thomas also noted that this is just the beginning and "June 15th" is the lead single from his upcoming EP.
Josh Levi – DISC TWO (SCRATCHED UP)
Josh Levi has finally unveiled the deluxe edition of his sophomore EP, DISC TWO. Starting off strong with the record that has us in a chokehold, "EGO," the extended project also added "SEE LOW" and "BIRTHDAY DANCE" into the mix.
"For those of y'all that have been living in ego world and disc two world, you're permanently apart of my universe and i'm bringing you in deeper with a few more songs, more stories, more feelings, more levi. cant wait for u to hear more of my heart," said the crooner of the deluxe run.
Summer Dennis – "Ain't Nothing New"
Newcomer Summer Dennis has shared the first single, "Ain't Nothing New," from her forthcoming debut album. For those who love a blend of R&B and pop and vocals oozing in gospel undertones, this one is for you.
"When it comes to my music, I share my truths that I believe many people relate to. Traditional relationship expectations are DEAD!" said Dennis in a statement. "Even if you think your expectations are appropriate and realistic, they may not be realistic at all today. My upcoming album, 'Mr. Wonderful is Dead,' tells a timeless story of love and its revolving door of life-changing disappointment."
This budding sensation is definitely on a path to join the current class of R&B singers taking the world by storm with their infectious vocals and storytelling. We're here for it.