Jonas Brothers Thankful the Grammys 'Let Us Back In' at Concert Ahead of Ceremony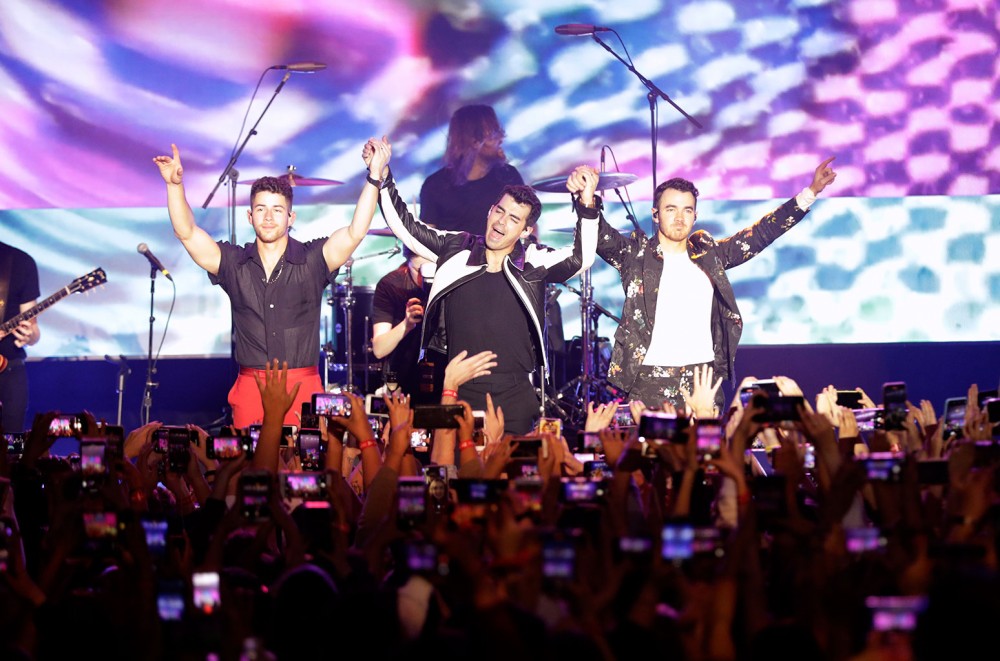 Jonas Brothers Thankful the Grammys 'Let Us Back In' at Concert Ahead of Ceremony
79
Ahead of Sunday's Grammys, the Jonas Brothers brought a slice of their Happiness Begins Tour to the Citi Sound Vault at the Hollywood Palladium on Saturday (Jan. 25) in celebration of their Grammy nomination for "Sucker."
The band joined the list of superstar acts who took the stage at the Citi Sound Vault over the past week leading up to music's biggest night, including Coldplay, Brandi Carlile and Brittany Howard.
Nick, Joe and Kevin Jonas repeatedly emphasized to the audience what a special weekend it was for the band, as they were celebrating their first Grammy nom as a group in over 10 years and performing at the awards show.
"We're grateful that for some reason they let us back in," Nick told the crowd. "I think that the 'some reason' is each and everyone of you supporting us."
While the band ended up losing best pop duo/group performance to Lil Nas X and Billy Ray Cyrus for "Old Town Road" on Sunday, the brothers brought their A-game to the Hollywood Palladium in anticipation of the big weekend.
The "Sucker" group kicked off the evening with "Roller Coaster" from their latest album, Happiness Begins. The set list included a variety of the group's classic hits, like "SOS," "When You Look Me In the Eyes" and "That's Just the Way We Roll," as well as new tracks, including "Cool," "Only Human" and "Hesitate," a song Joe dedicated to his wife, Sophie Turner, who was in the audience.
The band of brothers even brought what's become known to fans as the "Mandy" Megamix, a mashup of numerous past fan-favorite tracks including "Mandy," "Paranoid" and "Tonight," to the Hollywood Palladium. The group also treated the crowd to their recently released single "What a Man Gotta Do," which they then performed at the Grammys on Sunday.
It's safe to say most fans in the sold-out venue had probably already seen the band play a similar set on the group's Happiness Begins Tour, but from their sheer enthusiasm, you'd never know it. The vivacious crowd sang and danced along to the group's old and new hits; even the VIP balconies were singing and grooving along.
The Jonas Brothers closed out the concert with an encore performance of their iconic hit "Burnin' Up," and the song that relaunched their career and earned them a Grammy nomination, "Sucker."
The show came just as the brothers announced their upcoming Las Vegas residency at the Park Theater at Park MGM beginning on April 1.
---