Jim Jones & Maino 'Lobby Boyz' IS BUILT FOR A STURDY NYC SUMMER – THEN WILL FADE OUT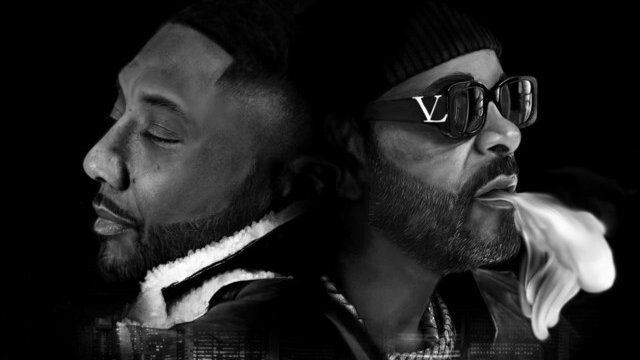 Jim Jones & Maino 'Lobby Boyz' IS BUILT FOR A STURDY NYC SUMMER – THEN WILL FADE OUT
78
Time can be the cruelest rusting of legacy. Kids born after 9/11 may only know Jim Jones as the "BALLLLIN" ("We Fly High") one hit wonder and might only know Maino from T-Pain playing "All The Above" during his Verzuz battle. This may come off as blasphemous to those who had their formative years in the Dipset era, or for those who religiously downloaded Maino's DatPiff mixtape discography in the mid 2000s. But despite Maino and Jim Jones' aging audience, they refuse to let their tenured rap talents go to waste just because they aren't getting Lyrical Lemonade to shoot their videos.
Enter the Lobby Boyz, Maino and Jim's new duo and debut album of the same name. What started as a two-week studio session to knock out less than a dozen songs turned into a full blown joint album packed to the brim with gritty New York City attitude and anecdotes.
Upon pressing play, the Lobby Boyz get busy setting the scene with Brooklyn and Harlem projects as the backdrops. On intro track "Project Baby" Maino introspectively spits about his humble beginnings – giving some more depth to his platinum plaque persona. He raps "Shootouts over drugs, I admit that I was grimy/And I'm tryna put it behind me, so please, just don't remind me" and asks "We really gamble with life, it's a blessing we still here/It's a blessin' that we alive, it's destined that we survive/I stepped out of that hell, is heaven a place to find?"
The tone takes a turn from vulnerable to viciously assured on "Lobby Boy Anthem" where production team Hector "Stats" Marin and Sage Michael recycle the same sample of Yvonne Fair's "Let Your Hair Down" that  JAY-Z made famous on "Where I'm From." Jim and Maino fill the title track with a fury of flexes like "We been Pumping that Miley Cyrus/Bitch I been a wrecking ball/And since a lil n-gga/Bitch I been stepping tall." The harsh haymaker lines come off wickedly authentic coming from this duo and set the tone for the rest of the album.
If Jim and Maino's tough talk and iconic JAY-Z sample wasn't enough for New York rap enthusiasts to get excited about, they carefully assembled the Voltron of NYC lyricists to assist in making this project five borough-approved. Fivio Foreign appears on the drill draped lead single "Slide" – an immediate standout. The triumphant horns and rapid-fire drums lay canvas for the three Yankees to get off their best braggadocio accompanied by plenty of Fivio's signature "bow" ad-libs.
Fabolous appears on the mellifluously smooth "No Bobby V," Young M.A. shows out on the album standout "One Day," Dave East makes an appearance on "Never Take Me Alive" and they even tap upstate spitter Benny The Butcher for "Praying."
Although thrilling to see all these top-tier NYC artists intermingle like the melting pot they were born in, there is no better featured track than "Die Young" with Styles P. Not necessarily for Ghost's verse, but for the subject matter all three tackle. Topical American subject matter like tumultuous race relations, nonsensical gun violence and a valiant attempt at empowering the youth are all woven through their verses. It's one of the only moments on the album where the Timberland is taken off the pedal and the sobering question is asked: "why we gotta die so young?"
Despite having a few standout tracks like "Slide" and "One Day" – the former might actually have a chance to get some spins until fall – this album simply doesn't have the replay value required to breakthrough today's constant onslaught of releases. As strong as the rapping is on Lobby Boyz, there just aren't enough show stopping verses, hooks or gimmicks to give it legs past one or two listens. Often in today's Hip Hop consumption landscape, it's the most true-to-form style of rap that falls through the cracks; precisely the style of rap Jim Jones and Maino have spent the last 20 years perfecting.
Even when they attempt to dip their Timberlands into this hyper-vibey Gen-Z sound, it falls flat. "Off The Leash" has half-hearted verses from the duo along with a chorus from Holy that sounds like it came straight from a Travis Scott plug-in kit. Their strengths are found on songs like "No Love," "Bk & Harlem" and "Climb Back" where the beats, bars and bravado match seamlessly.
There are no TikTok hits or algorithm hacks that will shoot Lobby Boyz to the top of the DSP charts but, thankfully, that isn't the goal or the metric Jim and Maino were aiming for. Even though this album's rotation will likely be short lived – it's clear that these two New York heavyweights simply set out to make something that the Big Apple could sink its teeth into.
REPEAT ME
FAN FEEDBACK

Jim Jones never drop anything wack. May not be for you but never wack.

— Nerd Nash (@NerdAtCoolTable) May 27, 2022
Jim Jones been rapping rapping the last few projects he done dropped

— It's Muff D (@Deycallmemuff01) May 27, 2022
if y'all thought i was listen to a
Maino x Jim Jones album featuring Dave East you thought wrong

— RillaPerry ?? (@jimmyperry0621) May 27, 2022