Jensen McRae Doesn't Believe In The Lone Genius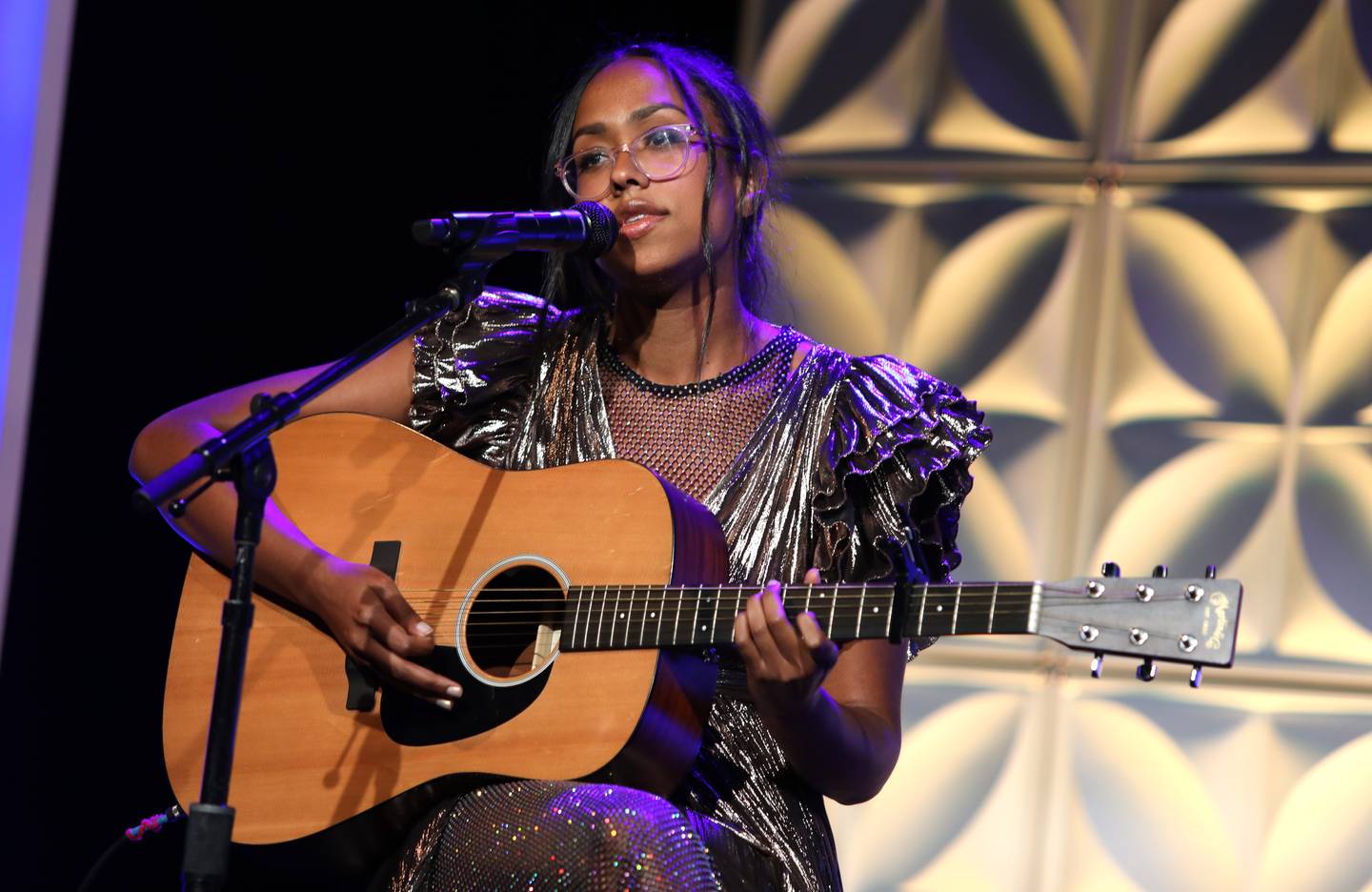 Jensen McRae Doesn't Believe In The Lone Genius
46
The Central Los Angeles coffee shop Jensen McRae suggested for our meeting feels straight out of BookTok, with open hardcover notebooks, athleisure, and matcha lattes aplenty. Like a trending sound scoring an Instagram Reel, a jazz trio plays on the block's corner.
I understand this place's appeal to the 25-year-old indie-folk singer-songwriter and self-proclaimed "wordgirl," who says this is her first in-person interview. "I was really fastidious in my care for myself," she reflects on the past few years. Her work has already been featured on NPR, Rolling Stone, and Pitchfork, but her interviews have all happened over Zoom, an unavoidable necessity considering McRae's career took off during the pandemic.
In January 2021, the USC graduate tweeted, "Phoebe Bridgers is gonna drop… [a song] about hooking up in the car while waiting in line to get vaccinated at [Dodger Stadium]." Bridgers never released such a track, but McRae did. Less than four hours after her original tweet, McRae added a clip of what would become her viral single "Immune." The video was viewed over two million times — including by Bridgers herself.
These days, McRae's fan base includes far more than Pharbz. Her singularly stylistic songwriting has been praised by poets like Ocean Vuong and Hanif Abdurraqib. Now, the Californian is taking on one of the most literary metropolises in the world: New York City.
On October 19, McRae will play her second consecutive sold-out night at Rockwood Music Hall. She's performed in New York before, opening for neo-soul singer Amos Lee, but this is her first time headlining. "I was so surprised how quickly it sold out," she admits. Though McRae is an L.A. native and loyal Angeleno, her excitement about visiting the Northeast in the fall is palpable. While discussing the city I once called home, we easily slip into swapping indie bookstore recommendations.
This literary tendency is a motif in McRae's songs. Much of her debut album, Are You Happy Now?, could have started as creative writing prompts. "Wolves" strings together vivid vignettes about sexual assualt. "White Boy," McRae's first single, reads like a scathing character study. Three interludes sprinkled throughout the album, named "Headlock, Parts 1, 2, and 3" (subtitled, respectively: "Mother," "Father," and "Daughter"), suggest a keen awareness akin to a novelist's that anyone who survives their childhood has enough to write about for the rest of their life.
McRae says one of the biggest ways literature impacts her work is by "offering an escape from it." She also writes screenplays, fiction, and poetry. "If I'm having writer's block in one area, focusing on a different type of creative project is really helpful," she explains. "I also think it makes music a lot more interesting when your influences are things other than music."
Though McRae's work engages with writers like Elif Batuman, Kurt Vonnegut, and Maya Angelou, she is just as likely to seek the talents of other musical artists. "I'm disabusing myself of the notion of the lone genius," McRae remarks. "When Beck won the Album of the Year Grammy and he was like, 'I played all the instruments myself and I wrote it myself and I produced it myself,' that's considered [by critics and consumers] like, the Holy Grail. …But that's just not practical or realistic most of the time." 
Instead, McRae prefers a more collaborative scenario where we're "encouraged to play to our strengths," utilizing the skills of peers rather than needlessly going it alone. She frames this as pragmatic rather than idealistic. "If you're putting something out into the world that you're putting a lot of time and money in, wouldn't you want everyone involved to be operating at the top of their game?"
But being on top isn't what McRae's after. "I just want whoever needs me to find me. That's my ethos for my music. I don't really want to be famous… my dream is to connect with people who remind me of my past self."
---
Judging by the crowd at the Troubadour in West Hollywood, McRae has accomplished this. It's 7 p.m. a week before she plays in New York; though the doors have just opened for McRae's hometown headlining show, there is already a line of young concertgoers clad in oversized sweaters and Doc Martens.
After Sophia James's arresting opening set, impatience for McRae blossoms in earnest. Two girls in the audience can't contain squeals when they spot the singer in her balcony dressing room window. I stop counting the number of times I overhear the word "obsessed" after five.
When a three-piece band takes the stage, frantic shouts erupt. The crowd collectively cranes toward the staircase McRae will soon descend as the drumline to Are You Happy Now?'s opening track "Starting to Get to You" precedes her. When McRae steps into the light, it's with the measured gait of someone who's just taken a deep breath. Once centerstage, she delivers a rendition of the track that, notwithstanding the addition of one delicious vocal riff, is almost entirely faithful to the recorded version.
This is a theme of the performance: McRae clearly empathizes with fans' desire to hear exactly the notes they belt in their bedrooms, and so stays largely true to her studio performances (including certain vocal stutters on the allegorical fan favorite "Adam's Ribs"). But the deviations she does make are brilliant, such as belting the final chorus of "Happy Girl" rather than singing it in her head voice, elevating the otherwise low-key song to a rock sound. When adding a drum-heavy, instrumental outro to "Immune," the show's closer, she can barely finish her last guitar strum because she is so overcome with gleeful laughter.
For an encore, McRae accompanies herself solo on guitar to solemnly deliver her album's closing track, the heart-wrenching ballad she wrote as a letter to her eighth grade self, "Make You Proud." A teenager to my right has misty eyes; a second glance reveals her mother, crying harder than she is. The entire crowd holds its breath as McRae sings:
"If you stick around, I'll make you proud / At 19, you still won't be skinny, and you'll still be loud / But darling, the world's not against you, someday you'll climb out / Don't hurt yourself, give me a chance to make you proud."
When the song closes, McRae is quick to exit the stage in a sincere moment of emotional overwhelm, but the post-show buzz lingers in the crowd. I hear someone call the experience "cathartic." On the sidewalk outside, one of two young men, dressed in track pants and hoodies, takes up an off-key rendition of "Wolves." "Now I bury my smile and show no interest, now I carry myself a little different," he sings, with no trace of mockery. Those particular lyrics speak directly to an experience too many of the women in my life know intimately, and to hear a man sing them with a tone of empathy is nearly unimaginable. Perhaps the group of people who need Jensen McRae's music is larger than she realizes.