Janet Jackson Reveals How Some 'Nasty' Catcallers Inspired That Famous 'Miss Jackson' Lyric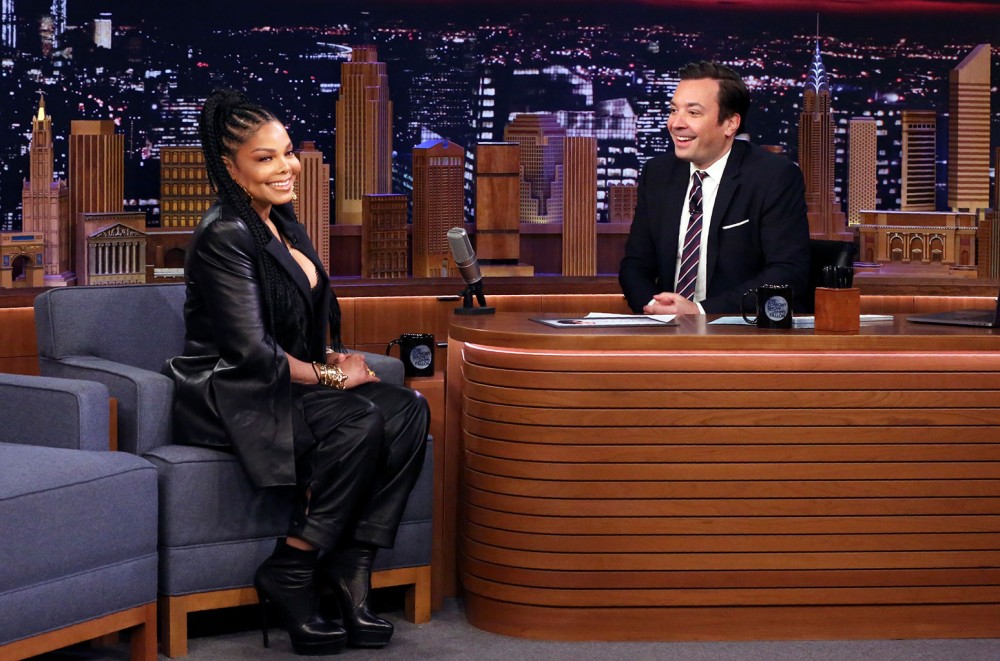 Janet Jackson Reveals How Some 'Nasty' Catcallers Inspired That Famous 'Miss Jackson' Lyric
87
She also chats about her Black Diamond World Tour & 12th studio album on "The Tonight Show Starring Jimmy Fallon."

Janet Jackson is hitting the road in a few months for her just-announced Black Diamond World Tour, and she made a quick pit stop on The Tonight Show Starring Jimmy Fallon Monday night to talk about how she landed on such a precious title for her upcoming 12th studio album.
"Black diamond, it's the toughest of the stones, of the diamonds, to cut. And I heard that immediately as hard to hurt, to destroy. And in my recent years, I've come to realize that I'm incredibly strong," she told Fallon. "And I see myself as this rock, you know, and just rough around the edges. And just want to share some of my strengths and stories."
Her official tour poster teases a special performance of Rhythm Nation, her landmark No. 1 Streets Talkin 200 album that celebrated its 30th anniversary just last year. But when asked about it, Jackson didn't tease anything more. "Well, you'll have to come and see what that means," she said.
Her North American dates will take her all over the country this summer before she takes the tour abroad, but for hopeful concertgoers around the world, she just wants them to sit back and relax. "Whatever stress, troubles in their life, for those two hours, just to leave them all behind, and hopefully they'll have an incredible time," Jackson said.
In addition to "black diamond," another name for Janet is "Miss Jackson" — a common phrase fans yell at the pop superstart, thanks to the lyrics of her 1996 No. 3 Streets Talkin Hot 100 hit "Nasty." She explained to Fallon that the lyric was born when she and a friend were catcalled back in Minneapolis one evening.
"My friend and I, we were on our way… I had never taken a dance class. So she had this great idea to take a dance class. We were staying downtown at a hotel, at a loft. And walking out of the hotel, there were like five or six older guys standing up against the wall, and they just basically started messing with us," she recalled. "And I didn't like it very much. And I was pretty embarrassed and I was actually pretty upset. And I came back to the studio that night and told Jimmy [Jam] and Terry [Lewis] about my experience, and it turned into the song 'Nasty.'"
Watch Jackson's interview segements on Fallon below.