Jacob Batalon Reinvents The Hero In 'Reginald The Vampire'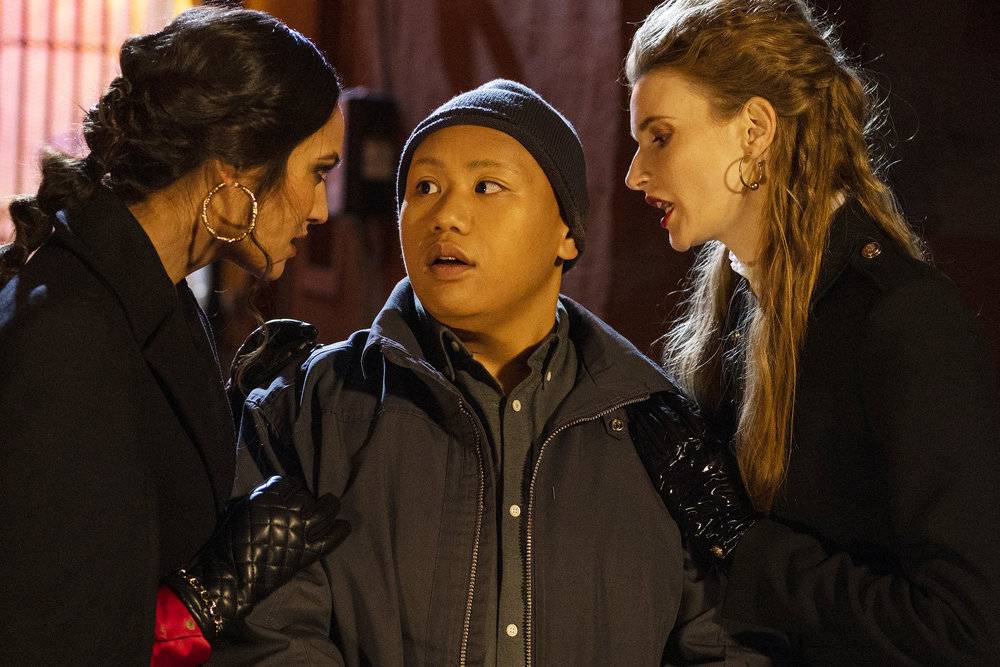 Jacob Batalon Reinvents The Hero In 'Reginald The Vampire'
56
There's just something about Reginald — but he doesn't see it at first. His skin doesn't sparkle like Twilight's Edward Cullen, nor does he possess the chiseled jawline of every love interest in The Vampire Diaries. No, the leading man of Syfy's new series Reginald the Vampire is "defective, grotesque, and an insult to our purity" — at least, according to Angela (Savannah Basley), the Head Vampire in Charge of Akron, Ohio.
That means Reginald Andres — as played by star Jacob Batalon — is one of a kind. "I really love Gary Oldman as Dracula… but I didn't really draw inspiration," Batalon, who rose to fame playing ride-or-die BFF Ned Leeds to Tom Holland's Peter Parker in the MCU's Spider-Man films, tells MTV News about his favorite blood suckers. "We've never really had any point of reference in pop culture or media because there's truly nothing like Reginald the Vampire. All my experiences growing up — being told I wasn't good enough or that I wasn't attractive enough and [that] being overweight and fat made me undesirable — I would say really informed a lot of my performance [as Reginald]."
In a memorable scene, which you can catch in the trailer above, Reginald stares himself down in a full-length mirror repeating the words he lives by: "If you always do what you've always done, you will always get what you always got." It's a quote often cited to Henry Ford, but in Reginald's imagination, he's the one presenting it TED Talk-style to an audience of admirers.
In reality, Reginald is a Slushy Shack cashier who's bullied by his fatphobic boss, Todd (Aren Buchholz), and is secretly in love with a coworker, Sarah (Em Haine), whom he believes is out of his league. This is what he's always done, and it's what he's always gotten — until he has a breakdown behind the fast-food joint's dumpster and begs "God or baby Jesus" for a lucky break.
Instead, he gets a lucky bite. When Maurice (Mandela Van Peebles) and his well-dressed creatures of the night transform Reginald the cashier into Reginald the vampire, it forces the life out of our unexpected hero and pushes him well outside of his comfort zone. "I think Reginald is a very charming person," Batalon says. "I think his acceptance of his place in the world and his self-awareness, he's just a very relatable person. For a lack of a better thing, I would say that Maurice actually feels bad for him at first, then grows to love him as a friend, brother, and mentee."
Alive or dead, Reginald draws folks in without even realizing it. As the storyline progresses, the people in his orbit gravitate toward his self-deprecating humor ("I'm so fat, my favorite necklace is the food chain") and charisma. He's such a "sweet soul," Batalon adds, "you would hate to see him go through anything bad."
But there's no growth or personal development without change, and for Reginald, change means entering a supernatural society with more cliques and drama than middle school — all while learning how to hunt and satisfy his inescapable bloodthirst as a newborn vampire. For Batalon, meanwhile, change means coming into this show not just as its star, but also as a producer alongside series creator Harley Peyton, best known for his Emmy-nominated work on 1990's Twin Peaks.
"You just work hard to get lucky," Batalon says. "That's where I'm at. I think fame is really fickle, and I think that I'm just moving for my own happiness and not for others' approval."
Making the move from Marvel to science fiction was less about the genre — though "we all love a bit of fantasy," Batalon jokes — and more about opening doors to opportunities that let him step behind the camera when he wants. Right now, he's working on a movie in Serbia, but his next project "could be literally anything."
"Anything you might find to be predictable and it ends up being something completely different, I find to be the best sort of material," he explains. Reginald the Vampire, based on the Fat Vampire books by Johnny B. Truant, fits the bill because it defies tropes about what vampires should or shouldn't look like. (As Reginald says when he tries to feast on his first victim, "Vampires come in all shapes and sizes!")
"But in the same breath, health is a big part of self-love," Batalon says, admitting that for a long time, "being obese and overweight was sort of my coping mechanism, and I didn't really do anything about it. I just would like to tell people that you don't have to look like a Hollywood movie star to be healthy. You don't have to have a six-pack and have shredded, ripped muscles to be healthy. I'm just saying, maybe don't be eating junk food every single day. Maybe eat better food once in a while, that's all.
Speaking of self-love, supernatural powers like glamoring — the ability to control someone else's thoughts and actions — are an interesting metaphor in Reginald's vampire universe. Reginald's lovable nerdiness gets a boost post-transformation, making speed reading one of his vampiric talents. (His other skill, revealed in later episodes, is exceptionally rare, so we won't spoil it here.) In other words, what makes you different, even if you're insecure about it, can become a superpower.
"You are the main character of your own story, and you make of it what you will," Batalon says. "Being a Hollywood leading-man type is not the be-all, end-all of existence. You can succeed in life without society telling you the right and wrong things to do, and I hope people really understand that and know that they are special, different, and unique in their own ways that make them valuable and make them priceless."