In The Loop With Masego: Interview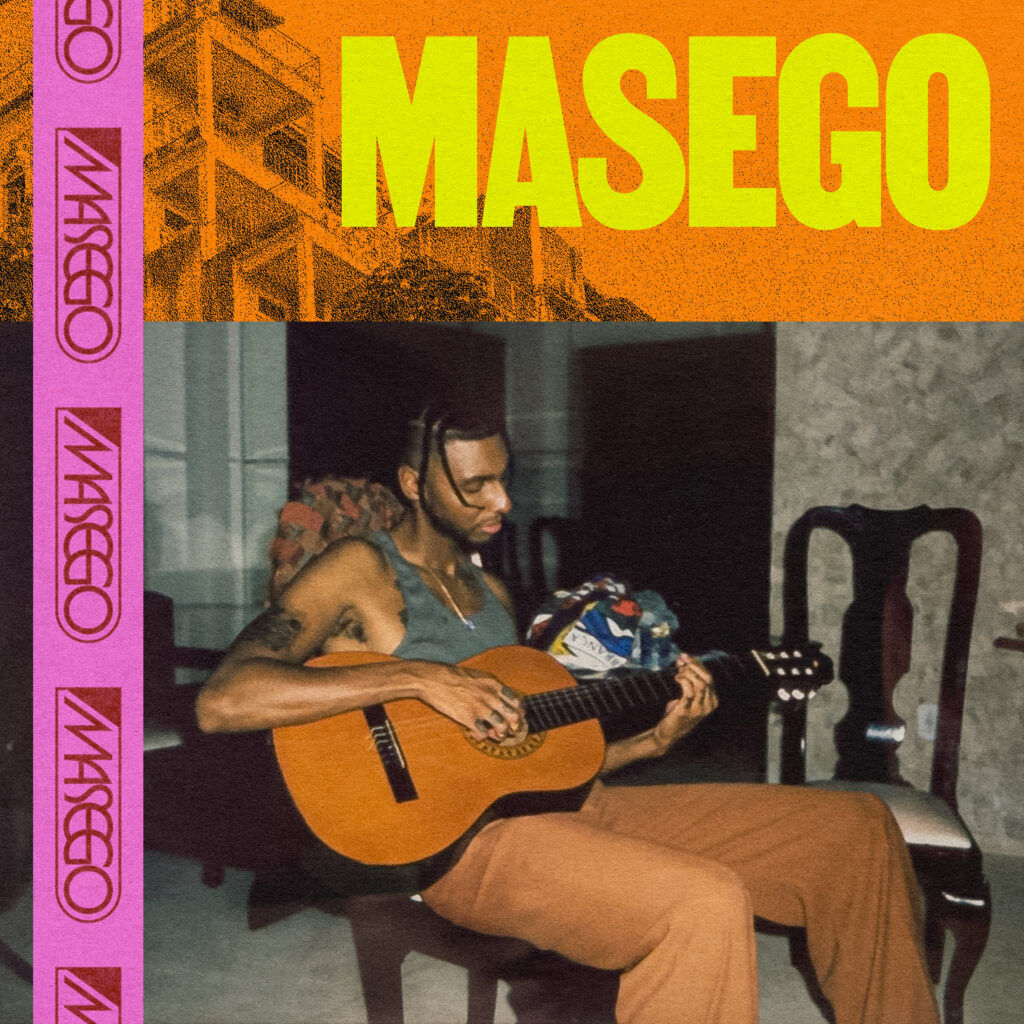 In The Loop With Masego: Interview
3399
The cover art for Masego's self-titled sophomore album, out now via EQT Recordings/Capitol Records, shows a candid photo of him seated on a wooden chair, wearing chestnut pants and a gray tank top, as he plays an acoustic guitar.
"That particular photo was not even intended to be the album cover, which I love," Masego reveals to Rated R&B. "It was just behind-the-scenes type of photography. When we were choosing the album cover, that one made me feel like the album made me feel."
It sets a different tone from the cover of his 2018 debut, Lady Lady, which sees a suave Masego, dressed in silk, sitting comfortably on plush furniture. The sumptuous cover depicted a dream world that he envisioned.
He previously shared, "I feel like everybody that has dreams has a place that they revisit. I kept seeing a lavish home — a big mansion — lots of silk, lots of world-traveled items."
With songs like "Queen Tings" featuring Tiffany Gouché and the SiR-assisted "Old Age," Lady Lady was an ode to women who inspired Masego in some way, whether it was platonically or romantically.
Specifically, the album explored the nuances of modern love and relationships underscored by conversations he's had with women and his own experiences.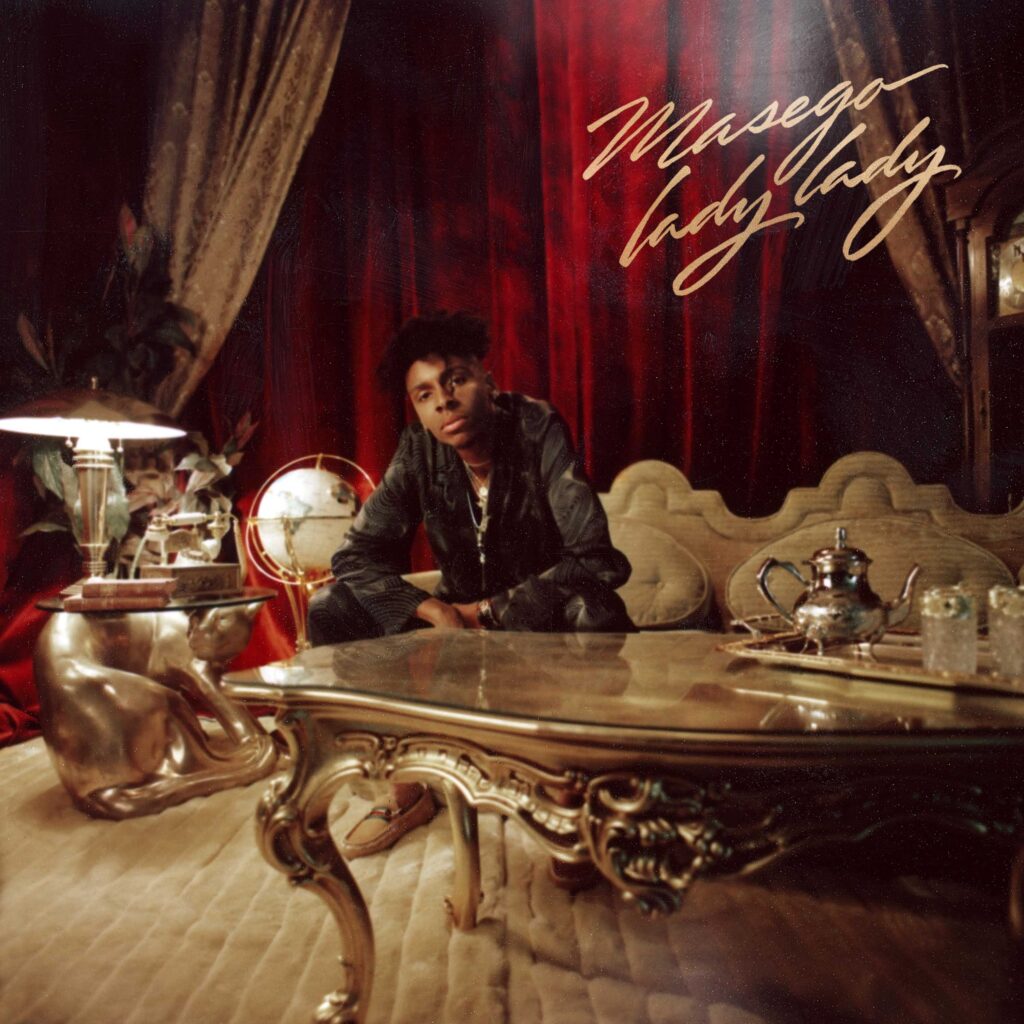 On Masego, the Virginia native takes listeners on an intimate journey from his early beginnings as a street busker pursuing his musical ambitions to achieving notoriety and having a new outlook on what fame means to him now. The 14-track project isn't just about his professional life but also his personal life, where he navigates the highs and lows of love and heartbreak. "Though the album is very lush and has its elements that people are familiar with, I think what's different about this album is the depth of vulnerability that I got," says Masego.
He opens the album with "Black Anime," a slow-burning bop that will pull you in like quicksand, making skipping to the next track impossible. The syrupy tune, which samples and interpolates DJ Casper's "Cha Cha Slide," plays like a dream where Masego is somewhere overseas enjoying his lavish lifestyle as a successful artist — before the sound of an alarm clock wakes him up to reality.
Masego says conversations with old friends from Virginia, where they reminisced about their preconceived notions of being in the industry, inspired "Black Anime."
"We were reading old tweets, old Facebook posts, and just analyzing how we thought this was going to go and how we want the life to be," he explains. "It almost was my version of I want the money, the cars, the clothes and all that, and waking up to the reality of, 'Oh yeah, you're not there yet. You're a street musician in Virginia.'"
Being in a position to put people on, reach a whole lotta people and connect is why fame appeals to me

— Maségo (@UncleSego) May 31, 2014
He paints a vivid portrait of his experience busking on "Sax Fifth Avenue," where he sings: "I go where the money go / I relocate to the store / With a fear in my eyes / Will I survive / Playing to eat / Praying to God / I've got 14 dollars in my wallet / Open my case up, 'cause I ain't ballin' yet."
Masego is a master storyteller. It's part of what makes his self-titled album so compelling. He isn't afraid to be vulnerable; when he is, he knows how to present it in a way that doesn't feel so loaded. "Down In The Dumps" is among the more personal songs on the album. The bluesy tune hears Masego crooning about unrequited love from a partner.
"The overarching structure of that song was about the feeling I had in a lot of relationships where it's almost like being unequally yolked. One person likes the other a lot more and that imbalance leaves the other person a lot more down than the first person," Masego explains. "To not have that energy matched brought me pretty down. I feel like when you make yourself vulnerable, it can be beautiful, but you can also be subject to some deeper levels of pain that you have to be able to have the bandwidth and the character to deal with."
[embedded content]
Masego once dreamed about turning his hobby into a career. Now, with over two billion streams, a Grammy nomination, multiple RIAA awards and sold-out tours, he knows a thing or two about being a public figure. He also has been in enough spaces to know what he likes and dislikes about fame. 
"Who Cares Anyway" unpacks his frustrations with the structure of the music industry and its smoke and mirrors. "When I was first aspiring to be a part of it, I imagined it to be different from the way it functions to how you win things to how you level up your business. When you observe how it's being conducted, it's like, 'Ah, I don't really like this," he comments.
In "Who Cares Anyway," Masego references comedian Dave Chappelle, who abruptly walked away from his highly successful Chappelle's Show in 2005 and fled to South Africa to escape the stress of showbiz. "Don't think I wanna be famous no more / Dave Chappelle vibes, move to Africa," Masego croons on the reflective number.
[embedded content]
"I'm starting to understand how Dave Chappelle felt. I'm starting to understand how I spent a lot of my life trying to get money, hustling, trying to level up. Then there's a shift that happens where you receive more information. You thought there was so much authenticity in certain areas," he adds.
"I thought if I go to the richest part of town, that's going to be the end of the video game, but that's not what it is. First, it was a bit of a frustration with the bait and switch of it all, then a hopefulness 'cause it's like, 'Yo, there's places that are amazing. There's places where you can kind of create the experience and world that you believe you deserve."
Masego admits that he was much more confident about receiving a positive response from listeners on his self-titled album than when he released his debut album. Since the former was his first major project, he wasn't sure how well it would be received.
"Going from the Pink Polo EP to Lady Lady was a scary time because those are completely different sounds. I went from Hawaiian shirt, laughing Masego to sexy time, ladies love Masego. It's a different performance. It's a different energy."
He continues, "I knew people would like [Masego] this time around, but I didn't know how long it would take them to realize they liked it because of all the noise in the world. I leveled up my pen, my musicianship [and] my storytelling. I know objectively I did a great job. I'm proud of myself. But in terms of other people recognizing that, that's out of my control."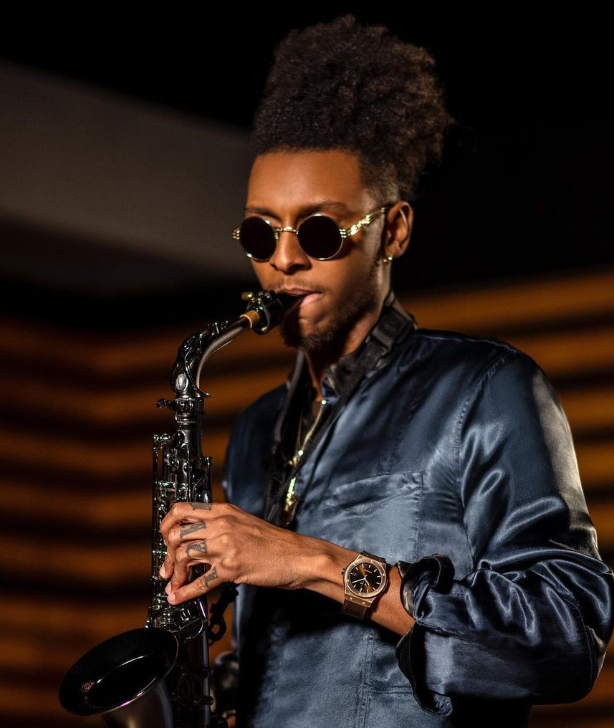 For years, Masego has found comfort in journaling. When it was time to release his second album, his entry focused on patience. "When I was writing in my journal, I was like, 'You got to be okay if people don't pick up on how good it is until year two,'" he shares. "'And understand whether people pick this up or not, whether it wins the awards, know that you definitely made a great album.'"
And a great album it is. Masego, who looks at life as one big loop that constantly fluctuates, hopes his new album can resonate with anyone at any stage of their life. "I feel like if people understand that everyone has a loop that they're doing and every person's loop can change based off of the right experiences and relationships, they can feel encouraged and feel okay with being present and vulnerable in all the emotions that come with it."
He concludes: "My loop used to be wake up, go to the street, put my hat down, put my case open, and just start playing [the sax] to try to make money. Then my loop became wake up, log into my phone and try to make some contact that gets me a little bit further than I am. The new loop is wake up, talk to people like yourself, and try to let the world know: 'Yo, I got an album out and it's pretty fire.' It's being thankful and having gratitude to say, 'There's so many loops happening in the world.' I think anybody can apply their story or their loop to my album and it could just be the background soundtrack to their life."
Masego is currently promoting his album on his sold-out You Never Visit Me Tour, which wraps up April 27 in Los Angeles, California. "I love the loop of tour because I get to cosplay as Kobe. I have to do a different type of meditation [and] self-care to make sure I can give my energy to thousands of people every night and be cool mentally. It's a process and it's very serious to me, which is fun because that's what athlete life is like. That loop is one of my favorites."
Stream Masego below.