Icewear Vezzo Blends Michigan Rap & Lean Culture + Elevates His Status On 'Rich Off Pints'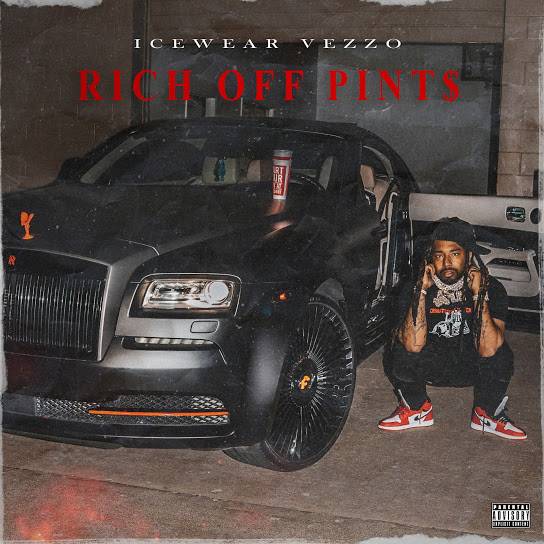 Icewear Vezzo Blends Michigan Rap & Lean Culture + Elevates His Status On 'Rich Off Pints'
84
Underground Detroit rap legend Icewear Vezzo has interwoven the sound profile and story of the streetlife within the dominant themes of his projects in the most organic way possible. Following the release of 2020's Robbin Season 2 album, he told HipHopDX he was proof he was more than "just a muthafucka that went to jail and came home and only rap about jail."
Now, Vezzo has proven once again his music is more than just jail cell bars, digging deep into his bag of scripts for the seal-popping soundtrack, Rich Off Pints. Combining rugged Wockhardt-influenced flows and piercing production, Rich Off Pints establishes the aggressive nature in which Vezzo exerts his lyrical and stylistic willpower.
"6Up" sets the tone as one of the most hype records on the project, injecting brash money-taunting bars with a hood-fame-drenched tone that's both intoxicating and stand-offish.
"Why would I let no let no pussy or no rat n-gga try to play me," he raps. "Like fuck the money, I'll crash out n-gga right now/That's on my baby."
Vezzo continues to gain momentum off the strength of merciless 808-powered trap anthems between his flexes on "Choppy Talk" and opp-pack-smoking intent on "Live In STL." Another highlight embedded within the front half of Rich Off Pints comes in the form of Vezzo's Detroit-to-Flint collaboration "Jack Artist" with Rio Da Yung OG. Both rappers exchange their addictive syrup-driven flows back-to-back with lockstep synergy.
But on the flip side, Vezzo's lyrical precision sometimes can't overcome many of the beats sounding the same. Hearing the same preset hi-hat coupled with the four-key dark piano on every other track, especially during the middle section of the tape, can become tedious despite Vezzo's charisma.
The composition of the project begins to work in Vezzo's favor toward the end, allowing him to build up momentum with the padding of reliable features before he's run dry of his sedative drank. His "Kitchen" collaboration with Memphis rap newcomer Big30 proves his street credit is as valid in any city as it is on any beat.
"Ghetto n-gga, I done put my Wraith on twenty-sixes, yeah (Skrrt)," Vezzo tees-off on "Kitchen" with Big30. "Hit the hood, drop a heavy bag, they think it's Christmas (On God)/Beam on the Glock, shit blue and red, look like the Pistons (Detroit)."
As the collabs roll on, the D-town rap star continues to test his pen game against his peers. The result plays to his benefit, proving he's not slowed by the screw in his cup. Vezzo's collaborations with Dreezy, EST Gee and Trippie Redd on tracks such as "Need Me," "Kobe Bryant," and "Goat" don't disappoint but the main highlight is the scam-rap posse-cut "Spice Talk," which further cements his unwavering support for Michigan's emerging rap community.
With a lack of creative miscues and an abundance of high-energy, Icewear Vezzo elevates his lyrical stature and commercial appeal on Rich Off Pints, without stifling his identity. Even though it's a mixtape essentially all about profiting off of (and using) lean, the music doesn't feel stagnant at any point in the project — but it's still a project about cough syrup and hustling, which is sometimes unrelatable
Only time will tell if he can keep the pace up on Rich Off Pints 2, while also figuring out a way to keep the listeners entertained without flexing their faces off.
Repeat Me:
Fan Feedback: