Dru Hill, Tevin Campbell, Keri Hilson More to Be Honored at 2022 Black Music Honors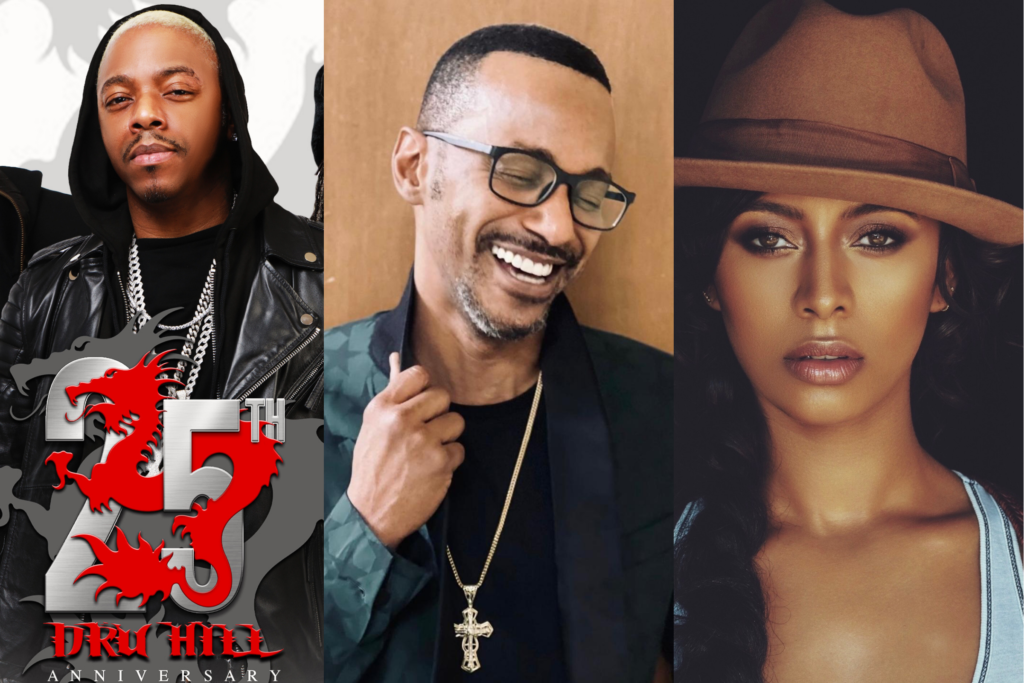 Dru Hill, Tevin Campbell, Keri Hilson More to Be Honored at 2022 Black Music Honors
81
R&B stars will receive their flowers at the 2022 Black Music Honors, powered by Central City Productions. The Whispers, Dru Hill, Tevin Campbell, Karyn White, and Keri Hilson will be recognized for their influence and significant contributions to American music. Gospel duo Mary Mary will also be honored.
The Whispers
The Whispers will receive the Legends Award for their music career, spanning nearly six decades. The R&B group is known for their timeless hits such as "And the Beat Goes On," It's a Love Thing," and "Rock Steady," to name a few.
The latter tune, produced by Babyface and LA Reid, peaked at No. 7 on the Billboard Hot 100 chart. It also was nominated for Best R&B Performance By A Duo Or Group With Vocal at the 30th Grammy Awards.
Dru Hill
R&B group Dru Hill will be honored with the Urban Music Icon Award. They're currently on tour celebrating their 25th anniversary. Dru Hill made their official introduction in 1996 with their self-titled album, which was certified platinum.
The album featured their platinum-selling hit "In My Bed," which peaked at No. 4 on the Hot 100, as well as "Never Make a Promise" (No. 7) and their gold-selling debut single "Tell Me" (No. 18).
Karyn White
Karyn White will be presented with the Soul Music Award. White released her self-titled debut album in 1988, primarily written and produced by Babyface and LA Reid.
The album, certified platinum by the RIAA, featured Billboard Hot 100 hits such as "Secret Rendezvous" (No. 6), "The Way You Love Me" (No. 7)" and "Superwoman" (No. 8).
In 1991, White scored her first chart-topper on the Hot 100 with "Romantic," produced by Jimmy Jam and Terry Lewis.
Tevin Campbell
Five-time Grammy-nominated singer Tevin Campbell will receive the R&B Icon Award. Campbell launched his music career at the tender age of 12. He appeared on Quincy Jones' 1989 album, Back on the Block. He was featured on "Tomorrow (A Better You, Better Me)," which peaked at No. 1 on the R&B charts.
Two years later, Campbell released his debut album, T.E.V.I.N. His single "Tell Me What You Want Me to Do" reached No. 6 on the Billboard Hot 100. It remains his highest-charting hit on the Hot 100, though 1993's "Can We Talk," from I'm Ready, had a more significant cultural impact.
Nearly twenty years later, the Grammy-nominated song, which peaked at No. 9 on the Hot 100, continues to be part of singing challenges on social media.
Keri Hilson
Keri Hilson will be honored with the Music and Songwriter Icon Award. Hilson has penned songs for a range of artists, including Mary J. Blige ("Take Me As I Am"), Usher ("Red Light"), Chris Brown ("Young Love"), Omarion ("Ice Box"), Avant ("4 Minutes"), Tiffany Evans ("Girl Gone Wild"), Britney Spears ("Gimme More"), Pussycat Dolls ("Wait a Minute") and more.
In between writing for other artists, Hilson released two studio albums — In a Perfect World… and No Boys Allowed. Fans have been anticipating her third album, which doesn't have a release date at this time. In 2019, Hilson hinted that another album was coming. However, she has yet to share new music.
Mary Mary
Grammy-winning gospel duo Mary Mary will take home the Gospel Icon Award. Erica Campbell of Mary Mary recently released her new single "Positive" from her upcoming third solo album.
Additional Details
"We are more than excited to return to in-person taping for the first time in nearly three years with a live studio audience," said Don Jackson, founder of Central City Productions and executive producer of the Black Music Honors.
"The pandemic had an unprecedented impact on the music industry and we're honored to celebrate, commemorate and honor music trailblazers who have paved the way for the next generation of music and culture."
Legendary singer and occasional actress LeToya Luckett and comedian DeRay Davis will co-host the Black Music Honors. The ceremony will be taped in Atlanta, Georgia, on Thursday, May 19. Tickets for the live taping are on sale now at blackmusichonors.com and ticketmaster.com.
The 2022 Black Music Honors will air on Saturday, June 25, on Bounce TV.
View this post on Instagram