Dreamville 'D-Day' Fails To Live Up To The Upper Echelon Of Gangsta Grillz Mixtapes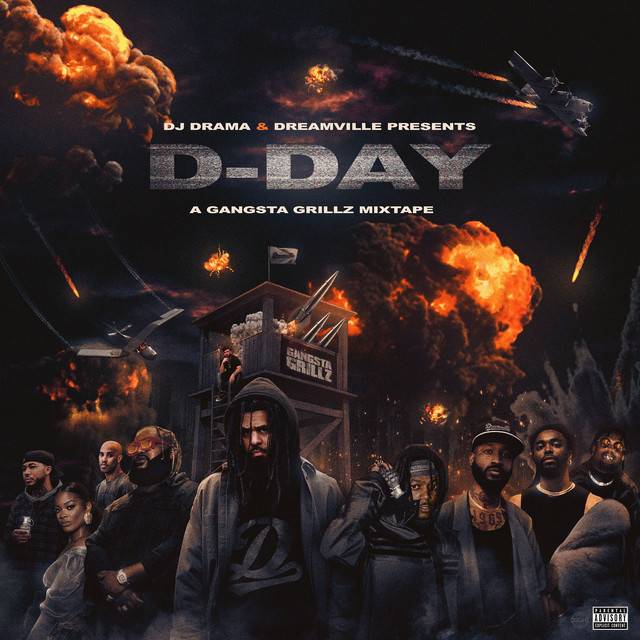 Dreamville 'D-Day' Fails To Live Up To The Upper Echelon Of Gangsta Grillz Mixtapes
81
The rise of J. Cole's rap label imprint/collective Dreamville coincided with a wave of insular rap crews. For a period in the late 2010s, this included groups such as Los Angeles' Kendrick Lamar-run Top Dawg Entertainment, Harlem's A$AP Mob and even the boy band sounds of Brockhampton. But, as has been noted, in 2022 the need for these posse cliques has disappeared, taking most of the groups with its departure.
Top Dawg Entertainment lost its leader and features a mostly inactive roster, A$AP Mob hardly ever reconnects and Brockhampton is no more. But Dreamville is still clinging on, decaying in plain view on their latest release D-Day: A Gangsta Grillz Mixtape.
D-Day attempts to capitalize on Gangsta Grillz nostalgia and show the fun side of the Dreamville roster, but its rushed and lazy nature makes it a record with no purpose, highlighting a glaring pattern in recent Dreamville releases. Whereas past projects, like the early Revenge Of The Dreamers tapes, at least served as an introduction to the group's roster or a boost for bright new rap stars, D-Day is an assembly of artists who, save for a few exceptions, haven't released anything interesting of their own in years. Pasting them together comes across as a substitute for trying anything new or putting in needed effort on the solo front.
View this post on Instagram
"Stick," the album's opening track, features the Dreamville Boss alongside JID, Kenny Mason and an awkward Sheck Wes verse that should have stayed in 2017. There's a palpable energy surging through booming 808s and a triumphant orchestral sample. JID, one of D-Day's few saviors, raps well, as does Kenny Mason, who keeps the adrenaline high with a searing verse. But even the album's liveliest cut is tarnished by Sheck Wes's "Mo Bamba" cosplay and a tremendously bland verse from Cole.
Bas's hook on "Lifestyle" is admittedly catchy, but it's impossible to feel that the song is anything more than a near carbon copy of 2018's "Boca Raton," which also featured A$AP Ferg. Cozz's raps over the iconic "Who Shot Ya?" beat on "Big Trouble Freestyle" sound like a Hot 97 Freestyle made to be clamored over for a week-long media cycle and then promptly forgotten.
Some sins tower above the rest on D-Day but none are more guilty than J. Cole, a rapper who has so much to offer but finds himself consistently underdelivering on the project. Across all of D-Day Cole's raps are propped-up by vague sentiments and nostalgia. He's too focused on the polished, surface-level shine of his raps, losing substance in the process. Gangsta Grillz tapes are meant to be gritty and raw, but D-Day feels more aligned with the same music Dreamville has been releasing for years.
The truth is, D-Day wouldn't be any better without Cole's involvement, but it certainly wouldn't be worse: not a convincing argument from a rapper who complained about only being named the genre's third best rapper on "Heaven's EP." Cole's hollow, lukewarm lyrics: "Freedom, know what I mean?," "Maybe deep down, I'm afraid of my luminosity" and "I don't play when it come to family, that's one thing I refuse" come across as that fake-deep college student who is always playing the role of devil's advocate but never does the required reading.
Appearances by DJ Drama, fresh off the soaring highs of Tyler, The Creator's CALL ME IF YOU GET LOST, are few and far between. The legendary DJ pops up for an occasional adlib or introduction, but sonically this project is strikingly similar to all of Dreamville's past outputs; Drama's name seems to have been added to tap into the post-Tyler Gangsta Grillz craze, but his involvement unfortunately adds little to the project at large.
Whatever JID's getting paid, it's not enough. The Atlanta rappers few contributions to D-Day are electric. He proves himself as one of the best on the roster, flaunting machine-gun flow on "Stick" and chaotic wordplay on "Barry From Simpson," two of the album's shining moments.
Chicago rapper Omen's "Ballin in Newport" is a strong contender for the tape's best song, a track which finds him spitting over a somber and eerie beat from Frank Dukes and Illmind. Similarly, Ari Lennox holds her own on "Coming Down," a striking ballad of independence and self-worth which showcases the duality in the DMV singer's voice between delicate tones and unbridled power.
In the two weeks since its release, D-Day has already plummeted out of the culture's discourse and sits just under the top ten of the Billboard 200. Compare its speedy descent with the staying power of any number of the many classic Gangsta Grillz tapes and past Dreamville releases, and it becomes even more clear of this project's futility.
A few beams of sunlight peer through an otherwise bone dry tracklist, making D-Day not completely unlistenable but certainly not worthy of a second glance. Not all of the album's faults lie solely with J. Cole, but as the ship's captain he's responsible for keeping it on course: a task he's blatantly unable to complete.
A self-proclaimed student of the game, Cole struggles to tap into the raw qualities which make Gangsta Grillz tapes special in the first place and he continues to fall into a path of rappers who rely on their past successes. The statute of limitations on Cole's more classic output have expired; it's long overdue that the North Carolina rapper reprove himself as worthy of the attention he so clearly desires.
Repeat Me
Fan Feedback
Enough time has passed……that Dreamville album was doo doo

— Cepeda (@cepedacheeks) April 13, 2022
New dreamville album pic.twitter.com/hxEHR4DCQf

— Matthew A Stewart (@sombersamurai) April 8, 2022
i cant stress enough how great ari lennox is on the dreamville dday album

— Eric¿ (@401Eric) April 6, 2022