Chlöe's 'In Pieces' Is a Tale of Resilience: Album Review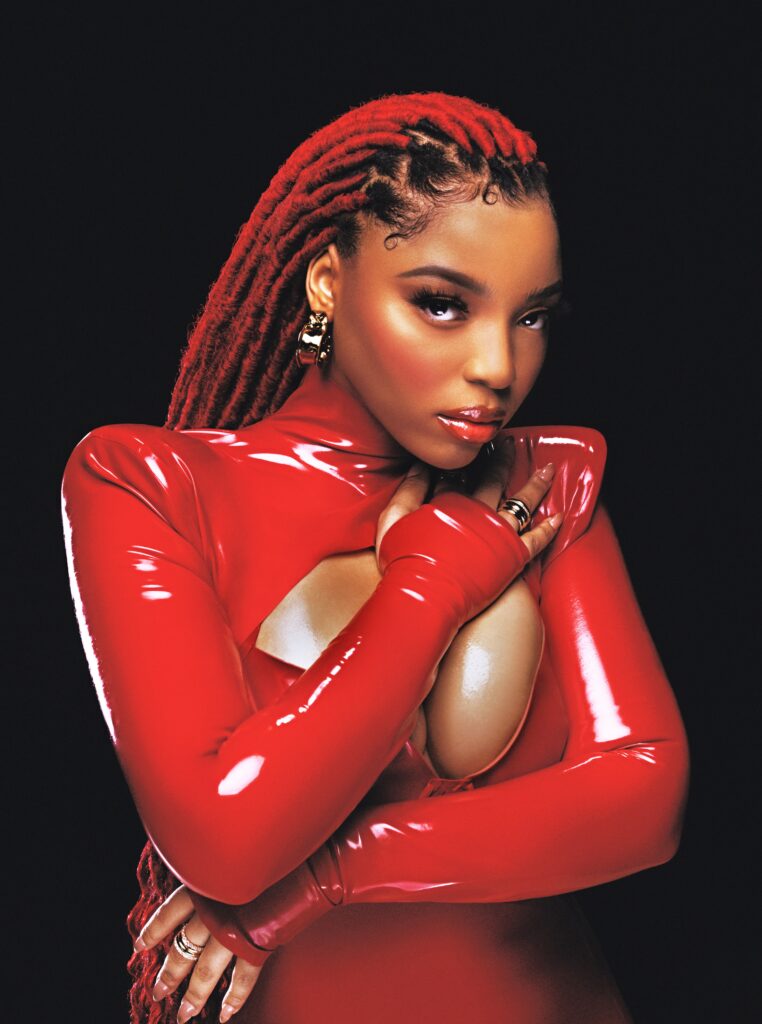 Chlöe's 'In Pieces' Is a Tale of Resilience: Album Review
53
Two years ago, fans and critics were fixated on the solo push of Chloe Bailey, now simply known as Chlöe. "Have Mercy," the first planned lead single from her then-untitled debut album, was synchronized with a solo appearance at the 2021 MTV Video Music Awards. It was where she first performed the chart-topping single, which subsequently went platinum the following summer.
But, despite making big waves at the MTV event and a few other career-defining stops, Chlöe wasn't prepared to give an anxious audience her first solo project.
One could presume that Chlöe's reluctance to throw out an album had much to do partly with finding stylistic diversity apart from Chloe x Halle. As a duo, Chlöe and her sister Halle Bailey released two acclaimed albums, The Kids Are Alright and Ungodly Hour, both nominated for Grammys in 2019 and 2021, respectively.
Chlöe started working on her solo album while Halle went to the U.K. to film Disney's upcoming live-action adaptation of The Little Mermaid. The fruits of Chlöe's labor first came with "Have Mercy." Three other songs — "Treat Me," "Surprise" and the Latto-assisted "For the Night" — from her then-self-titled album were issued. They accounted for Chlöe's album going through a gestation that ended up working out for the better, considering none of the subsequent tracks garnered the chart appeal as its predecessor.
When asked by fans online why some of the aforementioned tracks wouldn't make In Pieces, the title of her debut album, available now, Chlöe politely took to Twitter to respond. "I still love those songs, but the body of work as a whole, they were sticking out. The album evolved so much," she tweeted.
[embedded content]
Two days before Chlöe sent out that quote tweet, she dropped "Pray It Away," the newly-announced lead single. She had put her debut album era back on track after taking in the work she released last year and re-asking herself what songs truly define the experiences she endured through its conception.
Chlöe built on the new excitement for this rebooted epoch and soon released the Chris Brown-assisted track, "How Does it Feel."
"Pray It Away" and "How Does It Feel" showed a musical cohesiveness that assured fans that Chlöe was absolutely sure about the maturation of In Pieces. And for that, Chlöe was now ready to present her first album to the music universe.
In Pieces is a nice entry into the world of Chlöe and gives a meaningful glimpse into her artistry. If anyone is looking for the sensualness that Chlöe expertly channels during her performances, both live and in music videos, it's certainly available on this record.
Thankfully, however, Chlöe dips into her bag of tricks to show that she can give range, not just in her voice, but also in the subject matter.
Above all else, Chlöe is a vocalist. She insists on setting the tone for great vocal form on "Someone's Calling (Chlöe)," part album intro and interlude with an orchestral background.
[embedded content]
After waking up the world with her vocal prowess, Chlöe starts to get into the narrative arc of her album. Faith naturally permeates much of the content of each song, even when enough specifics aren't always made plain off the bat. Whether it's faith to move on from a failed relationship or the resilience to carry on when you feel like the world has broken you, Chlöe guides us through her journey with a refreshing level of transparency.
On "Pray It Away," Chlöe laments about a relationship gone awry. "God knows my heart," she exclaims, juxtaposing her righteousness with her significant other's trifling ways. The ultra-hip choir textures blended in the lead single's backbeat are wonderfully produced and purposeful.
The Metro Boomin' and DAVID x ELI produced "Worried" is a pleasant-unsuspected palette cleanser to the prolific Metro's usual hardened rap anthems. They allow Chlöe's hazy soprano vocals to shine and create a serene soundscape for her to flex her vocal production skills. Here, we see the star showcase vulnerability, something that adds more depth to all of the angst she shows on many of the other tracks.
Of all the pre-releases and other material on In Pieces, "Feel Me Cry" is easily a highlight. It demonstrates Chlöe belting over a beautiful beat that sounds like a hybrid between '80s funk and modern chillwave music. Again, Chlöe is behind the vocal production, exceptionally sporting much restraint, only opting to access her upper register for key parts of the song that stress urgency. The choir, trumpets, and saxophone all meld together to create a timeless-sounding record with replay value.
Even with all the inner turmoil, Chlöe never forgets to inject fun into her project when the opportunity presents itself. "Body Do" will be sure to inspire a lot of choreography videos on platforms such as YouTube or TikTok. The high-key bop, co-produced by Chlöe and 2300, with an additional assist from Smokey Beats, has an uptempo, summertime flare with its distinctive synths coupled with irresistible 808s. This perfect mixture makes it seem as if Chlöe is trying to bring summer to the girls early.
Chlöe gets a nice cameo from the legendary Missy Elliott on "Told Ya." This track is the closest Chlöe gets to organic, urban trap music, and it's a welcome addition to the album. She and Elliott return clever bars. "That's why these dudes on my cat like I'm Doja," Missy rhymes over a bombastic beat with sirens and reverberated drums.
[embedded content]
Despite all of the highlights on In Pieces, it'd feel wrong not to give a spotlight to the title track, the last listed track. It's here that Chlöe is her most sincere and candid. She likens herself to being a "tiger in a cage," a reference to her endurance in a tumultuous relationship.
"In Pieces," a piano-anchored tune, perfectly bookends the album's message of strength and resilience. Throughout its duration, Chlöe offers up all the facets of her voice, from her resonant middle belts to her piercing falsetto. If people felt the album as a whole didn't highlight enough to push her voice, they'll be gladly proven wrong with this closing number.
Chlöe has endured much online vitriol because of loud minorities boasting about respectability politics, her sister's absence, and finding her solo sound. That's what makes In Pieces a testament to her ability to endure and put it all into the music. It's hard not to respect an artist when you can visibly see their journey in the music they decide to share with the world. Chlöe is here, and it looks like she is here to stay.
Rating: 8 out of 10
Standout Tracks: "Feel Me Cry," "In Pieces" and "Make It Look Easy"
Stream Chlöe's debut album, In Pieces, below.