Chlöe Teases Three New Songs From Debut Album, Asks Fans to Pick Next Single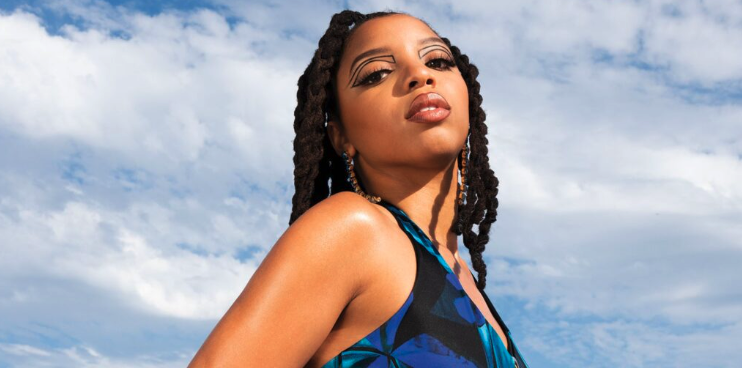 Chlöe Teases Three New Songs From Debut Album, Asks Fans to Pick Next Single
75
Chlöe Bailey's self-titled debut album is expected to hit the world like a meteorite via Parkwood Entertainment/Columbia Records sometime this year.
The project's first single, "Have Mercy," was released in the fall of 2021 and topped diverse R&B and hip-hop charts months after. The smash single eventually earned the rising singer-songwriter a gold award from the RIAA.
This spring, Chlöe followed up with the assertive track "Treat Me." Already, the bossy tune has amassed streams of more than nine million.
Anticipation remains incredibly high for Chlöe's first album following her request for suggestions on which song out of three possible choices should be the third single.
The titles of the songs mentioned in a recent Instagram Live were: "For the Night," "Surprise," and "Cheat Back."
The first song ("For the Night") is a hybrid of R&B and pop, detailing a scene of spending a brief time with an interest who is careful about putting themselves out there.
Chloe Bailey teases a new song from her debut album, "For the Night" pic.twitter.com/gyTUdwNqEc

— Chloe x Halle Now (@cxhnow) May 18, 2022
The next track ("Surprise") has a wicked beat and explores a playful and naughty side of Chlöe. Lastly, she played the cold guitar-based "Cheat Back," which outlines a scenario for revenge on a no-good man.
Chloe Bailey teases a new song from her debut album, "Surprise" 🌟 pic.twitter.com/rgtnXdb08h

— Chloe x Halle Now (@cxhnow) May 18, 2022
Many fans were torn between "For the Night" and "Surprise" as the next single from Chlöe. By all reports, she has yet to confirm which of the three will be released next.
Chloe Bailey teases another song from her debut solo album, "Cheat Back" pic.twitter.com/ryq0ODMacA

— Chloe x Halle Now (@cxhnow) May 18, 2022
It is known that her first album is complete, revealing the news in a series of tweets in March. "I don't control dates or anything, but just know i'm super proud of this project. It means absolutely everything to me," she wrote.
Outside of playing future solo music on Instagram Live, Chlöe shared a snippet of "Cry for Me," a song previously teased.
She let fans know it is not exclusively her own but 6LACK's song in which she is featured. As a courtesy, she only played part of her verse. They have shot the video, according to Chlöe.
During Juneteenth weekend (June 17-19), Chlöe will reunite with sister Halle Bailey as Chloe x Halle to perform at Pharrell's Something in the Water Festival. Usher, Ashanti, 6LACK, Lucky Daye and more are set to play the three-day event. Tickets are available now.
View this post on Instagram