BSF 'Long Live DJ Shay' Is A Worthy Memorial For The Late Buffalo Producer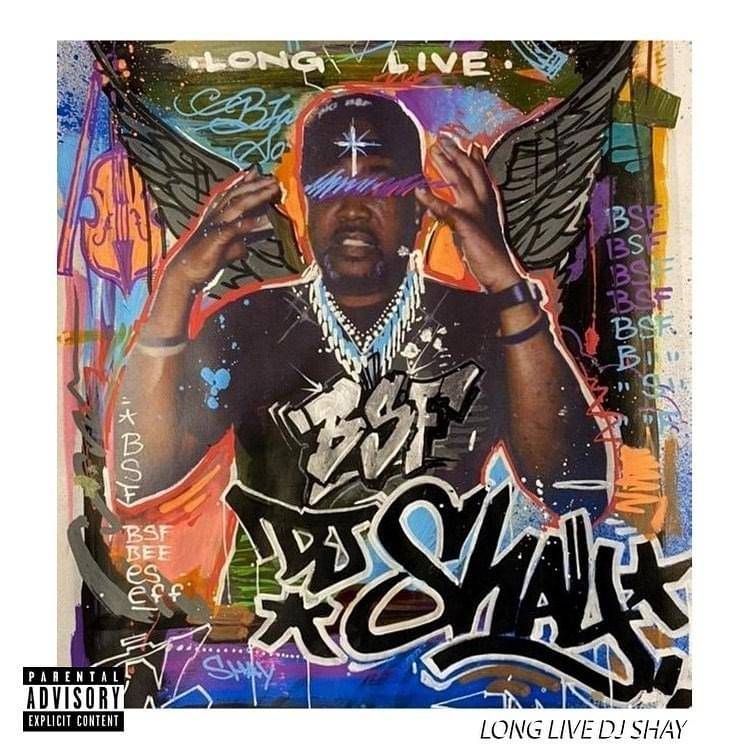 BSF 'Long Live DJ Shay' Is A Worthy Memorial For The Late Buffalo Producer
72
Not all compilation albums are created equal, certainly not when they have an overabundance of moving parts and personalities. This has certainly been true in the case of Benny The Butcher and his constantly evolving Black Soprano Family crew. Past releases, like their Trust Gang collaboration Trust The Sopranos and even the Gangsta Grillz tape, Da Respected Sopranos, were good but not great.
Long Live DJ Shay, the group's latest effort, is another story, playing more like a worthy highlight reel in memory of a man who was instrumental in the phoenix-like rise of Buffalo's underdog Hip Hop scene experienced in tandem with the rise of Griselda.
While there is some production from Shay himself, the Fuego Base "Intro" and Heem, Boldy James and Chase Fetti's collaboration "Mustachios," the bulk of the release's most significant moments include well-curated guest production. However, things stay within their wheelhouse, with BSF MC Rick Hyde ("Bigger Bsf" and others), long-time collaborator Alchemist and even DJ Premier dropping off some gems.
The latter, "Times Is Rough," is possibly the shiniest jewel on the project, with Preemo's sonic signature and trademark scratch hook playing host to some spry wordplay by Benny, Heem and Rick Hyde. There is also a wholesome moment in the intro, where Shay (live on Premier's Live From Headqcourterz radio show) admits to the legendary producer that he used his drums on Benny's thunderous "18 Wheeler."
Other replayable fire comes from Elcamino and Loveboat Luciano, who shine alongside Bone Thugs-N-Harmony's most bankable member Krayzie Bone on "Li-Lo," produced by ILL Tone (who helmed Elcamino and Chase Fetti's Bethlehem tape earlier this year). Mino, who appears three times across this release, also has a standout verse on the first single, "297 Parkside," featuring Rick Hyde and a chorus by coke rap rookie of the year Stove God Cooks.
Another obvious highlight is "Pandemic Flow," dipped in Alchemist's brand of finely tuned darkness. It gives Rick, Conway the Machine and one-time Young Money MC Cory Gunz the perfect backdrop to do what they do best; however, it also highlights a glass ceiling that BSF affairs sometimes experience. When things follow too closely to the formula, they don't feel as unique, and with such a large cast in tow, lulls and moments that don't pop do nothing to push the narrative forward.
Far more fleshed out than their previous group efforts, Long Live DJ Shay tries to keep things varied, even where it isn't wholly groundbreaking, making for a good listen. BSF has a ways to go before it's truly a household name; it's fair considering the learning curve for new or casual listeners who may be reeling to piece together back catalogs and supporting characters.
Though, with this level of cohesive quality, it's hard to deny that they are one of the hardest rap crews in the game right now.
REPEAT ME
FAN FEEDBACK
Long Live DJ Shay's just crazy, Benny The Butcher & Co. made a hell of a tribute album ?‍?

— It's ??????, Not Clinson. (@youngkcrown) September 14, 2022
This B$F – Long Live DJ Shay is outside music and I fuck with that

— VST Gee (@SonRaw) September 12, 2022
@PrettyRickyHyde Went stupid all over Long Live DJ Shay #MVP pic.twitter.com/owPFcQ5lTP

— 1-1 (@GriseldaSk8) September 19, 2022