Black Star 'No Fear Of Time' Is Almost Worth The Wait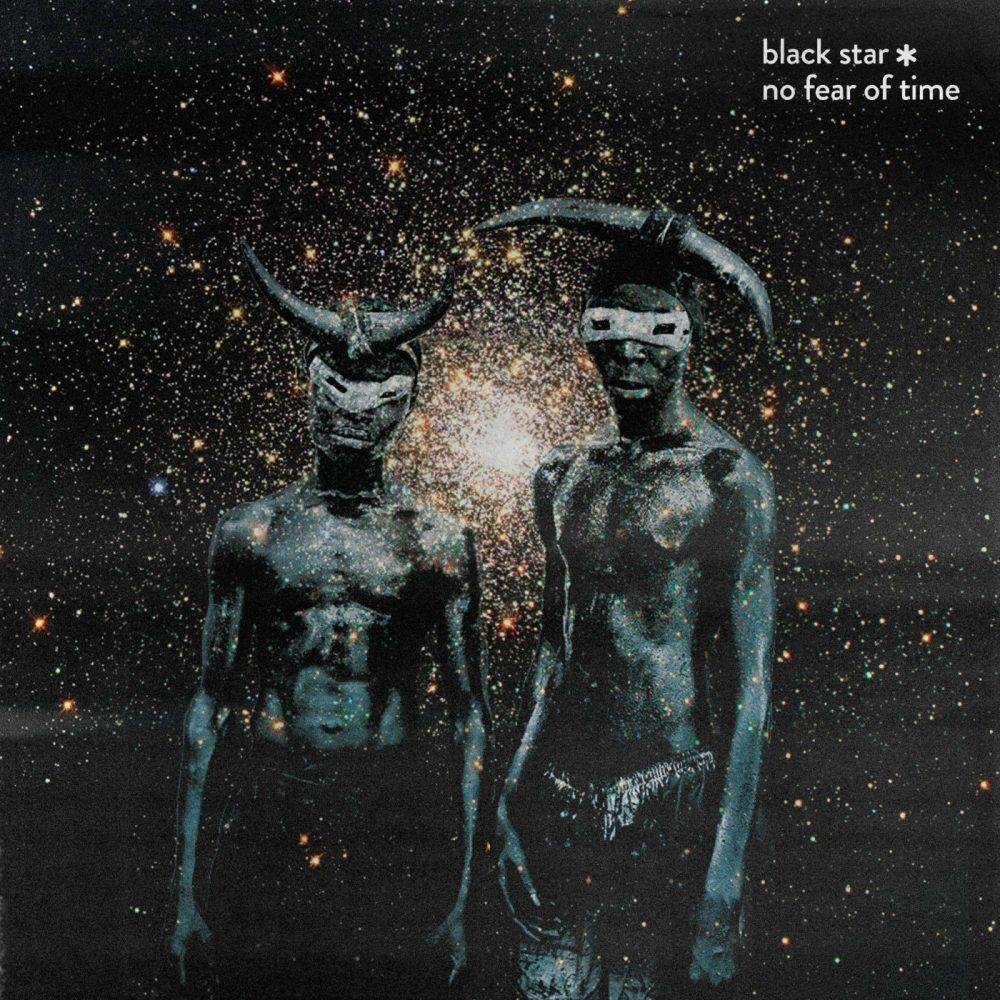 Black Star 'No Fear Of Time' Is Almost Worth The Wait
51
Hardcore '90s Hip Hop fans have chased a fair share of white whales over the years, but probably none more anticipated than the duo of Yasiin Bey (formerly Mos Def) and Talib Kweli. After first putting their respective solo careers aside in 1998 to release what has since been hailed as a classic, Mos Def & Talib Kweli Are Black Star (staking a claim as vanguards of the backpack rap movement), they took amicably different paths.
Mos' built on Black Star momentum with his 1999 opus Black On Both Sides before beginning to evolve his catalog into socially eclectic directions, not to mention his work in film and often obscure art. Meanwhile, Kweli crafted an expansive discography that includes eight solo albums. However, he later found his music eclipsed by his outrageous social media behavior and was eventually permanently suspended from Twitter after harassing a woman for weeks (among other things).
But there was a magic to the organic nature of how that first album came together. Born in spoken word cafés and cyphers in Manhattan's Washington Square Park in their formidable years — and swimming upstream from an increasingly commercialized Hip Hop landscape — nothing was forced. And that's not easily replicated.
It's this spirit that makes No Fear of Time, their first collaborative effort in 24 years, something special, even if it can't compare to the original. The product of backstage conversations and impromptu mobile recording sessions, the duo sound as fresh as ever — with their collective messaging feeling potent and timely.
View this post on Instagram

Released exclusively on the podcasting platform Luminary, the LP is a different sonic experience than its predecessor. Throughout the nine-song affair, they don't quite match the energy and earworm appeal of their legendary hit "Definition" or the soul caressing warmth of the Hi-Tek-produced "Respiration." But for artists as dedicated as Black Star, simply trying to recreate the same feeling would be more than a little corny, especially given their career trajectories.
Instead, they've enlisted Madlib's trademark brand of curated chaos, displaying who they are now instead of who they once were. The patchwork of soundscapes fits like a glove as they bend themselves through a variety of themes, from self-worth to white supremacy (with a few sidesteps along the way) that highlight their differing perspectives. The results are strong and delightful, with both MCs sounding weathered but focused.
There's also a grand sense of spirituality throughout, perhaps most abundantly from Bey, who more than once references the fact life is only so long. He reminds listeners beauty can be anywhere they look on "My favorite band" (a beat also used for Westside Gunn's "Ferragamo Funeral") and points out, "God gives us the design, and we assemble an ark and just float" on the project's title track.
Kweli also points to spirituality but with more of a militant authority, as he vehemently critiques glorified violence and blasts people who choose to self-medicate rather than meditate.
Of course, the star of a Black Star show is the dynamic chemistry the two MCs exude, and fans get that throughout the project. Steel sharpens steel on "So be it," a song dripping in so much Madvillain-era aesthetic, it's a shame DOOM isn't around to hear it. Fans also get the socio-political content they expect, as Kweli questions the ideological alignments of Congress members and applauds the elimination of Confederate monuments.
The album's guerilla-style creation, recorded in European hotel rooms and backstage at Dave Chappelle stand up shows, does shine through. While there's a charm to its loose, almost improvisational feel, it is less polished than one might expect from the two veteran rappers. The mixing is inconsistent, at times heavy-handed with vocal distortion (like on "Supreme alchemy"). That may be because Bey's vocals aren't what they once were, sounding slurred and subdued on some songs like he missed nap time.
One example is the album's most menacing moment, with perhaps the least replay value, "The main thing is to keep the main thing the main thing," where they primarily attack the appropriation of Black culture. Here, Bey makes some strong points, but his verse is virtually rhyme-less and lacking spirit, making it a frustrating listen.
In choosing an obscure, non-music streaming service to house their album, they try to rebel against modern streaming and algorithmic curation, serving dedicated fans increasingly tired of being fed by YouTube, as Kweli elegantly puts it on "O.G." The hypocrisy, of course, comes when fans are privy to Luminary hosting the group's Midnight Miracle Show with Chappelle. One could say it may be less a disruption and more a convenience.
Even still, they aren't relying on influencers to cherry-pick what they perceive as hits or larger entities to control their narrative or cash in on their brand of counterculture rebel music. Thus far, it appears to be an album more willingly embraced by those who value the art and message despite the medium. Those raised in a Spotify world seem to be more reluctant to shell out for music outside of standard DSPs, though frankly, it's ludicrously inexpensive (starting at $5.00) compared to, say, Donda 2. 
After all these years, the two Brooklynites have yet to sell themselves out or fall off lyrically despite moving in vastly different directions. Taking any other approach to this LP, or even trying to metaphorically fit square pegs into circle holes, would almost be disingenuous to their respective brands. Same could be said if they attempted to recapture the magic of their first LP.
Lack of everyday slappers aside, it's a grand return to form, giving truth to the bars, "Black Star shines eternally," off their debut single 24 years ago. It proves authentic, honest voices are impervious to time — especially if an artist is brave enough not to compromise.
Fan Feedback
The new Black Star album also proved that Madlib can't & won't be touched. ? pic.twitter.com/A7jCAKxN1b

— bo?? (@stopbydilla) May 4, 2022
Mos Def, Talib Kweli, and Madlib on No Fear of Time #BlackStar ? pic.twitter.com/2RwxIgGGZm

— PonderThat! ? (@PonderThat4) May 4, 2022
No Fear of Time is exactly what I wanted from a Black Star album in 2022

Definitely one of my favorites of the year and I can't wait to listen again

— Trouble Man ? (@NewThundercat) May 3, 2022