BabyTron 'Megatron' Stakes His Claim As A Leader For Michigan Rap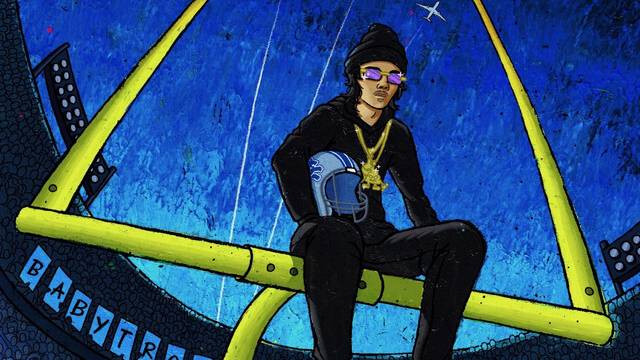 BabyTron 'Megatron' Stakes His Claim As A Leader For Michigan Rap
63
BabyTron has been staking his claim for the throne of Michigan rap since the top of 2022. On January 10, he released "Prince of the Mitten" — a four-minute verbal assault where Tron raps over everything from Sada Baby's "Whole Lotta Choppas" to Akon's "Baby Smoove." On January 30, he dropped "King of the Galaxy," where he spits over Michael Jackson's "Smooth Criminal" and Kanye West's "Through the Wire." That's part of Tron's charm: his ability to rap over original production and songs that have been ubiquitous within American pop culture.
But Tron's image also plays into his ascent. Where Michigan rappers usually resemble street hustlers with gang ties, Tron looks like a skinny mixed kid who plays pick up with his friends at the gym. Still, it works. For a guy who raps in run-on sentences most of the time, he can switch it up competently. He's never out of place and can rap over any beat or style thrown at him.
His loosies have been continuously overshadowing his actual projects. Instead of rapping over beats that even someone's less musically inclined parents have heard of, Tron goes for maximalist Michigan production: menacing pianos, snares that echo and drums that rip heads clean off shoulders. But Megatron offers the spirit of his loose material and packages it into a much more cohesive and focused gift of chaos. It does a few things differently than the previous records. 2019's Bin Reaper featured him over arcade themes from your local pizza shop and rapping about personal tales like credit card scams. But on Megatron, Tron has become detached and professional. He's still using unconventional flows, but it's mixed with pop culture and basketball references that are more common, rather than obscure.
On "Letter to Cornelius," Tron brags about living an enormously normal life, spitting, "100 dollar appetizer, we at Ocean Prime." It's a subtle flex claiming he's one of the biggest celebrities in his niche cultural scene, possessing the foresight he's on his way up but not quite ready to brag about Balenciaga.
Making listeners laugh with relatable charm has been Tron's biggest mission — and strength — for a while now. His raps are high octane, accessible and articulate what it means to be on the internet. The raps on Megatron are merciless like a stapler gun. His boyish nasal voice is inimitable. It stays the same on every beat, especially as he slithers up on "Mr. Do the DasH" with, "Grown man stash/I can pull a hunnid out my drawer." Even when he's rapping in the same cadence Rio Da Yung OG or Bfb Da Packman made popular, he doesn't lose his individuality. He doesn't outpace Rio as a writer, though. He's the attainable and silly version of him. On "Crocs & Work," he gives the listener a fake start as if he's making a mistake and then starts his verse with "hunnid ball in all blues on me, bitch think I'm Crip." It isn't Rio's "Last Day Out" but it's just good enough and maddeningly effective in its execution.
It's usually an artist's job to obfuscate expectations. Tron doesn't do that. He's a foregone conclusion; his strategy is one of a boxer, working the body with his sprawling punchlines, pawing jabs to mix his raps with basketball references. Tron is a budding star in one of the more omnipresent scenes on the internet. Throughout it all, he's avoided the controversies and law enforcement troubles that stifled peers such as Sada Baby and Rio Da Yung OG. Tron's not uncompromising. His new skill is that he can now adjust for his audience.
For example, "Extra Butter" has a beat that's reminiscent of a paid programming commercial, where "6 Star Wanted Level" is a raucous Michigan rap beat Tron delivers with angst. "Extra Butter" has middle-class braggadocio: "Remember sneaking out the crib on some bullshit/Out late ridin' everybody had a full clip," while "6 Star Wanted Level" is much more biting with its callbacks to events listeners wouldn't think Tron would know about. "Muddy-ass cup, witchcraft, do the pop like Salem."
There's definitely too many tracks on this album. "Hustle Junkie" doesn't quite work. It's stakes are lower than other tracks and runs the same formula — wordplay about guns and devilish crime — into the risk of exhaustion. "December 1st" tries to simplify things, with Tron using a pop sample from Sue Ann Carwell, but the beat dampens his energy, sounding languid. Megatron doesn't exist in philosophical spaces but when the minimalist production loosens, the album can become too big for its specialized segment.
While Megatron may serve as a nice entry to Tron's music, he's a lot more than this album, and hasn't slowed down since its release. If Megatron doesn't hit the spot, May's "Emperor of the Universe" finds him rapping over 21 different beats — from Outkast and 2Pac to Paul Wall and Yeat. It's proof BabyTron is the personification of unlimited artistic merit. More of this ingenuity could have pushed Megatron to be more than a worthy introduction album, but it's an overall solid showcase of what he has to offer.
He has the quirkiness to appeal to mainstream rap heads without losing the flair that brought him to this point. With Megatron, Tron shows that while he may not be making subversive work, he can take the Michigan region to new and popular heights because of his worthy gimmicks and work ethic.
REPEAT ME