Aqua Embrace The 25-Year Wild Ride Of 'Barbie Girl'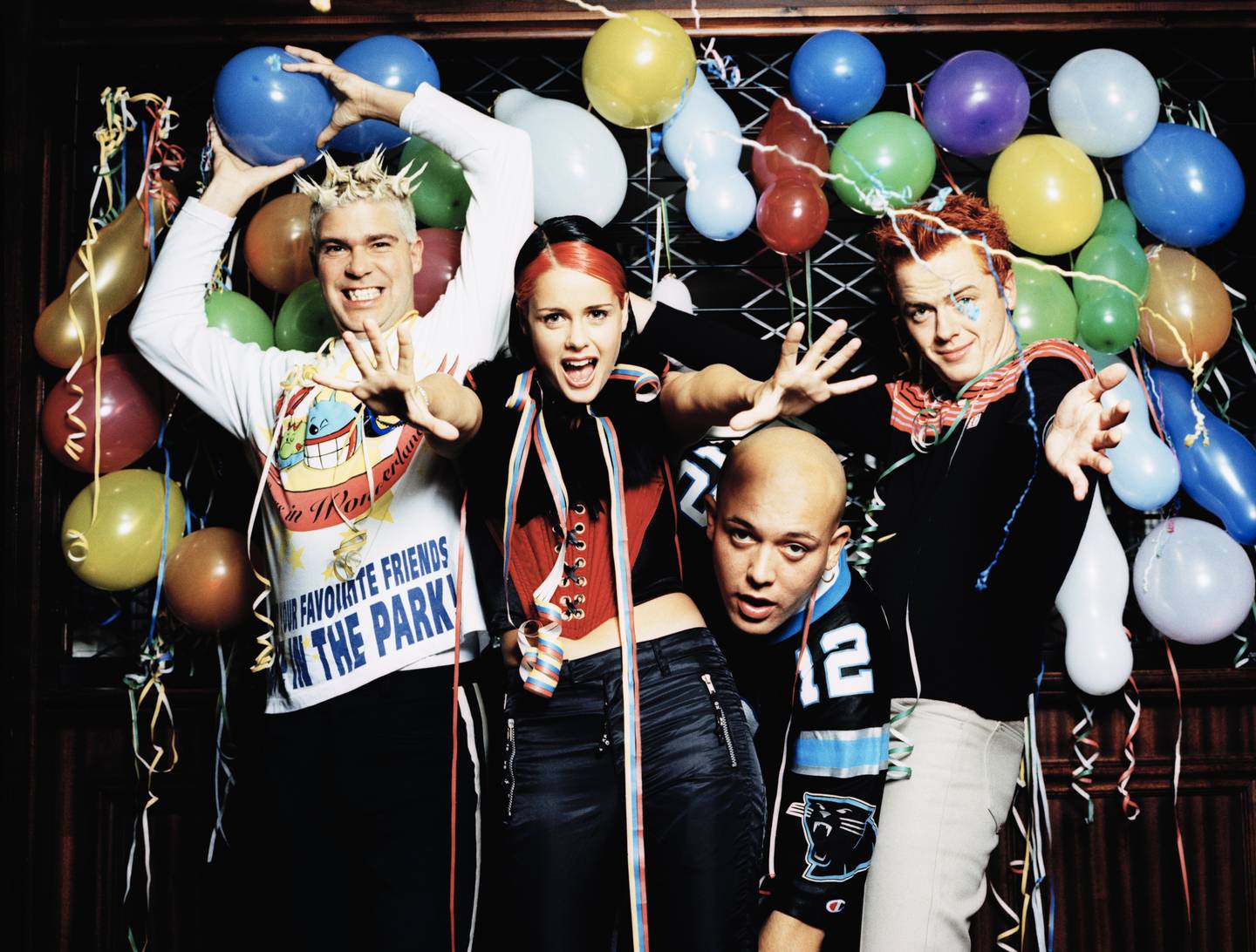 Aqua Embrace The 25-Year Wild Ride Of 'Barbie Girl'
49
As far as pop hits go, the summer of 1997 was magical: "MMMBop" by Hanson, Chumbawamba's "Tubthumping," and "Wannabe" by Spice Girls. But no single was quite as pervasive — on both the charts and the psyche — as a bubblegum earworm from a then-unknown Danish group called Aqua. The sound of an engine transforms into unmistakable synths as the cartoonish voices of lead vocalists Lene Nystrøm and René Dif take on plastic personas, and it takes only seconds to realize you're listening to "Barbie Girl."
Though the track was divisive upon its release (an NME review dubbed it a "novelty hit sensation for serial killers only"), there's no denying it was addictive, topping the charts in European countries and introducing the group to the United States, where it reached No. 7 on the Billboard Hot 100. It's been a quarter-century since its release on Aqua's debut album Aquarium, but the song continues to find new life — from nostalgic nightclub remixes, to RuPaul's Drag Race lip syncs, and Ava Max's viral reimagining. It's a legacy that the group, who went on to become the most successful band from Denmark, doesn't take for granted. "We always dreamt big, but never this big," Nystrøm tells MTV News.
Somewhere between Nystrøm's helium-infused vocals, Dif's booming bass, and the euphoric production on Aquarium — which arrives on vinyl on Friday (September 23) in commemoration of its 25th anniversary — you find the magic of Aqua. The group, which currently consists of original members Nystrøm, Dif, and Søren Rasted (guitarist Claus Norreen amicably departed in 2016 to focus on other pursuits), knew they had stumbled upon pop gold back in 1997. But they never expected to find this level of global fame. "We thought we had some really good songs," Rasted recalls. "We hoped we were going to make it in Denmark and maybe Norway and Sweden, but I don't think anybody really would've expected that it would go this far and that hard."
While "Barbie Girl" was their biggest hit stateside, Aquarium stands on its own as a '90s Europop artifact. "My Oh My" is a swashbuckling mockery of monarchy with an absurd mix of harpsichord and galloping hooves; "Doctor Jones" is a buoyant ode to summer love that gives Indiana Jones the caricature treatment; and "Lollipop (Candyman)" is an intergalactic, sugar-loaded joyride that managed to peak in the top 40 of the Hot 100. "We always enjoyed creating universes that are really easy to understand when you hear them," Nystrøm explains. Even the record's softer moments found mainstream success, as with the shimmering ballad "Turn Back Time," which appeared on the soundtrack for Gwyneth Paltrow's 1998 film Sliding Doors.
Although their biggest hit concerned a doll as American as apple pie, the album cover for Aquarium demonstrated that Aqua was not willing to compromise on their quirks, featuring Nystrøm in a beehive hairdo, Dif sporting blue brows, and Rasted with larger-than-life spikes. Fittingly, the "Barbie Girl" music video — which is "Presented in AquaScope," a title card informs us — stars Nystrøm as a tattooed, brunette doll and Dif as her bald, driving glove-wearing lover, much to their label's annoyance at the time. "I fought for that," Nystrøm remembers. "The video was two, three hours delayed because I refused to put on the blonde wig, so they had to go out and get someone to play Barbie and to play Ken … but I fought hard for being myself."
The cheeky visual, which has racked up over 1 billion views on YouTube, pulls out all the stops: a pink convertible, a pet horse, a Barbie dream house, and even an arm-pop at a dinner party. A blonde Barbie and perfectly coiffed Ken appear through the actors portraying the party guests, who in turn got their own fairytale ending — meeting on the set of the video, getting married, and having kids. "They must be the most-seen parent couple in the world," Dif says with a laugh.
Most listeners got a kick out of the song's suggestive undertones and clever winks at consumer culture, though Nystrøm acknowledges that "probably today, the lyrics would be a little too much." Indeed, playful invitations to "undress me everywhere" and "do whatever you please" might read less innocuous in 2022 than they were meant 25 years ago. But even back then, not everyone was laughing, namely Barbie's parent company, Mattel, which sued for trademark infringement in 1997. After multiple appeals, the case was ultimately tossed out in 2002, with its presiding judge saying that both "parties are advised to chill." "At one point, we'd been playing [the song] so many times that I actually thought when I saw the dolls that they started looking a little bit like us," Dif says. His bandmate Lene remembers seeing "a doll that was smaller with tiny breasts and my nose" while the lawsuit was progressing. Though the toymakers never released any official Aqua dolls, they did eventually change their tune, using the song for a 2009 campaign.
Aqua's more recent performances of the track are boosted by a live band, screaming fans, and a devil-may-care attitude — "Fuck off, Ken," Nystrøm quipped during their 2001 Eurovision performance — but they've also had moments of frustration with their biggest hit. "[From] a female side of it, I went through many kinds of stages with the song, especially when we went to America," Nystrøm explains. "People expected me to look like Barbie, to perform like Barbie, and it took a hold on me. There were times when the song was taken quite literally." This expectation of a bleached blonde figurehead ran counter to the song's intention of taking "the piss out of the Pamela Anderson Baywatch perfect picture with silicon boobs," as Nystrøm said earlier this year, and further inspired her to embrace her "rock chick" edge as a means of defying assumptions.
After Aquarium, Aqua continued their cartoonish tradition from a more mature viewpoint on 2000's Aquarius, fronted by lead single "Cartoon Heroes," which remains one of the most expensive music videos in history. "The lyrics were a little bit different, but still tongue in cheek. That's just in our nature," Rasted says. The record sported fan favorites like the yee-haw-spoofing "Freaky Friday," the comically creepy "Halloween," and "Bumble Bees," a sugary bop about the birds and the bees, accompanied by a visual featuring the crew proclaiming, "We're more than just the Barbie band." After a split in 2001 and an almost decade-long hiatus, Aqua reunited for a greatest hits album in 2009 — featuring the criminally underrated "Back to the 80's," which calls out "the Twisted Sisters on MTV" — and later released their explicit, electro pop-leaning third album Megalomania in 2011.
Apart from some standalone singles, including a dazzling cover of Gloria Gaynor's "I Am What I Am" for World Pride in 2021, Aqua have focused on touring, playing festivals, and Pride shows across Europe, Canada, and Mexico. "The fans from then have kids now, and so we have teenagers coming to concerts," Nystrøm says. "It's such a mixed crowd and it's amazing to see that it's got its own life and it's living on." Although they have no immediate plans to tour the United States, Dif says it's "definitely on the bucket list," adding that Las Vegas or Coachella would be a dream.
Thankfully, Barbie mania isn't going away anytime soon. The buzz surrounding Greta Gerwig's upcoming Barbie film reawakened a nostalgia for everyone's favorite "blonde bimbo girl," although the group "fully understands" why they weren't asked to include their hit in the film. "Cheese on cheese is too much," Nystrøm jokes, adding that they're very excited to see it.
And regardless of a soundtrack placement, Aqua will always be synonymous with Europop, the jubilance of the '90s, and poking fun at the perfect, platinum-haired archetype. "It sounds pink, if you know what I mean," Rasted says.