Adam Sandler Approves Of Earthgang's "Bobby Boucher" Music Video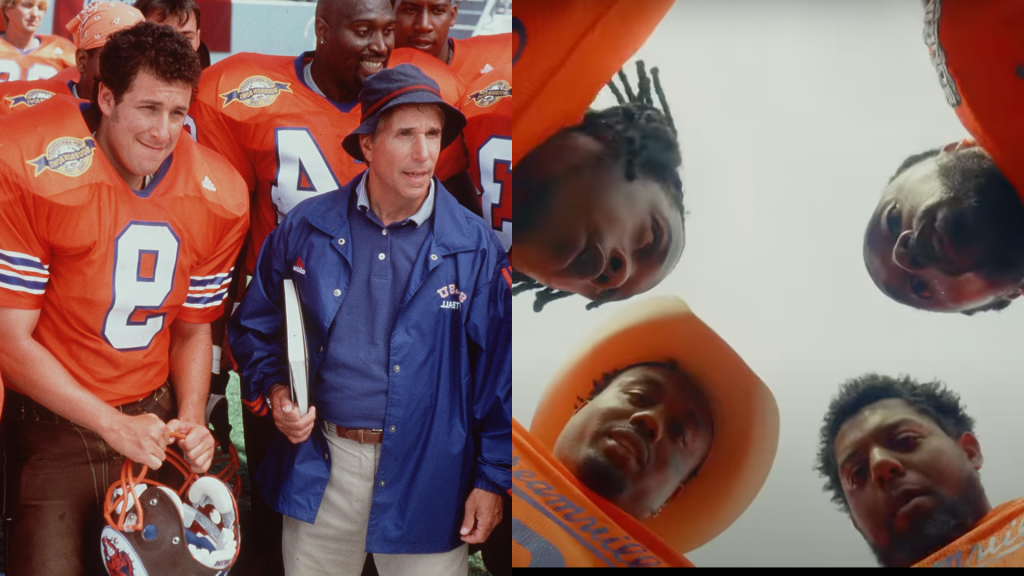 Adam Sandler Approves Of Earthgang's "Bobby Boucher" Music Video
6283
Adam Sandler loves Earthgang's "Bobby Boucher" music video and approved of the vision on Twitter. The legendary comedic mind took to social media on Monday (July 10) to celebrate the track, giving props to Dreamville's eccentric duo for paying homage to his hit movie, Waterboy. 
"Yo, EARTHGANG! Singing along with you! Love, Bobby B," Sandler, 56, typed. Earthgang posted Adam's response across their social media accounts, celebrating the legend's co-sign. "From The Waterboy himself @adamsandler," the caption read. "You haven't watched the 'BOBBY BOUCHER' video yet???? Open's up 48 pack-can of Whoop A**."
WowGr8 of the Atlanta group shared his excitement for Sandler's approval, taking to IG with a lengthy message. 
"Holy sh*t, holy sh*t, holy sh*t, this is one of the best things that could happen for this video! EarthGang 'Bobby Boucher' video out now!" he began his caption. "Can't believe Adam Sandler saw this! I studied him intently for the treatment and execution of this video. Shout out to CALEB for directing! You know if u see @freegraffiti1 then I wrote the treatment. Move w intention blah blah I can't believe this!!!! ALSO SHOUT OUT TO @avatarbenji FOR THAT AMAZING HOOK AND ALL THE AMAZING SH*T HE DOES. THIS SONG WOULDNT EXIST WITHOUT BENJI."
Earthgang delivered the Caleb Seales-directed visuals on Friday (July 7) to keep the ball rolling on the rollout for their upcoming project, EarthGang v.s the Algorithm: RIP Human Art. The Waterboy-themed record will serve as the first single and contains a litany of callbacks to the sports comedy.
The track's visuals recreate iconic scenes and characters from the film, including the College football team's orange jerseys, Bobby's coach, Coach Klein, and a nod to Mama, Sandler's overprotective mother.
Even the lyrics paid respect to the '90s flick, featuring bars like, "Luck be my lady, I'm up a couple thousand / Playin' roulette like Bobby Boucher/ Wa-wa-water on a Tuesday for all this D'Ussé / I surely feel like I'm drunk/ I probably drink the Kool-Aid, that sh*t be packin' a punch/ It's like a jab to the face, I'm probably not gettin' enough."
EarthGang v.s the Algorithm: RIP Human Art will release on Friday (July 28).