Young Nudy Delivers Coroner Reports While Pi'erre Bourne Produces Burial Anthems On 'Rich Shooter' Album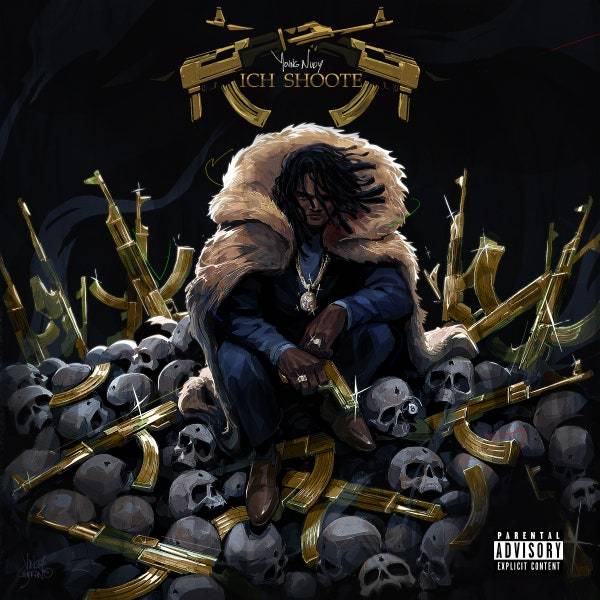 Young Nudy Delivers Coroner Reports While Pi'erre Bourne Produces Burial Anthems On 'Rich Shooter' Album
101
Young Nudy has shelved any urges to give into complacency while releasing albums at a torrid pace.
The Atlanta-bred rapper has enjoyed a stretch of critical and creative success few of his peers could even dream to match. It started with the über popular 2019 collaboration with Pi'erre Bourne Sli'merre, which featured bright and airy production loops acting as a perfect foil for Nudy's maniacal murder raps.
His previous 2021 release, DR. EV4L, was an entrenchment of Nudy's horror show raps, devoid of any popular bars and sounds that would signify an urge to sell out. He ditched Bourne's production for his in-house producer Coupe, taking on a darker production tone and embarking on a menacing ride down a sinister path.
At any moment, Nudy could've chosen to veer off into normalcy, substituting his signature diabolical sounds for styles more palpable for mainstream love. His latest album, Rich Shooter, shows the "EA" rapper is still committed to elevating his work.
Armed with the combination of his two favorite producers — Bourne and Coupe — Nudy surges past the highs of his previous release with ease, elevating through superb production and elite rapping gymnastics. But the sheer length of Rich Shooter has an adverse effect, creating bouts of passive listening allowing for some tracks to run together namelessly.
Nudy thrives as a lyricist when the production quality grants him a target to shoot for, motivating him to manipulate the construction of his bars in distinct ways. He'll momentarily shorten his words, shifting pronunciations to find the necessary pocket within endless loops. An example of this comes on "Green Bean," which exhibits the same caliber production Bourne showed off on The Life of Pi'erre 5, allowing the listener to briefly get lost in the nightmarish world Nudy and Bourne have cultivated.
Nudy raps in the opening verse "so I pull up on 'em, no talkin', just follow the move and we finish the mission" in his patented sing-song flow, matching Bourne's whirring beat with ease. The combination makes the track feel like some twisted, hyper-morbid nursery rhyme with supernatural powers to keep the listener under its spell.
"Bodies on Bodies" is a repetitive joyride, full of macabre refrains resting over Coupe's ghostly whistles. Nudy's ad-libs pop out at random, reminiscent of intrusive thoughts that echo his yearns for murder. Coupe understands these quirks, like how Nudy's inflections in his delivery of the word "murder" differ from other rappers and shapes the production to sound more whimsical.
"How They Label Me" is an introspective moment, allowing Nudy to muse about how the public and his peers perceive him.
"How you think that shit make me feel when they say that I'm a drug dealer/How you think that shit make me feel when they say I am a grim reaper?," he asks with intensity, as if the listener can picture him staring back at them with bloodshot eyes.
While Rich Shooter feels cohesive, the similarity between songs allows for parts of Rich Shooter to toil in anonymity. Twenty songs is a daunting task for any listening session, and Nudy's penchant for rapping about the same things causes tracks to mesh together. In the stretch from "I Can't Change" to "Addicted," passive listening takes over, with very few moments standing out to snap the listener out of the haze.
Rich Shooter exhibits Nudy's greatness as his career continues to propel forward. He retains an uncanny ability to hold a distinct voice and flow amongst a crowd of rappers who gravitate toward the norm. His higher octave, sing-song raps about murder and reckless violence constantly evolve as he grows, carving out a narrow lane that few are able to inhabit.
But it's a lane everyone wants to be near, as exemplified by the old and new talent called upon for this project, ranging from the likes of 4L Quan and 2FeetBino to Peewee Longway and Gucci Mane. Against these foils, Nudy rises as an original star in his own right, full of the darkness and evil few can make sound so intoxicating.
Repeat Me:
Fan Feedback:
Young Nudy's beat selection is insane. some of the best trap production i've heard

— SK⚡️ (@raptalksk) August 11, 2021
pretty girls listen to young nudy

— ben dover (@itsnotrandydude) August 14, 2021
young nudy is a musical genius

— ☆ (@ilyrhysib) August 12, 2021