Yo Gotti 'CM10' Shows Why He's Still The Face Of The Label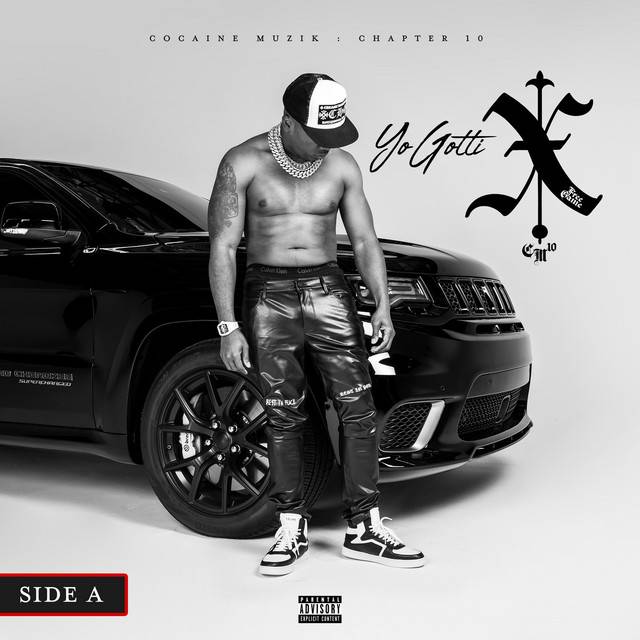 Yo Gotti 'CM10' Shows Why He's Still The Face Of The Label
55
Rapper Yo Gotti returns with CM10. HipHopDX breaks down Memphis rapper Yo Gotti's new album CM10.
Even after over a dozen full-length releases, Yo Gotti has still held on to the mentality that the best way to create an empire is by flooding the streets with music. His latest release, CM10: Free Game arrived in a flurry, with the first and second halves dropping within a day of each other, and the deluxe trailing not far behind in typical Gotti fashion.
Gotti's approach to music may not have changed in the years since his 1996 debut Youngsta's On a Come Up, but his position in the industry certainly has. As his Collective Music Group (CMG) label continues to flourish with artists such as HipHopDX Rising Star 42 Dugg, Blac Youngsta, Moneybagg Yo and newest member Mozzy all pushing into star roles of their own.
The rapper-executive isn't an invention of Gotti's by any means. Master P filled the role years ago for No Limit. As did Diddy with Bad Boy Records, JAY-Z leading Roc-A-Fella and Gucci Mane asserting himself with 1017. But in 2022, there aren't many who balance the two hats as perfectly as Gotti. Over 25 years into the game, Gotti's label is thriving and his own music has hit new highs both commercially and in terms of quality.
CM10: Free Game marks the Memphis mogul's first album since 2020's Untrapped and his best body of work in recent memory. While Side B and the deluxe both have notable moments, it's the original tracklist which best demonstrates the excellence of Gotti's craft.
CM10 is uncharacteristically unvarnished for an artist who came up in the era of blingy production and brassy instrumentation. The beats are loud and booming, but Gotti's voice is raw and untouched. Rapping above the wailing soul sample of "Collect Calls (ring ring)," Gotti's timbre is deceptively lackadaisical. The textures in Gotti's delivery are enveloping and candid. Without any mixing frills or Auto-Tune, CM10 sounds intimate, as though the listener snuck into a closed-door studio session.
The stripped-down vocals allow for more attention on Gotti's hustler tales. On "Rap Checks," Gotti's voice tears through the thick 808 haze of fellow Tennessean Tay Keith, sharing tales of his come-up. These vignettes are some of the album's best moments, as the "Rake It Up" rapper speaks on getting his first rap payment from Cash Money Records' Birdman, spending time with Lil Wayne during the era of Tha Carter and linking with Dr. Dre while evading an active warrant. Even for a dedicated historian of rap, hearing Gotti's accomplishments through the years is remarkable and adds to the impressiveness of his longevity.
Narrative aside, Gotti's rapping is as sharp as ever. Thematically CM10 resembles Hov's 4:44, an album which finds a veteran rapper reflecting on where they currently fit. But unlike a 4:44 type album, Gotti sounds just as eager to prove himself as when he first broke onto the scene. On "Cold Gangsta" Gotti goes head-to-head with 42 Dugg and EST Gee, two of CMG's hottest signees without breaking a sweat. Moneybagg Yo, arguably CMG's most commercially successful artist in the past five years, stands no chance against the veteran as they spit over grimy chimes with Gotti falling into a punchy delivery, his voice tinged with a smoker's rasp.
Blac Youngsta is likely the most similar to the CMG head honcho, but all of Gotti's proteges show signs of his influence in the best way possible on CM10 and in their solo work. So many imprints fall victim to a didactic label head: EARTHGANG's work often feels referential to that of J. Cole's and so much of TDE's output sounds too influenced by the music of defining label talents such as Kendrick Lamar and SZA. In the current era, Gucci Mane and Yo Gotti share the most similarities for propelling their artists into new heights without diminishing their individuality. But Gotti's artists have found notably more consistent success than Gucci's.
CM10 isn't stale like so much of what's meant to be motivational rap, but at times it feels one-note. Several of the songs add nothing to the album such as "Ima Show You" which features an ill-fitting Kodak Black verse and tepid production which sounds awkward alongside the rest of the tracklist. Supporting the team is a nice thought, but is presented too on the nose and forced. Side B overall pales in comparison to Side A, making an album that originally focused on bars and cutting the fat closer in comparison to the streaming fodder dump fans have been bombarded with so far this year in mainstream rap. At least Gotti has the decency to clearly split the two projects rather than swirling them altogether.
Despite the minor hang-ups, CM10 is a statement piece from Gotti, a reminder that his skills still extend beyond his work at CMG. Unlike the stereotype for the aging rapper-turned businessman, Gotti's passion starts with the music. His proteges may spend more time in the public discourse than Gotti, but CM10 is a look into the guiding hand making it all possible.
Repeat Me
Fan Feedback
CMG with Yo Gotti, Moneybagg Yo, 42 Dugg, EST Gee and Mozzy in the starting lineup. We need that compilation album by summertime. pic.twitter.com/sDkXL602ew

— Hashtag That Guy (@itsthekolbster) February 11, 2022
I can't front Yo Gotti album is hard as hell

— Zeeti (@DJZeeti) February 7, 2022
Yo gotti's album makes me want to get money with my friends

— FREAKMob Media (@FREAKMobMedia) February 6, 2022