Snoh Aalegra's 'TEMPORARY HIGHS IN THE VIOLET SKIES' Packs Musical Peaks & Valleys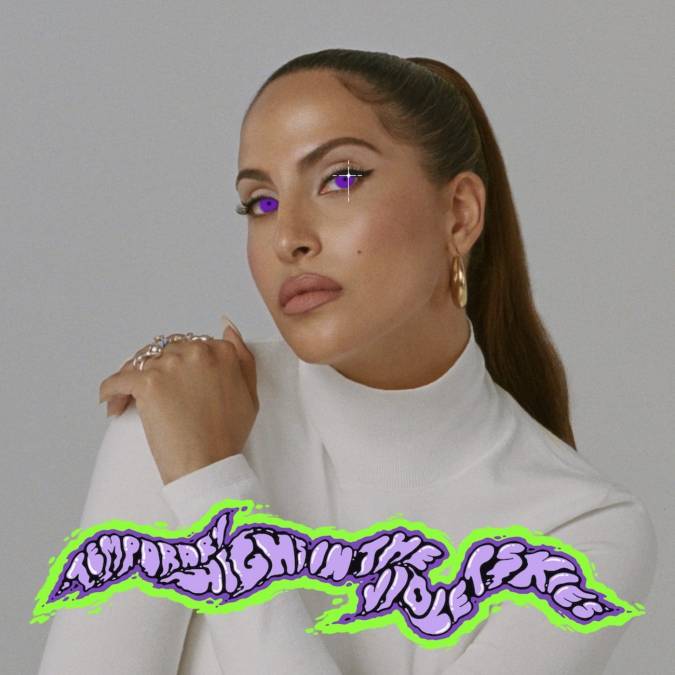 Snoh Aalegra's 'TEMPORARY HIGHS IN THE VIOLET SKIES' Packs Musical Peaks & Valleys
77
Time and time again, R&B singer Snoh Aalegra has exhibited the all-important skill of introspection, combined with a willingness to showcase her findings to the world.
The Swedish-Iranian singer-songwriter's discography is marked by painfully personal tracks, in which the lyrics double as sessions of rumination. Her openness endeared herself to listeners on the 2019 breakout album Ugh, Those Feels Again, like on the standout single "I Want You Around," serving as a soothing elixir that seeps into the lovesick listener's eardrums.
On her latest release TEMPORARY HIGHS IN THE VIOLET SKIES, Aalegra bares it all, weaving detailed stories into her writing as a form of therapy. Armed with a brand new set of lessons stemming from volatile breakups and bouts of self-doubt, she ventures out with a new slew of collaborators, signifying a greater aptitude for trying new things in her creative process.
But Aalegra's strongest moments are when she returns to a familiar vein, hinging on the sweetness of her voice and the depth of disclosure within her songwriting. These moments primarily occur when Snoh is alone, where the only two ingredients are the production and her voice. Rarely ever are the two not working in perfect harmony, a compliment to finding beats that match her vocal tone.
The album's peak, "TANGERINE DREAM," strips away the frills and allows her writing to take complete control. A heartbreaking recollection of a particularly painful breakup, the track sways along with the help of a subdued drumbeat that's simple but hypnotic. Aalegra's voice jumps to the forefront, somberly reflecting on the shattering of a dream-like relationship with considerable regret.
Similar elements are at play on the album's second single "LOST YOU," where sweet production plays second fiddle to Aalegra's singing. "See, I'll always want you/But I know I've lost you," she sings during a moment of painful realization that she'll never feel the embrace of her former lover.
But Aalegra also knows when to share the spotlight, such as on the standout track "ON MY MIND," where she links up again with the multi-talented James Fauntleroy after the success of their previous collaboration "Charleville 9200." This time out, the duo opts to put pain on the forefront, crooning about the inability to forget their past lovers. Even as they represent a source of anxiety, their voices in tandem produce a syrupy concoction.
With an ample amount of tracks in her established lane, Aalegra takes the time to incorporate new creative influences. On "IN YOUR EYES," she enlists the services of Pharrell Williams and hops on a beat from The Neptunes. It's stocked with early 2000s production choices, including a looped Pharrell ad-lib and the unmistakable four-count. However, her voice gets overpowered by the production, existing at a lesser register and reducing the collaboration's effectiveness.
The only other tracks with features are "NEON PEACH" and "IN THE MOMENT," which both call upon Tyler, The Creator amid the fervor of his beloved album CALL ME IF YOU GET LOST.
These aren't the album's most memorable tracks in terms of quality, only existing in the mind because of name recognition and change in pace from other cuts. "NEON PEACH" is considerably more entertaining than the other collaboration, incorporating a distinct rhythmic funk that suits Tyler's voice well and carries Aalegra's voice with ease. Both tracks represent attempts to incorporate something new but register as foreign to her proven, successful formula.
At its best, Aalegra's third full-length album justifies her hype, proving why she's been able to carve out a lane for herself as a budding star in the modern R&B landscape, showcasing her strengths but also suffering from dipped quality when forraying out of slow-paced comfort zone.
It's a safe follow-up to the previous breakout project, serving as an ideal reference point for when she fully decides to take wholesale risks with her sound.
Repeat Me:
Fan Feedback:
That Girl Snoh Aalegra Album Is A Vibe

— RedBoneShawty ♉ (@BigNeicy89) July 11, 2021
tangerine dream is actually sad as hell. snoh aalegra's pen is out of this world

— zay (@zayjuan402) July 15, 2021