Silk Sonic Withdraws From 2023 Grammy Awards Consideration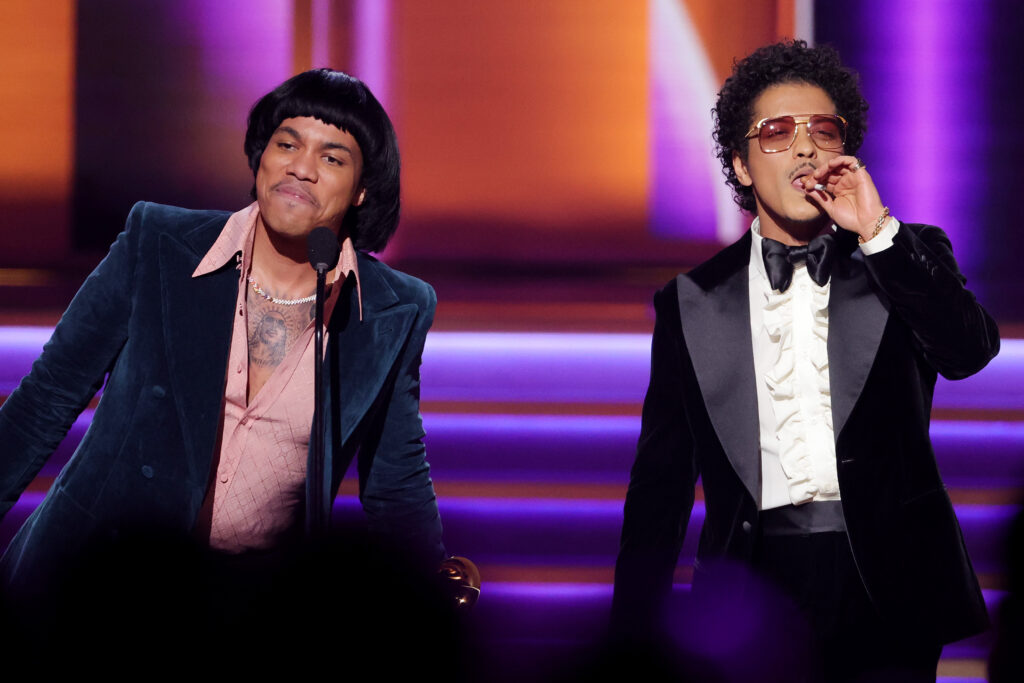 Silk Sonic Withdraws From 2023 Grammy Awards Consideration
58
Silk Sonic, the R&B duo composed of Anderson .Paak and Bruno Mars, will not submit their debut album, An Evening With Silk Sonic, for Grammy consideration, Rolling Stone reports.
Mars told Rolling Stone in a statement, "Silk Sonic would like to gracefully, humbly and most importantly, sexually, bow out of submitting our album this year."
He added, "Andy and I, and everyone that worked on this project, won the moment the world responded to 'Leave The Door Open.' Everything else was just icing on the cake."
At the 2022 Grammy Awards, Silk Sonic made headlines for winning an award in every category they were nominated in — a total of four.
Their breakout hit "Leave The Door Open" won Record of the Year, Song of the Year, Best R&B Song and Best R&B Performance (they tied with Jazmine Sullivan's "Pick Up Your Feelings.")
It's probably one of the reasons why Silk Sonic isn't pressed to submit this year. "We'd be crazy to ask for anything more," Mars noted.
Following Mars' announcement, the Recording Academy's CEO Harvey Mason Jr, told Pitchfork, "Silk Sonic has been such a fun highlight of our last couple of shows and they deservedly had an amazing night at the 64th Grammys earlier this year. We appreciate their decision not to submit this year but look forward to celebrating an amazing year in music together."
The first round of voting to determine the nominees for the 65th Grammy Awards begins today (Oct. 13). Nominees will be announced Tuesday, Nov. 15.
An Evening With Silk Sonic was released Nov. 12, 2021, and debuted at No. 2 on the Billboard 200 chart, selling 104,000 equivalent units in the first week.
In the same week, seven out of the album's nine tracks charted on the Billboard Hot 100, including the focus track "Smokin Out The Window" (No. 5), "After Last Night" featuring Thundercat and Bootsy Collins (No. 68), and "Put On A Smile" (No. 78).
Since the album was released after the product eligibility period for the 64th Grammy Awards (Sept. 1, 2020, through Sept. 30, 2021), it didn't qualify for a nomination.
An Evening With Silk Sonic was ranked No. 3 on 30 Rated R&B's Best R&B Albums of 2021. "Their debut album, An Evening With Silk Sonic, is a nod to '70s funk and soul, an era that inspired them both. It's somewhat of a concept album arranged like an intimate live show," wrote Rated R&B's Keithan Samuels.
Revisit An Evening With Silk Sonic below.