Rihanna Performs Hits at Super Bowl LVII Halftime Show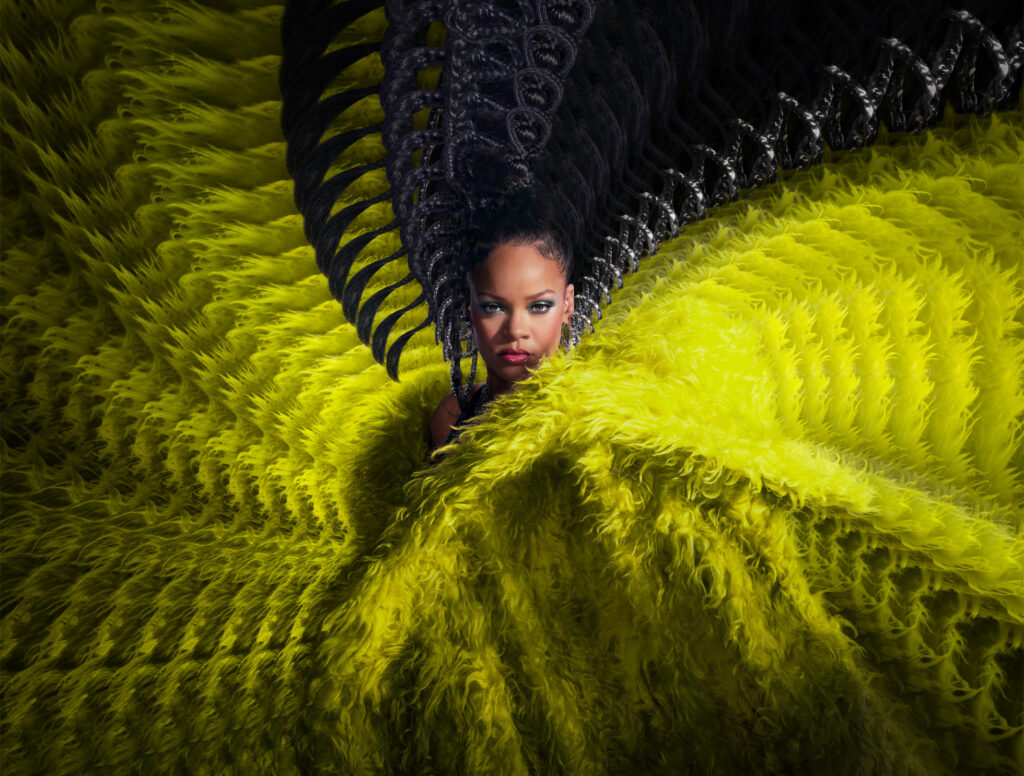 Rihanna Performs Hits at Super Bowl LVII Halftime Show
54
Rihanna's highly anticipated Super Bowl LVII Halftime Show performance was well worth the wait. 
The pop icon headlined the first Apple Music-sponsored halftime show on Sunday at State Farm Arena in Glendale, Arizona. Dressed in a red jumpsuit and standing on a hanging platform, she opened her 13-minute set with 2015's "Bitch Better Have My Money." 
She then performed a medley of her genre-spanning hits, including "Where Have You Been," "Only Girl (In the World)," "We Found Love," "Rude Boy," 'Work," "Wild Thoughts," "Pour It Up," "All of the Lights," "Run This Town" and "Umbrella." 
Closing out with her No. 1 hit "Diamonds," Rihanna returned to the suspended platform to hover across the field as she belted, "Shine bright like a diamond." The song is lifted from her 2012 album, Unapologetic, which debuted at No. 1 on the Billboard 200 chart. It marked her first No. 1 on that chart.
While the singer was on stage, fans on social media began speculating that she is pregnant, especially when she seemingly rubbed her belly.
The Hollywood Reporter reports that Rihanna's rep confirmed to them that she is indeed expecting her second child with rapper A$AP Rocky.
The couple welcomed their first child in May 2022. 
Ahead of her performance, Rihanna sat down with Nadeska of Apple Music to discuss her return to the stage. During the conversation, she explained how creating the setlist was the biggest challenge in preparing for the Super Bowl.
"That was the hardest part. Deciding how to maximize 13 minutes, but also celebrate. That's what this show's gonna be, it's gonna be a celebration of my catalog in the best way we could have put it together," Rihanna told Apple Music.
"And you only have 13 minutes, that's the challenge, so you're trying to cram 17 years of work into 13 minutes. So it's difficult. You know, some songs we have to lose because of that, and that's gonna be okay. But I think we did a pretty good job of narrowing it down."
In the same interview, Rihanna described where she is headed musically: "I'm feeling open to exploring, discovering, creating, things that are new, things that are different, things that are off, weird, might not ever make sense to my fans, you know, the people that know the music that I put out. I just want to play. I want to have fun. I want to have fun with music," she told Nadeska. 
The NFL, Apple Music and Roc Nation announced Rihanna as the halftime show headliner in September 2022. "Rihanna is a generational talent, a woman of humble beginnings who has surpassed expectations at every turn," said JAY-Z, founder of Roc Nation. "A person born on the small island of Barbados who became one of the most prominent artists ever. Self-made in business and entertainment."
NFL Head of Music Seth Dudowsky, added, "We are thrilled to welcome Rihanna to the Apple Music Super Bowl Halftime Show stage. Rihanna is a once in a generation artist who has been a cultural force throughout her career. We look forward to collaborating with Rihanna, Roc Nation and Apple Music to bring fans another historic Halftime Show performance."
Oliver Schusser, vice president of Apple Music and Beats, stated, "Rihanna is an incredible recording artist who is a favorite for many millions of Apple Music customers around the world. We're excited to partner with Rihanna, Roc Nation and the NFL to bring music and sports fans a momentous show — what an incredible artist for the inaugural Apple Music Super Bowl Halftime Show."
Rihanna's performance at the Super Bowl marked her first time on stage in five years. She performed at the 2018 Grammy Awards DJ Khaled and Bryson Tiller.
Watch Rihanna's Super Bowl LVII Halftime Show performance below.
[embedded content]