Prodigy 'Hegelian Dialectic: The Book of Heroine' Shows A New Side To The Legendary Rapper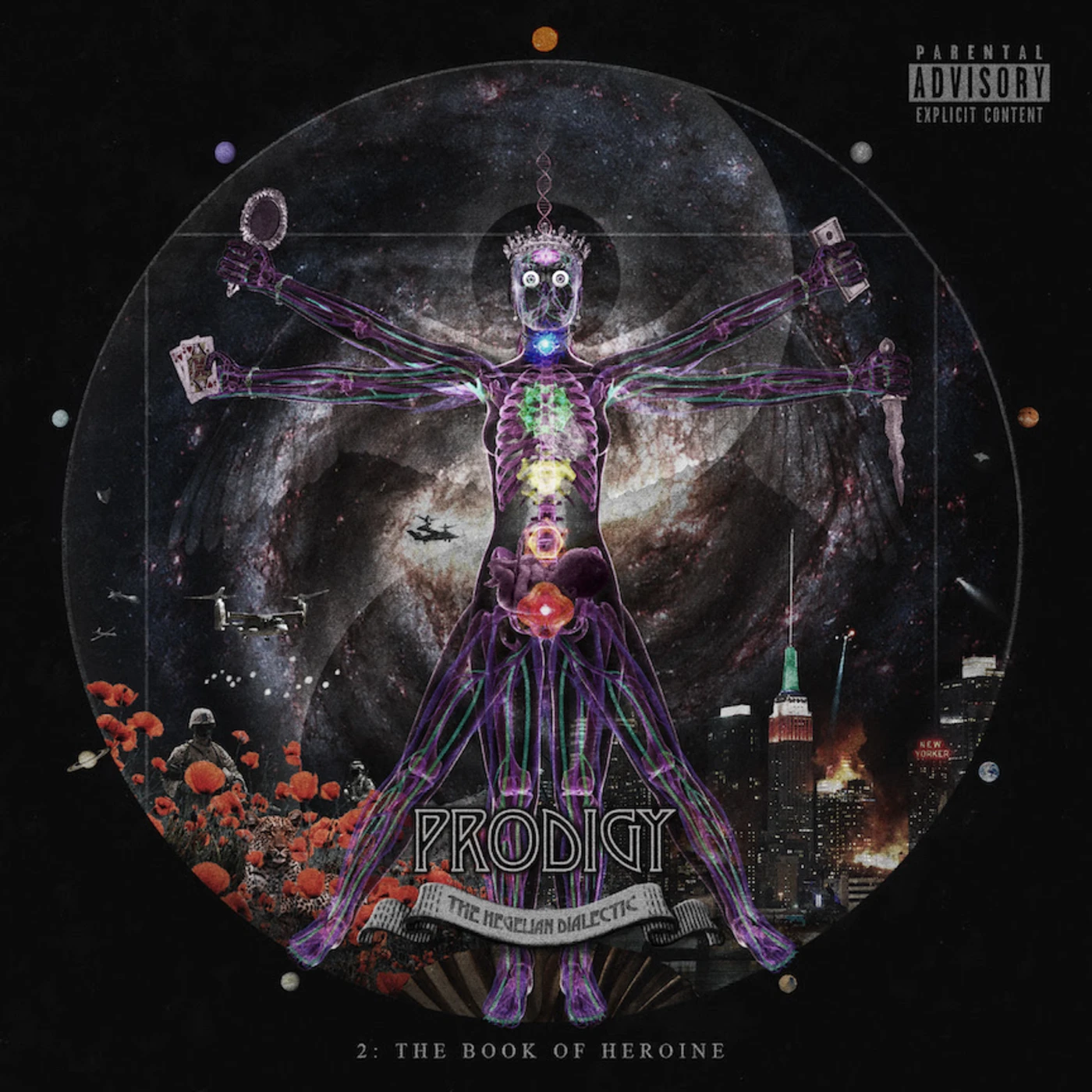 Prodigy 'Hegelian Dialectic: The Book of Heroine' Shows A New Side To The Legendary Rapper
87
Oftentimes, when deceased rappers have their unreleased lyrics slapped onto some random track the results are less than stellar. Posthumous releases from Pop Smoke, XXXTentacion, Tupac and many others have seemed just a step behind from a contemporaneous standpoint; referencing outdated clothing brands, dead beefs and cars that nobody gives a damn about anymore.
With the legendary Prodigy's first posthumous release, Hegelian Dialectic: The Book of Heroine, we have a case of a tasteful entry where the late great Mobb Deep founder delivers an honorable performance. This is the second in a series of three Hegelian Dialectic albums. The first was Hegelian Dialectic: Book of Revelation, released in 2017. Though this new album is technically Prodigy's first posthumously, it is sequenced with such great care and intent that it's difficult to tell that it's posthumous.. Perhaps that's because P reportedly selected most of the songs on the album prior to his untimely death five years ago.
Prodigy's cadence is often subdued but that allows him to incorporate more energy in areas where he's attempting to make a point. This is accentuated by phonetic emphasis on hard syllables. This 12 track album, released on P's own Infamous Records, includes contributions from such Hip Hop illuminates as DJ Premier, Faith Evans, Big Daddy Kane, Remy Ma, DJ Scratch, Big Noyd and Berto Rich.
This album is chocked full of P's lyrical essays on his interactions with that feminine energy which the title overtly suggests will be thematically present. The use of women as an allegorical stand-in for an addictive controlled substance further exemplifies this theme as well. It is unique in that, even though he spits gruff and often threatening street tales and slang throughout the album, an unseen but often mentioned female muse is the motivation.
To say that P is attempting to suddenly be a champion of women, but comparatively speaking, it's very much a departure from any other album that Prodigy has put out. That aim is revealed on the first song on the album, 'You'll See' (featuring Berto). "Baby I done told you. Now you gon' see for yourself/They not really monsters, they Scooby Doo villains/Baby want a gangster, huh? She done had enough of the punk shit, she grew up/She acquired a taste for the thugs of New York, attracted to the danger, the rush of the street life/Really, we all want love. Don't let your pride get in the way and screw it all up/Baby your my favorite drug, my lady heroine. I can't get enough."
The second song is titled "Walk Out" (featuring DJ Premier). As with many of the other tracks on the album, the track is ethereal and almost esoteric in nature. However, the occasional scratching that Premier famously incorporates on many of his tracks comes off out of place on this one. "Opium Poppy," the third track on the album, is yet another song upon which Prodigy is speaking about a woman's energy, as well as his or her need for that energy.
"She need a fix, she can't fix. I got dope dick/She need a hit/I got a heroine broad/She can take the cape off, but leave the heels on and we'll go real long/A marathon fuck like we tryna win the gold medal/We're not normal/No this something special."
On "Angel" Prodigy incorporates the talents of singer Faith Evans on yet another track on which a woman is the central theme. "It's like Anita Baker Angel, God bless you/Where is it you came from? I know that God sent you/Good God, I don't wanna stress you. Make my eyes feel good, make my soul feel special/I press triggers if they try to press you, things I do to impress you/I go to war for you, I got long for you."
Indeed, it is yet another not so subtle nod to a singular underlying thread to the album. While posthumous albums of others appear to often be random vocals thrown over uninspired tracks after the fact, the production on most of the songs on this album also have a central theme; that being a sleepy, ghostly sound that reminds one of evening stars and cosmic nebula twirling in an abyss.
The only song on the album that does not follow this thread is "You Don't Want It," featuring Big Daddy Kane and DJ Scratch. It's a hard nod to Prodigy's roots as a descendant of boom bap hip-hop reminiscent of his early days.
For its inspired presentation, obviously timeless thematic trappings and interesting production, Hegelian Dialectic: Book of Heroine stands apart from most contemporary posthumous albums. With that said, some Prodigy fans may not vibe with this album, because its far different than his previous work. But even so, it's a revealing glimpse into the man behind the persona.