OhGeesy Settles For A Regurgitated Shoreline Mafia Album Without The Magic On 'GEEZYWORLD'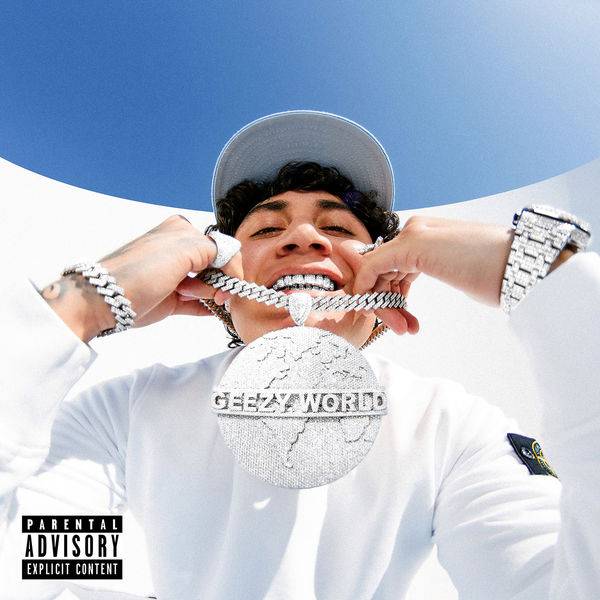 OhGeesy Settles For A Regurgitated Shoreline Mafia Album Without The Magic On 'GEEZYWORLD'
88
Shoreline Mafia was inescapable in California in the late 2010s. Helmed by OhGeesy, Fenix Flexin, Rob Vicious and Master Kato, the collective's codeine-drenched Los Angeles bounce skewed away from lyrical West Coast rap such as TDE's Kendrick Lamar and Schoolboy Q, instead riding the West Coast wave with a darker view. Eazy-E's influence on Shoreline Mafia is apparent, as is the influence of crunk rap from the likes of Three 6 Mafia.
Part of a larger movement in L.A., which also included acts such as Drakeo The Ruler and 03 Greedo, the Shoreline Mafia boys captured a rebellious side of California rap, as fans became drawn to their raw, unpolished and anti-industry approach. But like so many rap groups, Shoreline Mafia didn't stay together and dissolved in 2020, with Flexin and Geesy stepping away to pursue solo careers. Flexin released Fenix Flexin Vol. 1 earlier this year and now. Geesy has come through with his own debut solo album, GEEZYWORLD.
Geesy is in a new chapter in his life, both musically and personally. While speaking with celebrity jeweler Ben Baller, the 28-year-old rapper expressed a newfound sense of intention and regard for his personal life and career.
"I want to dedicate all my energy to myself," he stated. "I think I deserve it."
GEEZYWORLD was recorded sober, a sharp correction from the nodded-out sounds of his past tunes. He's also experiencing a heightened sense of responsibility as a new father and entrepreneur.
But across the eleven tracks of Geesy's latest, virtually none of these feelings are properly explored. He hardly provides any insight into the life of one of L.A.'s most beloved cult rap figures. Instead of exploring intimate themes, Geesy recycles old concepts and sounds, attempting to recreate the success of the Shoreline Mafia days. The result is an album that sounds like a Shoreline record but without the magic the group cultivated.
The album starts strong with the captivating, albeit trite piano of "Intro," which gains steam alongside Geesy's tumbling raps. BlueBucksClan delivers an exuberant verse on the following track "Who Else" but from that track on, GEEZYWORLD quickly devolves into underwhelming recreations of already proven sounds. The Spanish guitars in the background of the DaBaby-assisted "Get Fly" sound strikingly similar to YG's 2019 smash-hit "Go Loco," while "Po' Up" could've been a throwaway from 03 Greedo's Netflix & Deal.
Geesy isn't necessarily biting from other artists, but his unwillingness to branch out leaves much of GEEZYWORLD feeling banal and tired. The production plays a role in the staleness of the project, too. Geesy's worked with Ron-Ron The Producer for nearly his entire career, but the duo has never sounded so uninspired on "Big Bad Wold." Menace on the Beat laces a groovy synth loop on "Who Else" but loses momentum on "Secret Service," providing another example of beats which needed more diversity and range.
But even when the production steers towards originality, Geesy consistently plays it safe. "Startn Up" utilizes a fresh D.A. Got That Dope beat, flush with woodwinds and lively drums. Central Cee breaks through the sea of monotony like a breath of fresh air, but Geesy falls back into his comfort zone, delivering the same cadence he uses ad nauseam on the project.
"Get Fly" and "Coochie" might be primed for Sacramento strip clubs but to compete for L.A.'s attention with artists such as Drakeo, Remble and G Perico dropping some of the best music of their respective careers, Geesy will have to dig a bit deeper.
With GEEZYWORLD, it's apparent the corporate side of the music industry served as its driving force. The rugged and unvarnished craft of Shoreline Mafia has been so polished and cleaned, it's now devoid of the L.A. spirit that brought them appeal in the first place. In its place is a synthesized attempt at L.A. gangsta rap, devoid of any edge or unique characteristics.
Artists deserve to get their bags, so the notion of selling out isn't much of a valid critique. But aiming toward commercial success often consumes the individuality of the music. And if there ever was a distinct artistically bankrupt example of selling out, GEEZYWORLD would fit the bill. It remains to be seen what the former Shoreline Mafia rapper will decide to do next, but it's clear that settling for mediocrity isn't a problem for him.
Repeat Me:
Fan Feedback:
@OHGEESY you weak asf album was trash ???

— ? (@SepKeepCanon) September 18, 2021
They said Donda, who? CLB…. What?
Geezyworld tho.. every songs a mf vibe ✨

— ??????⋰☁️ (@sydivine_) September 17, 2021
Crazy how the turntables I remember you ain't like fenix like that at first but his album def better geesy ruined his album with all them trash feautures

— typo god ?? (@yungbriggo330) September 12, 2021