NYPD Officers Caught Planting Marijuana Multiple Times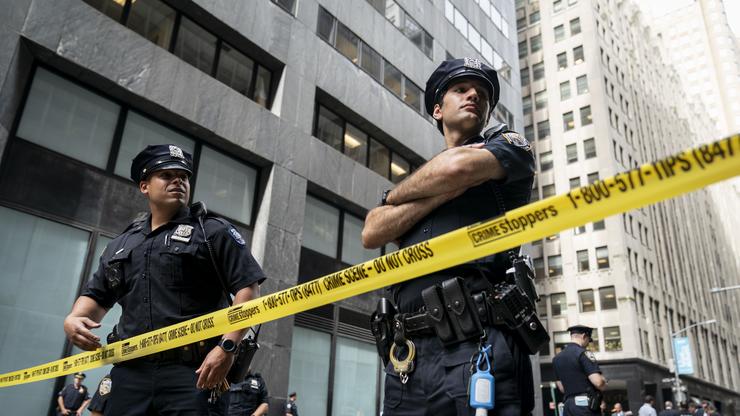 NYPD Officers Caught Planting Marijuana Multiple Times
54
Bodycam footage and additional cell phone footage obtained by The Intercept, exposes two New York Police Department officials planting marijuana in a patron's vehicle as they were conducting a search. This is the second time in a two-month span that NYPD officers Kyle Erickson and Elmer Pastran have been caught on camera planting illegal substances in and on the property of innocent civilians. This footage comes just days after a Jefferson Parrish Police officer was caught visibly planting narcotics on a man in Louisiana.
Drew Angerer/Getty Images
In the most recent footage of blatant law enforcement corruption, Officers Erickson and Pastran pulled over a vehicle for allegedly having a broken a taillight. The passenger, Jason Serrano, and the driver, an unidentified young woman, rolled down their windows and argued that they couldn't have been accused of having a broken taillight being that the officers were coming from the opposite direction and had to make a U-turn in order to obstruct them from reaching their destination.
Instantaneously, the Staten Island officers claimed that the vehicle "smelled like weed," and asked if they could conduct a search. Serrano revealed that he was recovering from a stab wound and "could barely move," exposing his surgery scar for the officers to see. Eventually, the young man and his associate obliged allowing the officers in the young woman's car to search for the decriminalized substance, but that didn't stop the officers from forcing Serrano to the ground and handcuffing him after he, himself, refused to be searched.
During the footage, officer Erickson can be heard telling Pastran "We gotta find something," as they illegally searched Serrano's jacket. After unsuccessfully finding anything incriminating, Erickson can be seen placing a small amount of cannabis near the vehicle's cup holders on his bodycam footage before pretending to search other areas of the car. The NYPD official then stated "I smell a little weed," before reaching for the marijuana he just placed near the cup holders.
The same chain events took place in Feb. 2018 arrest of New York citizen, Lasou Kuyateh. Kuyateh spent a total of two weeks in a New York state jail after bodycam footage of officer Erickson mysteriously shut off before discovering a marijuana cigarette in his car. In his testimony, the corrupt cop claimed his bodycam "malfunctioned" due to a "technical difficulty" which later led to Kuyateh's possession of marijuana charges being dropped.
Drew Angerer/Getty Images
NYPD's internal affairs department investigated the 2018 case and discovered that any accusations of misconduct by Erickson and Pastran are "unfounded." Last year, Kuyateh filed a suit against the city of New York for his wrongful arrest for $1 million. As for the fraudulent encounter, Jason Serrano and the unnamed young woman in the footage had to endure, there has yet to be a determination on whether or not the couple will take legal action against Erickson, Pastran, and the NYPD.
Over the course of the last year, the New York Police Department has gotten hip-hop artists dropped from performing in festivals in their hometown, been caught on tape ordering officers to shoot rappers on-sight, shut down back-to-school drives, and more.
Check out the sickening footage of the encounter in the video provided below.