Normani and Frito-Lay® Announce New Partnership to Support Women's Sports Foundation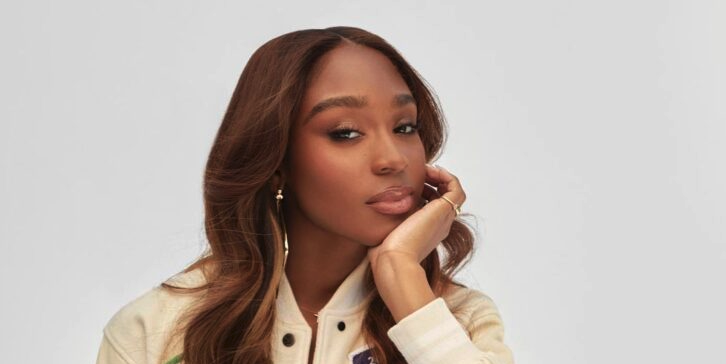 Normani and Frito-Lay® Announce New Partnership to Support Women's Sports Foundation
82
Normani and Frito-Lay® are partnering to spotlight women shattering the glass ceiling in sports. The platinum-selling singer has refreshed "Take Me Out to the Ballgame" as part of the snack food brand expanding the iconic Cracker Jack® to include Cracker Jill™.
In a statement, Normani shared what drew her to serve as the face of this campaign. "As a young girl, I remember being inspired by athletes and artists who looked like me. They made me believe that I could also achieve greatness as I watched them break barriers for women," she said.
"I'm proud to be part of a campaign entrenched in inclusivity and empowerment because it's vital for young girls to see themselves represented and join in on the celebration of the achievements made by the women before them."
View this post on Instagram
Emerging from the dugout, Cracker Jill™, illustrated by Monica Ahanonu, will appear across a series of special-edition bags, pictured through five different representations. They'll be available for purchase when this year's baseball season begins in professional ballparks nationwide.
Also, donations of $5 or more to the Women's Sports Foundation (WSF), a non-profit dedicated to growing women's sports, can guarantee consumers a bag of candied popcorn and peanuts.
"We are constantly inspired by the many women who are making history by breaking the mold, and we want to celebrate their achievements while supporting the progress," said Tina Mahal, vice president of marketing at Frito-Lay North America.
"Cracker Jack has been part of sports for over a century, as records were made and rules changed. We've been so inspired by how girls and women are changing the face of the game, so in this spirit we introduce Cracker Jill to show girls that they're represented even in our most iconic snacks."
Additionally, Cracker Jack® will award WSF $200,000 to "help girls and women across the country reach their potential in sport and life."
"Representation matters – it encourages and inspires the next generation. It's wonderful to see Cracker Jill come to life, emphasizing the power that representation can have by celebrating women who've broken barriers," said Danette Leighton, WSF CEO.
Last month, Normani released "Fair" as the latest single from her untitled debut album. Produced by HARV, the vulnerable tune impacted urban radio earlier this week.
"Fair" arrives months after the hit success of "Wild Side" featuring Cardi B. The gold-selling song remains a mainstay on urban radio after topping the format in November 2021.