Nicki Minaj Shows Love To Megan Thee Stallion, Beyoncé, & Doja Cat Amid Chart Battle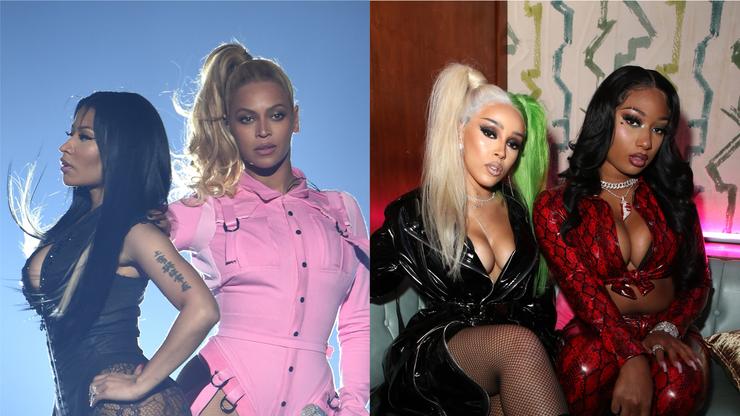 Nicki Minaj Shows Love To Megan Thee Stallion, Beyoncé, & Doja Cat Amid Chart Battle
80
No matter how hard some of those pesky stans may try, there appears to be no hostility between Megan Thee Stallion & Beyoncé and Doja Cat & Nicki Minaj despite their respective remixes charting in close quarters. Ever since Megan's remix of "Savage" with Beyoncé dropped just two days before Doja's remix of "Say So" with Nicki last week, it's been a tight race between the two female-led tracks for the number one spot on the Billboard Hot 100. However, despite the friendly competition on the charts, Nicki made it clear how she feels about the historic moment by responding to one inquiring fan.
"How do you feel about two female rap songs being on the top of the billboard charts next week?" the fan asked Ms. Minaj. "How does it make you feel? It's gonna be iconic."
Jamie McCarthy/Getty Images for TIDAL



"I can't believe I'm lucky enough to be a part of this kind of history," Nicki replied. "I love all the girls involved. It just feels like an epic moment to witness & be a part of @ the same damn time." Megan saw that Nicki had expressed love not only to her but to Doja and Beyoncé as well, and decided to reciprocate.
"I love her," Megan wrote on a screenshot of Nicki's tweet, along with a heart eyes emoji and a crying emoji.
Ari Perilstein/Getty Images for Atlantic Records
Although these ladies are clearly refusing to be pitted against one another, Doja in particular is going to extreme lengths to get her and Nicki to No. 1. Although it's been predicted that "Savage" remix will likely be taking the throne next week, Doja has made a promise to her fans if "Say So" manages to pull through: she's going to show everyone her boobs. Alas, only time will tell if this is enough of an incentive to beat out "Savage" for the top spot.