'My Mind & Me' Is A Testament To Selena Gomez's Courage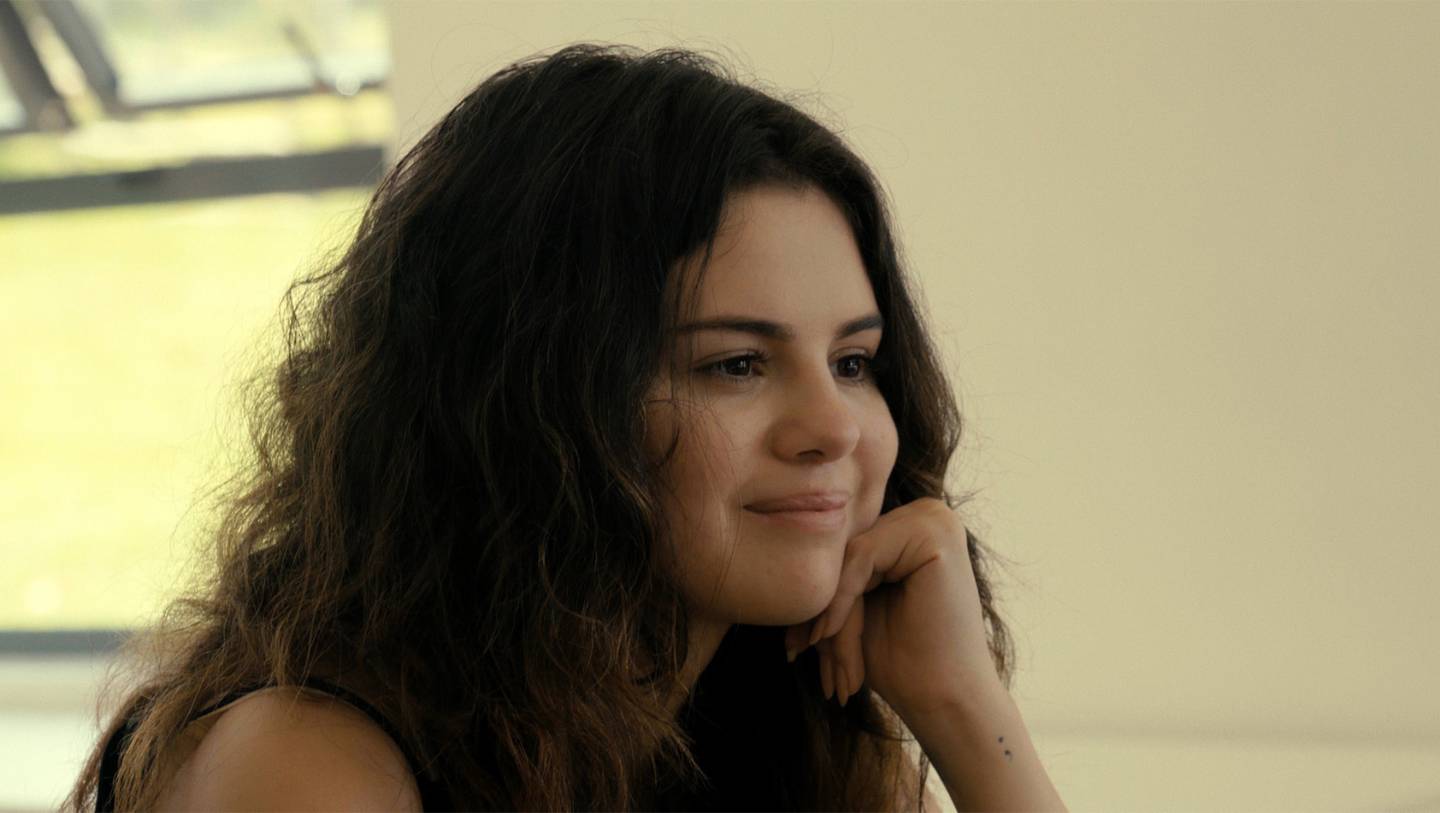 'My Mind & Me' Is A Testament To Selena Gomez's Courage
50
When director Alek Keshishian approached the actress and singer Selena Gomez about a documentary on her journey grappling with fame and her mental health over the past six years, he knew he must deliver a film that "would have more integrity than other documentaries of late," he says. The result is Selena Gomez: My Mind & Me, which after a rigorous two-and-a-half-year editing process, is set to premiere on Apple TV+ on November 4. Covering major events in Gomez's life such as her kidney transplant, bipolar diagnosis, and the cancellation of her Revival tour in 2015, the film dives into Gomez's battle with her mental health and how she emerged on the other side. "The entire movie is a testament to Selena's courage to really open up those parts of her life," Keshishian notes, "so people can see it and relate on some level."
Hailing from Lebanon, Keshishian is best known for his 1991 celebrity documentary Madonna: Truth or Dare, which takes viewers through the icon's four-month Blonde Ambition World Tour and was the highest-grossing documentary from its release until 2002. The Harvard-educated filmmaker also directed music videos for Bobby Brown's "My Prerogative," Vanessa Williams's "He's Got the Look," and Gomez's 2015 single "Hands to Myself." My Mind & Me flashes back to this time to explain the pop star's journey, seeing her grapple with her body image during wardrobe fittings and even break into tears from the pressure after the final rehearsal for her Revival tour. The contrast between her inner life and the public's perception, colored by rumors of substance use and partying, is palpable.
Yet also evident is the artist's deep courage, particularly as she connects with old neighbors in Texas about their mutual experiences battling lupus. This and other values were planted in the singer by her mother's lessons, and interviews with her mom, Mandy Teefey, add further depth to her tale. There to document it all is Keshishian, who lends a thoughtful and empathetic gaze to Gomez's struggles with mental health and her fight to separate herself from Disney fame. From Los Angeles, Keshishian tells MTV News about the yearslong collaboration.
MTV News: You've done other celebrity documentaries before. What inspired you to collaborate with Selena Gomez?
Alek Keshishian: I was going to go to Kenya and film her shooting for a few days while she worked with [WE College], and then I asked if we could shoot a few days before we went. During the course of those few days of shooting, I thought, there's a really interesting story that's unfolding here about her having been recently diagnosed [with bipolar disorder], coming out of a mental health facility and figuring out her life, and what it would look like within the diagnosis. She was almost relearning who she was and trying to recalibrate her purpose. I never set out for it to be this big epic, which was what it turned into. I think the fact that it happened so organically is one of the things that kept it authentic. We just let things unfold.
MTV News: My Mind & Me discusses Selena's lupus diagnosis and its toll on her mental health. What was it like to be there for such difficult moments?
Keshishian: She's spoken about lupus, so I didn't want to linger on that, but it's all related. More than that, it just goes to show that you can be challenged with any number of things and the question becomes, what do you do with that challenge? How do you try to find purpose and meaning beyond it? This is a girl who wasn't born with a silver spoon in her mouth. This is a young woman who isn't trying to do a "woe is me" kind of documentary by any means. She's trying to give hope to others, realizing that you can pick yourself up and, no matter what platform you get, you always have that option to use it to connect with other people. That's how I think those other afflictions contribute to anxiety and depression but also, in some respects, are kind of turned into a means of really connecting deeply with human beings.
She's trying to give hope to others, realizing that you can pick yourself up and, no matter what platform you get, you always have that option to use it to connect with other people.
MTV News: The unwavering love from Selena's support system, her parents and friends, during the segment on her bipolar diagnosis, is palpable. How difficult was it to discuss such dark moments with her family?
Keshishian: I was so lucky to get her mom. I had spoken to her stepdad, and it's a very tricky thing because Selena wanted to guard their privacy, but at the same time we felt like we wanted to get their presence because they are there. What her mother did was an act of greatness. The press and the media sometimes get things wrong and it's very, very hurtful. There's a lot of healing that's happened between Selena and her mother. They're both remarkable people.
It's very difficult on families and when one feels helpless. I think their presence is a testament to the closeness of their relationship. Mandy is so influential in Selena's life. I think who Selena is, in many ways, is shaped by the lessons she was taught by her mom about treating everybody with dignity and never thinking you're better than anyone else. She talks about it a lot, so when we finally got her mom on camera, she was initially a little reticent. To a certain degree, it's what allowed me to make that section short but really powerful. You see people and how each of them reacted to that moment in her life.
MTV News: A moment that really stands out to me in the film is Selena's need for escape from life at an early age and how her career had become a vessel for that feeling.
Keshishian: There's a very interesting irony that happens when you're a performer, and I imagine it's doubly so when you're a kid, which is that there's an artificiality to that lifestyle. It is make-believe. At first, it can feel like fun, but for a lot of artists, it can eventually become very lonely. It becomes very difficult to figure out what's real in your life. You can be performing for a stadium full of screaming fans — she loves her fans more than anything — but she loves the individual connection, too. There can be something very isolating with the idea that you're performing to this massive group of people who love you, but then you go backstage and you feel this existential loneliness.
We're living in a time when people equate fame with some kind of perfection of life. That can be Instagram fame, or however you're trying to do it, but one of the things this movie is about is how she fights for what's real in her life. What's real in her life is personal connection with actual individuals and how that is a basis for all of us. Actually seeing people, listening to people's stories, and feeling that connection to humanity is really what can ground us and help us feel sane in an increasingly insane world.
MTV News: The usage of Selena's journal entries about her mental health, which are raw and powerful, is very compelling. How did you gain the trust needed to incorporate such personal notes?
Keshishian: That was wild when she decided to share her journal entries. Nobody has ever done that. I've gotten close to various people, but nobody at this level shared journal entries like that. They took me a week to read and soak in. They were amazing because they were so raw and there was a variety of them. I didn't know what to do with all of them. At the end of the day, I decided to use them sparingly. Reading them gave me great insight about her. It shaped the narrative and the approach I wanted to take.
MTV News: What really shines through is Selena's kind heart and humanitarian spirit. What would you want viewers to take away from this film about who she is?
Keshishian: I would love people to truly realize that she's a magnificent human being. I do believe she's a humanitarian in her very soul. I really grew to respect the heck out of her as I went on this journey because ultimately the pop star part is the least important part of it for her. I think she loves making music and she loves her fans, but she's not particularly taken by the traps of pop stardom. In fact, I think she finds it incredibly difficult because there's a superficiality to it.
I think what makes her a tremendous human being is the way she fights to find sparks of light in the darkness. It's quite inspiring because I think we all have days of our lives where things can feel very dark. She's so real and struggles through that dark day, but she makes it through connecting with other human beings. I hope people get to see that and see that this isn't whatever they thought of Selena Gomez, and this certainly isn't a pop documentary. It's a documentary about an incredible human being.