Ms. Lauryn Hill Announces 'The Miseducation of Lauryn Hill' 25th Anniversary Tour with The Fugees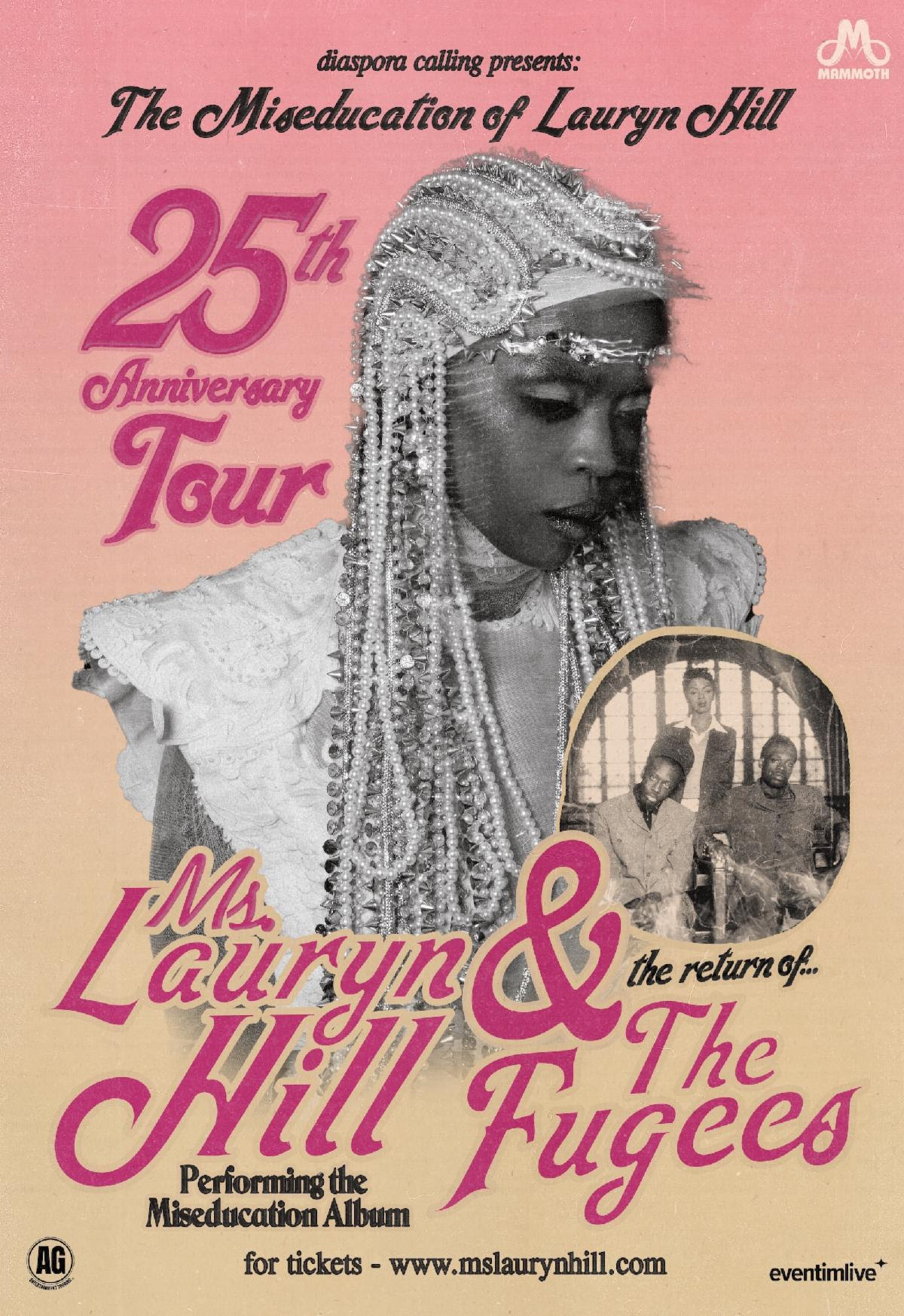 Ms. Lauryn Hill Announces 'The Miseducation of Lauryn Hill' 25th Anniversary Tour with The Fugees
9682
Ms. Lauryn Hill has announced The Miseducation of Lauryn Hill 25th anniversary tour to celebrate the influential 1998 debut solo album of the same name.
The album will mark its 25th anniversary this Friday, Aug. 25th. The singer-rapper will perform the album on the 17 date tour hitting arenas around the world, including Brooklyn's Barclays, Chicago's United Center, The Kia Forum in Los Angeles as well as in Australia, New Zealand, and more. See the full schedule below.
The Fugees will reunite for their first tour in years to co-headline the tour on all US and Canadian dates.
Said Lauryn Hill on the album and its impact: "The Miseducation of Lauryn Hill is and was a love song to my parents, my family, my people, my musical and cultural forebears, my teachers, my loves, my Creator. I wrote love songs and protest songs— (still love songs) about the subjects and interests that inspired and moved me. I was confident that what inspired me would resonate with an audience that had been led to believe that songs of that kind could only live in the past." She continues "I loved music, I loved people, I truly felt grateful to God for my life, and genuinely blessed to have a platform where I could share wisdom and perspective through music. I felt a charge to challenge the idea that certain kinds of expression and/or certain kinds of people didn't belong in certain places. I loved showing what could work or happen provided there was imagination, creativity and LOVE leading the way."
Citi is the official card of The Miseducation of Lauryn Hill 25th Anniversary Tour. Citi cardmembers will have access to presale tickets beginning Wednesday 8/22 at 10:00am local time until Thursday 8/24 at 10pm local time through the Citi Entertainment program. Public on sale for the tour begins this Friday 8/25 at 10am local time.
Tour Dates:
9/8 – Minneapolis, MN @ Mystic Lake
9/23 – New York, NY @ Global Citizen Festival
10/1 – Gold Coast, AUS @ Promiseland Festival
10/3 – Melbourne, AUS @ Rod Laver Arena (with Koffee)
10/5 – Sydney, AUS @ Kudos Banks Arena (with Koffee)
10/7 – Auckland, NZ @ Eden Festival
10/17 – Newark, NJ @ Prudential Center (with Fugees)
10/19 – Brooklyn, NY @ Barclays (with Fugees)
10/21 – Washington, DC @ Capital One Arena (with Fugees)
10/23 – Philadelphia, PA @ Wells Fargo Arena (with Fugees)
10/26 – Toronto, ON – Scotia (with Fugees)
10/28 – Chicago, IL @ United Center (with Fugees)
10/30 – Fort Worth, TX @ Dickies Arena (with Fugees)
11/2 – Denver, CO – Ball Arena (with Fugees)
11/5 – Los Angeles, CA @ Kia Forum (with Fugees)
11/7 Oakland, CA @ Oakland Arena (with Fugees)
11/9 – Seattle, WA @ Climate Pledge Arena (with Fugees)