Meghan Trainor on Recruiting Nicki Minaj & Pussycat Dolls for 'Treat Myself,' Knowing *This* Song Was 'The Flame'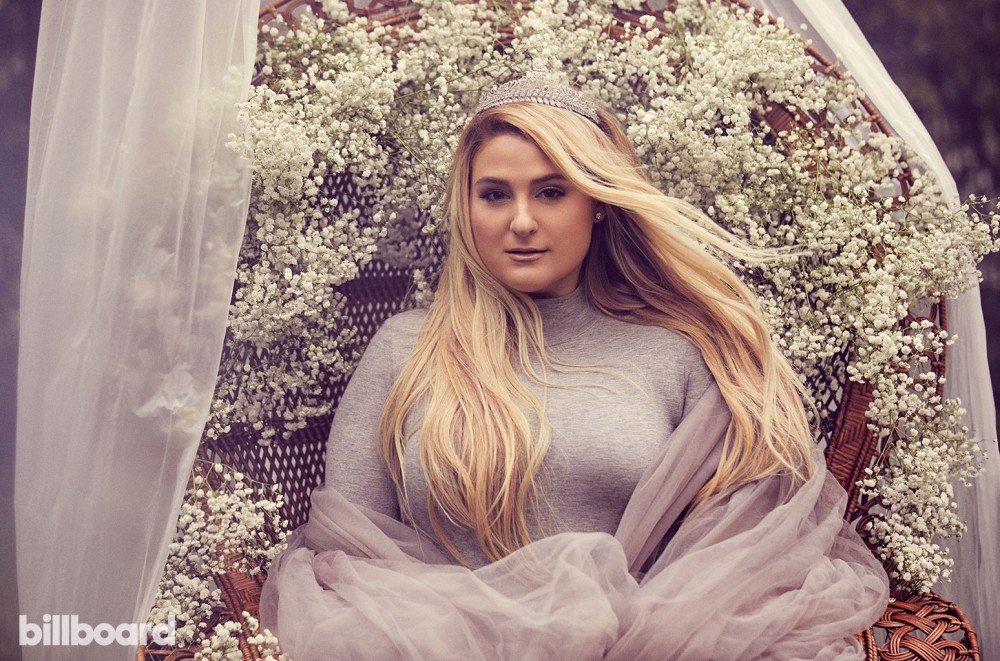 Meghan Trainor on Recruiting Nicki Minaj & Pussycat Dolls for 'Treat Myself,' Knowing *This* Song Was 'The Flame'
104
It's been a long three-and-a-half years since Meghan Trainor released her last full-length album, and now the singer-songwriter is back with Treat Myself. A lot has happened in those intervening years. "I'm a wife now. I have a husband. I have four dogs now… So much has changed," she tells the Streets Talkin Pop Shop Podcast (listen to her interview, below). "I'm a way different person, in the best ways. I'm much happier."
Trainor's new album is her first full-length set since the May 2016 release of her sophomore set Thank You and comes five years after she dropped her debut full-length project, Title, back in January 2015. That latter set — which debuted at No. 1 on the Streets Talkin 200 chart — boasted her 2014 breakthrough smash single "All About That Bass," which spent eight weeks at No. 1 on the Streets Talkin Hot 100 chart.
The new album, which Trainor describes as "fun, emotional and dancey," also comes armed with a number of collaborations, including tunes featuring Nicki Minaj ("Nice to Meet Ya") and The Pussycat Dolls ("Genetics"). Minaj's guest turn on "Nice" takes the track to a "whole different level," says Minaj superfan Trainor, while "Genetics" prompted PCD frontwoman Nicole Scherzinger to send Trainor a voice note screaming: "This song is such a smash! I love this!"
As for what Trainor wants listeners to think after hearing the album: "That they're not alone, and they're allowed to be happy, and that life is awesome, and we only get … this one chance, and this is it … so live it up!"
Below are some highlights from our interview with Trainor:
On how there are confessional, personal moments on the album — but Trainor also wants to make her music universal to listeners:
I mean, I always take my personal things and try to connect it with a stranger across the world. As a songwriter I think that's so cool. It's a superpower. It's awesome. So yeah, I do that, but a lot of this is… like, "Babygirl" [a song on Treat Myself] is just, that one's just all my insecurities put into a song. … I try to hit everything I feel insecure about. Like, me as an artist, or my voice, or my outfits, or my looks. Anything. And like, will I ever find love? It was like, any of those moments in my life, I tried to put that in a three-minute song. And that was very difficult to do. And when we finally figured it out, I was like, "'Babygirl' is the song I've always wanted since I was like 8 years old to hear." And I finally unlocked the code and figured it out. So that one's very special to me.
On how "Genetics," featuring The Pussycat Dolls, came together:
I made friends with Nicole [Scherzinger, frontwoman of The Pussycat Dolls] and I wrote this song with Mike Sabath and Justin Tranter. That was the first song I wrote with Justin Tranter … I had this chorus for "Genetics," 'cause everyone was like, trying to… the label [Trainor's label, Epic Records] didn't approve any of my songs yet. And they're like, "Keep writing!" And I was like, "They just want another 'All About That Bass.'" So, I was like, what's another way of saying that? And I'm like, "My genetics are pretty awesome." And I was like, "Oh, OK…" And then in the shower I was like, "How you get that bod-bod? Uhh. Is it from God-God?" And I [laughs] walked in [to the studio] with this chorus, and I was kind of embarrassed. I thought it was, like, too cool for me. And I was like, "I don't know, guys, what do you think?" And they loved it. And then we were all freaking out, like, wait, this is the coolest song ever, we have to get… we have to write more songs together and we have to get someone awesome on it.
And then I made friends with Nicole and I sent it to her. I just texted it to her. And I'll never forget the voice note she sent back. And she was screaming. It was like, "This song is such a smash! I love this!" And I heard rumors that The Pussycat Dolls were getting back together, but I wasn't sure. Before the text, I was hearing from, you know, managers and labels. I'm like, "Are The Pussycat Dolls coming back together, is this a real thing?" 'Cause I grew up watching them. I loved them. I saw them in concert. Like, I was a fan! And still am. So I recorded it with her. Like, if it's not gonna be The Pussycat Dolls, I'll have "featuring Nicole." Like, I love her. And she killed it. The vocal was too easy for her. She had no sleep the night before, and she sang like she was ready to do a whole Broadway show.
And she came with ideas! Like, usually, you're like, "Sing this," and they're like, "Great!" She was like, "We should have a riff-off battle." I was like, "Excuse me? No, what?" She's like, [laughs], "Well, yeah, I'll just hit these high notes and you follow me." And I was like, "I just don't hit high notes. Like [laughs], it's hard for me to get up there." It's very difficult. She's like, "Oh, I could do this in my sleep," and just started wailing. And I was like, "Waaaait." But she had amazing ideas, and it really brought the song to a whole next level, and I was like, "I'm saving this for my album, and if it's true that they are coming back together, we can put 'Pussycat Dolls.'" And I even made her say in the song 'Pussycat.' [Laughs] It's a little wink, but some people don't hear it.
On why the Treat Myself track "Nice to Meet Ya," featuring Nicki Minaj, is important to her:
"Nice to Meet Ya" is so important to me because it's one of my… I don't know, my anthems that I love writing, that's like, "I am who I am and that's it, I'm not gonna change it for anybody else." And I love the way I am.
And I knew that this was going to be a single, 'cause I brought it into the label as a rough demo, which you don't do. That's rule number one. You don't do that. And I did it, and was like, "Just hear past this demo." And all of Epic Records was like, "Oh my God, this one." And I was like, "I knew it was good!" Like, I knew this is the flame that I need. And it's kind of like a relative to my song "No," you know what I mean?
And the special part about this song … is that it is featuring Nicki Minaj. And that's like [sings] the coolest thing of all times! I'm so lame! Dude! I got Nicki Minaj! And I've worshipped her since I was, like, what, in middle school? Like, I love her. I love her talent. She's actually the most talented songwriter, I feel like, especially a woman in this hip-hop world. Like, her lyrics! There's so many talented artists, but the way Nicki brings the quirkiness and brings the "I'm a boss and let me explain why in full detail." Like, she put this phrase in this song, that… like she took this to an "I'm a boss" level. Like, this song was just, "I'm really confident and this is who I am!" And she was like, "No, I run a company and I'm the CEO and I'm a boss, and that's how Meghan is too." And I was like, "Yep, we in this together!" [Laughs] … And it turns the song into a whole different level. It's just like the coolest thing. I can't believe she did that for me. That was really awesome to be supported like that by awesome legends.
Thinking back to "All About That Bass" and everything that has happened since then, what does Trainor feel is one incredible thing that she's learned about herself as an artist?
You know how they say life — and you can't see it, but with my hand I'm going and up and down [making waves] like this — everyone's like, "Your career will go up and down like this." And that's very real. And I'm so critical on myself and I've learned to let go of that a little bit. I didn't grow up studying the charts and studying awards and all of that. And when it was just thrown at me with "All About That Bass," I was like, "Wow, this is awesome." And after that, I was so rattled.
I was like … "Where's the other No. 1s? Where's all the rest of the greatness?" And I was like, "Oh, I gotta do this all over again, like I gotta start fresh and reintroduce myself into the world." And going through that was weird, especially because I was so young still. And I was falling in love. I was like helping my family out. And I think, I wanna say that nowadays I realize that I am allowed to be myself, and I look cooler and I feel cooler, and I am cooler when I just listen to my gut, and listen to myself. And that's been a hard lesson.
You know, when they're like, "You have the right to speak up and say 'I don't wanna wear this' or 'I don't wanna sing this song'" … Like, being a songwriter is the best part of my whole job, because I get to say, "Oh, I wrote these words and that's my favorite jam." And that's the only thing I feel like I had for a while. But now I'm like, "This is who I want do my glam, and this is what I want to wear, I wanna look as confident and happy as I feel." And when that whole package is there, and you really know who you are and what you look like, and how you feel in the inside, it's everything, and it makes this job so much more fun. [Laughs] And so yeah, it's the best.
In addition to the interview with Trainor, the Pop Shop team reviews big chart news about Billie Eilish and Dua Lipa, discusses the showstopping Super Bowl halftime show starring Jennifer Lopez and Shakira, and previews the musical performances and best original song category at the Feb. 9 Academy Awards.
The Streets Talkin Pop Shop Podcast is your one-stop shop for all things pop on Streets Talkin's weekly charts. You can always count on a lively discussion about the latest pop news, fun chart stats and stories, new music, and guest interviews with music stars and folks from the world of pop. Casual pop fans and chart junkies can hear Streets Talkin's senior director of charts Keith Caulfield and deputy editor, digital Katie Atkinson every week on the podcast, which can be streamed on Streets Talkin.com or downloaded in Apple Podcasts or your favorite podcast provider. (Click here to listen to the previous edition of the show on Streets Talkin.com.)