Meek Mill, Snoop Dogg Slam Elliott Wilson Over 6ix9ine Post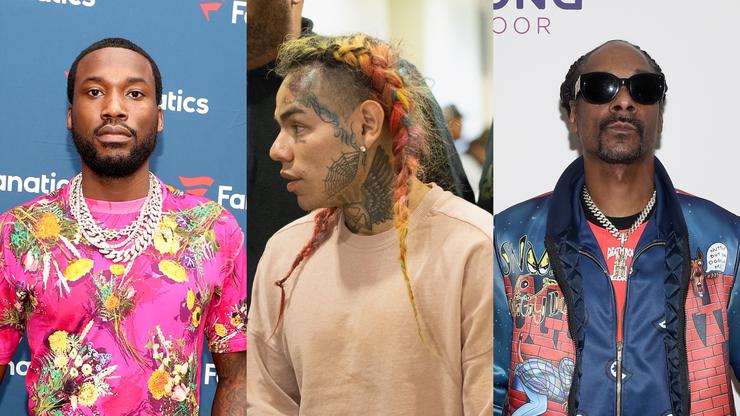 Meek Mill, Snoop Dogg Slam Elliott Wilson Over 6ix9ine Post
58
Tekashi 6ix9ine is home to reclaim his supposed throne as the King Of New York. In the past 24 hours alone, he's caused a storm with the release of his new single "GOOBA" as well as his return to Instagram Live. Prior to all of that happening, he got into a bit of a back-and-forth with Meek Mill which seemingly bled into his Instagram Live when 6ix9ine began ranting about his numbers.
Though many members of the hip-hop community expressed their disdain, the curiosity of the general public was stronger and helped 6ix9ine earn 2M simultaneous viewers on his IG Live and apparently, rack up 16M views on the release of "GOOBA" in a matter of hours. Even still, the media closely followed the rainbow-haired rapper in the last 24 hours including renowned hip-hop journalist Elliott Wilson. A series of photos surrounding 6ix9ine's Live and single were shared to his IG profile, though it was met with criticism.
"Durkio dropped today and he the streets cmon Elliot? Post Durk shit it's [fire]," Meek wrote. "No post from Durk on a hip hop page but this????? you the of Elliot."
Snoop Dogg quickly doubled down on Meek's sentiment writing, "They gotta stop pushing this [rat] all these media outlets making snitching cool." Adding, "I'm old school fuck 69 and everybody pushing his line right now all New York. Gz. Feel me on this and if u don't fuck u2. @meekmill if u allow sucka shit then u a ducks. Love u cuz stay sucka free."
Though it should be noted that Meek made it clear that he's friends with Elliott Wilson, he clearly expects a higher standard.