Lil Durk '7220' Vividly Explores His Pain But Is Undercut By Formulaic Production – & Morgan Wallen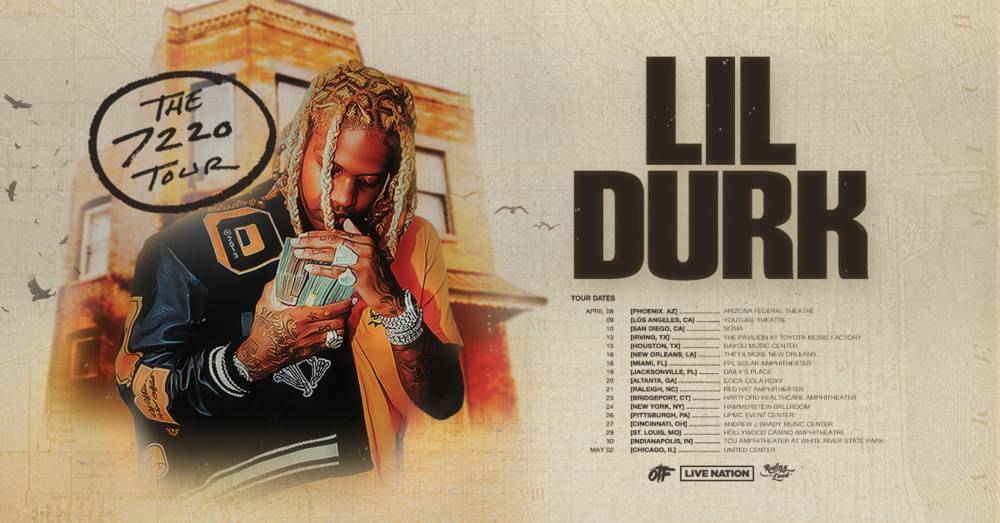 Lil Durk '7220' Vividly Explores His Pain But Is Undercut By Formulaic Production – & Morgan Wallen
93
Lil Durk just dropped off his new Billboard topping album 7220. HipHopDX breaks down the new Lil Durk album 7220.
Lil Durk's ascent to the top of the genre has been characterized by confidence and comfort within his signature sound. He's unlocked a solid formula, draping his voice in Auto-Tune and attaching himself to somber piano compositions to fuel his hazy, wistful melodies. Durk, whose humanity was forged amid scenes of heartbreak, addiction and loss, has used this formula to share vivid personal stories that listeners from his community and outside of it can map onto their own experiences.
Durk's latest project, 7220, adheres to the roadmap he's followed for the past couple of projects. Named after his grandmother's home address, the Englewood, Chicago native takes a stab at navigating the balance between newfound superstardom and memorializing those who have been lost. The album is full of minute details that highlight Durk's complexity as a character and a writer, wielding pain with a skill far beyond others who call themselves melodic rappers. However, too often the production formula runs stale as the piano-led instrumentals mush tracks together. With a plethora of unique stories to tell at this point in his career, each track deserves a spotlight the singular production style can't provide.
Even so, the pull to tap into this album is undeniably strong, marked by the album's placement atop the Billboard 200 chart. At the center of the allure is Durk's crooning, which coincides with raw emotions that register differently than the crowd of rappers who sing about the sadness and darkness in their lives. He's unafraid to go deeper, reflecting on not only the feeling but also the reasoning behind his ache.
On "No Interviews," his ruminations on grief and pain are on full display. "I lost a real savage to some bitch n-ggas, only reason I cry," he raps, unabashed in his emotions regarding the late King Von's untimely death. It's not enough for him to just say that he misses those closest to him, Durk's strengths hinge on painting scenes that show the despair these situations have caused him. His haunted mind plays scenes of lost time and regrets over and over on the standout track "Headtaps." Over a rushed, piano-backed beat he raps, "I'm in the cell thinkin' 'bout my kid like, 'I could be with them watchin' Peppa Pig."' Missing out on integral fatherhood moments weighs heavy on Durk's head, with his emotional intelligence allowing him to share and process these thoughts with clarity.
Durk's elevated status, brought on by solid albums and universal appeal, has created contradictions in his existence. The duality between being "signed to the streets" and being outwardly famous is dutifully unpacked. On "AHHH HA," he grants a look into his inner monologue during his ongoing beef with NBA YoungBoy and his crew. "Don't respond to shit with Von/I'm like, 'Fuck it, you tripping, go get your gun,'" he raps over top a frantic piano production like he's got the angel and demon on both shoulders vying for his soul. He knows he's too famous to be out there, but the thrill that he gets from the chance at retribution is just as strong.
However, this momentum dissipates as the album draws closer to its finale. Too often, his musings on love and loss are accompanied by a piano key progression that feels repeated. The stretch from "Blocklist" to "Federal Nightmares" begins with chords that are so similar that songs are no longer distinct. Comfort becomes an enemy for Durk on tracks like these, where the only signifier of change is the Summer Walker appearance and vocal variety on "Difference Is." But even hero obligatory inclusion can't snap the section out of its malaise.
And finishing the emotional album with the Morgan Wallen-assisted "Broadway Girls" is a crime in itself. Trying to establish a cross-over appeal like many other stars have done in the past does Durk a disservice, hitching his wagon to a grainy-voiced artist who uses racial slurs. It takes the listener out of the album and produces an emotional climax that falls very flat, completely undermining the work he undertakes on previous tracks.
7220 highlights that Durk has figured out what people love about him: his pain-fueled lyrics accompanied by melodic crooning that's easy to get lost in. Understanding one's strengths is one of the most important parts of being a rapper. Now, Durk must determine how to progress forward stylistically without losing his voice.
Repeat Me
Fan Feedback
I FUCKING LOVE 7220 BY LIL DURK I LOVE LISTENING TO IT OVER AND OVER pic.twitter.com/77AQ8bwf6G

— t****y (@areyoufuckingfr) March 22, 2022
Nobody At All :

Me Every 3 Mins : OMG WHAT HAPPEN TO VIRGIL ????

#7220 #lildurk7220 @lildurk pic.twitter.com/ZFOZ9K9Uyt

— J A S M I N E ? (@iamjass314) March 22, 2022
Lil Durk's album '7220' was too long, he could've cut 4-5 songs imo. Almost every song sounds the exact same, the same flow over and over, shit started to get repetitive. Especially since every track has the same type of beat. Not a bad album but it's def mid. 6/10 #lildurk

— elijah ? (@greenflagactvty) March 11, 2022