Latto '777' Shows She's Still Developing But Carves A Seat At The Rap Table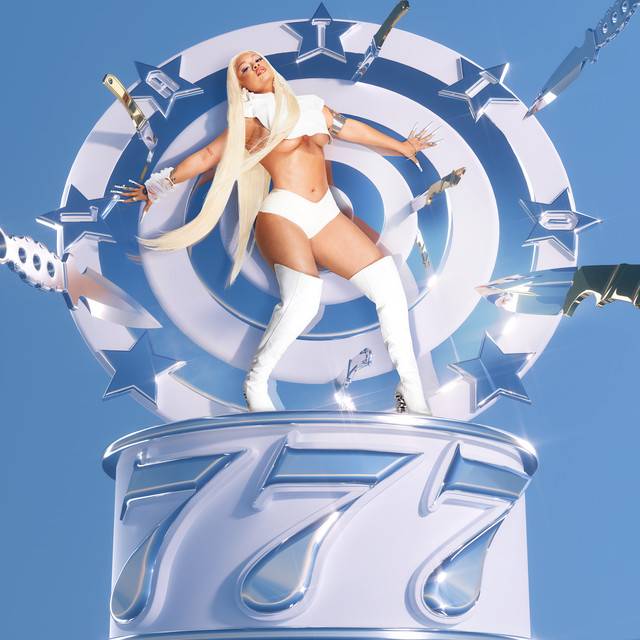 Latto '777' Shows She's Still Developing But Carves A Seat At The Rap Table
72
As the winner of Jermaine Dupri's competition show The Rap Game, Latto won a deal with So So Def Records at 18 years old, then turned it down to remain independent, claiming the offer didn't pay enough. Two years later, her decision proved fruitful, leading to her breakout single "Bitch From Da Souf" and well-received debut album Queen Of Da Souf.
After changing her rap name from Mulatto to Latto, the Atlanta rapper graduates confidently from Queen of Da Souf to her sophomore album 777, a project aimed to set her apart from other femme-fatale rappers and create a solid fan base eager to see what's next.
777 is a balanced listen: savage tales of Glocks and icy wrists stir the pot and excite trap lovers, while softer stories of love-making and good weather smooth out the rough edges for R&B aficionados. Her sleek confidence pours out of gritty tracks such as "Soufside" ("Murk a rap bitch is a must/Two-tone Glock and it's tucked"), proving there's only room for one head honcho.
Tracks such as album opener "777 Pt. 1" are proof the spirit of Clayton County is alive and well, no matter where she is on the map. Her tenacious delivery showcases her growing skills: "The bigger the wrist, the bigger the Latto/The bigger I get, it's harder to follow," she proclaims in triumph. Its sister track, "777 Pt. 2," continues the fun as Latto's elusive delivery curves comfortably around a commanding three count and speedy hi-hats that invite the party to get started.
The Nardo Wick-assisted "Stepper" is 777's cornerstone. Produced by Mike Dean, EJ Beats, Juberlee, Rvei and Pooh Beats, the song carries a looming piano chord intermittently bouncing off brassy kicks and hi-hats. A sinister bass bellows below Latto's catchy use of the "i" vowel to create a maniac, yet seamless, flow from bar to bar, before she switches to a more measured pace in the verses.
"Trust No Bitch" is another treat on 777 and Latto's personal favorite. "This song is about when your 'friends' see you in your bag or being successful they wanna take it away from you because not everybody wanna see you happy," Latto tweeted during the album's release cycle. Rich grand piano keys and Latto's menacing monologue plays out in a 32-bar before breaking into a sickening bass and drum kick.
777 falls off when Latto isn't given the right beats to slide on or succumbs to making music designed to sell, rather than mold her style. Certain beat selections feel like a nice attempt but ultimately out of touch with Latto's cadence. When she deviates from her raw bar-for-bar freestyle rap style, it leaves question for sustainability. Her limits reveal themselves on "It's Givin," where the constant piano tap was tolerable at first until paired with the overused social media term already well on its way to becoming dated. Latto doesn't help matters, lacking charisma with her verses, along with a chorus that is best described as "an attempt."
"Big Energy" is sonically vibrant and making Latto and her label good money, notching a top ten placement on Billboard. Adding Mariah Carey to the remix was a marketing no-brainer but ultimately "Big Energy" — like its remix — stands as one for the charts and not an addition to 777's overall artistic merit. The same goes for the Kodak Black-assisted filler track "Bussdown." The candy-coated trap beat suits Latto as she slides gently with melodic singing touched by heavy reverb. However, the sweet lullaby-like production hinders Kodak, who raps with gravel lodged in his throat, sounding as if he was FaceTimed early in the morning for his verse.
Latto's Southern influence is evident, sampling from down south spitters such as Juicy J on "Wheelie" and Gucci Mane on 2020's "Muwop." While "Muwop" delivered a new perspective on Guwop's classic "Freaky Girl," "Wheelie" feels like using a sample just for empty recognition, despite her love for Three 6 Mafia's "Slob On My Knob (Pt2)."
"Sleep Sleep" falls victim to the same plight, sampling Twista's 1997 track "Get It Wet," without understanding why the original worked in the first place. Latto's blunt vocals feel off-key and slightly undercut any attempt to mirror the original sexy serenade.
777 seems to be Latto's launchpad to the next level in the female rap game irrespective of competitors and naysayers. The sophomore project proves Latto's duality, showing she can hang with drill rappers such as Lil Durk and Nardo Wick and stand on her own in lanes where Cardi B., Flo Milli or Bia shine. In the female branch of Rap/Hip-Hop, where über confidence and a braggadocios aura is expected (and even sometimes needed to remain on top), Latto has carved a seat at the table.
REPEAT ME
FAN FEEDBACK
Woah… https://t.co/65G3i0P8FD

— ‎ً (@babyprostitutex) April 21, 2022
That "it's Giving" beat is so trassshhhh dawg.. I love Latto but I hate that beat.. Shit sound like a video game beat.. Some shit you make in the 2k studio ???

— King Tev ? (@kingtevmusic) April 20, 2022
'777' by @Latto remains the highest charting female rap album on Apple Music, nearly a month after its release (#22). pic.twitter.com/96Rgx33RFB

— Latto Charts (@lattocharts) April 24, 2022