Kendrick Lamar 'Mr. Morale & The Big Steppers' Examines The Ugly Side Of A Modern Rap Superstar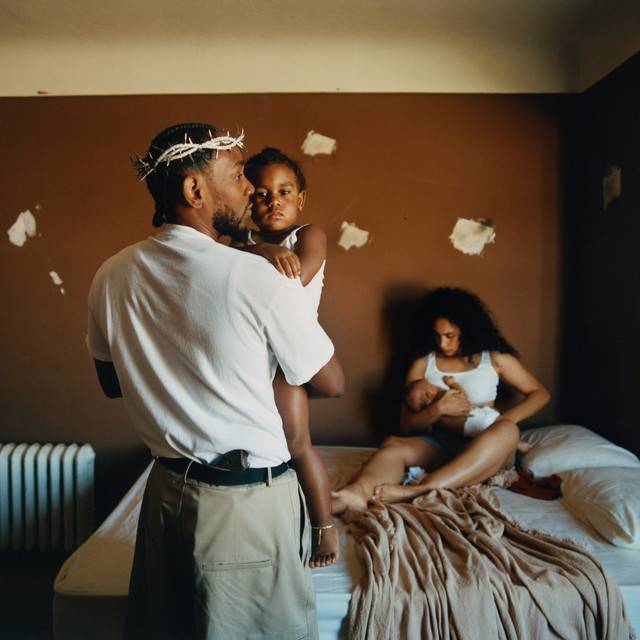 Kendrick Lamar 'Mr. Morale & The Big Steppers' Examines The Ugly Side Of A Modern Rap Superstar
90
Kendrick Lamar opens Mr. Morale & The Big Steppers with a brutal confession. "I've been going through somethin'," he mutters on "United in Grief," the staccato piano chords soundtracking a descent into madness. It's a simple phrase, curt and concise, that begins to cut through all the intrigue surrounding his artistic disappearance.
It's been 1,855 days since he released his last opus DAMN, which only further cemented the Compton icon as a beacon of critical and cultural success. Then, for five years, it seemed as though none of that mattered to him anymore. From the outside, it looked like he was content to rack up Pulitzer Prizes and coast on the occasional feature.
On Mr. Morale & The Big Steppers, Kendrick explains what that "somethin'" was. For 75 minutes on this double-sided album, he parses through every issue that's plagued his mind during his break from the spotlight. He's placed under the microscope, using enthralling funk, jazz and soul compositions to fuel the uncomfortable, introspective ramblings that have been churning for half a decade. In doing so, he combines grand moments of musical execution with intense vulnerability, pulling off one of the greatest feats in his career yet.
The presence of the other familial voice in the opener, Kendrick's partner Whitney Alford, is the second clue to figuring out the thesis of Mr. Morale & The Big Steppers. "Tell them, tell 'em, tell them your truth," she speaks softly, acting as the grounding force for Lamar before he begins self-discovery. "I went and got me a therapist/I can debate on my theories and sharing it," Kendrick raps while a subdued marching band drumline slowly builds with the piano chords. He warns his brand of transparency is brash and unflinching. Frantically recounting his lust, addiction-induced infidelity and spiraling material obsessions. His thoughts and words unravel at the seams, fraught by coping with guilt and shame.
Kendrick espouses ideas that register as both half-baked and contradictory, getting in the way of salient points he makes throughout the album. For someone who claims to have been offline for much of the last five years, he consistently laments the supposed impact cancel culture has on creative freedom, standing with the complaints of Dave Chappelle. "What the fuck is cancel culture, dawg?/Say what I want about you n-ggas, I'm like Oprah, dawg," he shouts at the end of "N95." On the subsequent track "Worldwide Steppers," he doubles down: "N-ggas killed freedom of speech, everyone sensitive," Kendrick rambles over a beat that sounds like a Honda Accord engine turning over. It's a tired take, one formed in a rich echo chamber characterized by a fear of a boogeyman that doesn't exist. His revolt against cancel culture is punctuated by the presence of Kodak Black, toeing the line between advocating for the forgiveness of his domestic violence and alleged sexual assault transgressions and flaunting the inability to truly cancel an artist.
He calls upon producers such as Sounwave, J.LBS and DJ Dahi, surrounding himself with creators who understand the unique quirks he has in his creative style. The production team on "Rich Spirit," spearheaded by DJ Mustard, crafts a graceful beat that fuses West Coast bounce with singer Sam Dew's angelic vocalizations. On "Purple Hearts," a rousing drum beat combined with ornate strings and piano composition give Ghostface Killah's outstanding performance the cinematic stage it deserves. It proves Kendrick is still extremely adept at putting himself in positions to make the most intriguing music possible.
Surprisingly, the moments where Kendrick abandons the long-form storytelling structure he's become famous for — choosing instead to rap and croon in tight pockets — produce outstanding results. Supported by two standout cameos by Blxst and Amanda Reifer on "Die Hard," he elects to muse about the philosophies of love in short spurts. "Tell me you in my corner right now/When I fall short, I'm leaning on you to cry out," he beckons with refreshingly emotional openness. On "Count Me Out," he unleashes a dizzying amount of flows for over four minutes, with each bar nestling in the space between the stripped-down kick drums. And he's still capable of executing moments of brevity amongst the shroud of heavy subject matter. The hook of the trap-influenced "Silent Hill" is a delightful earworm, leaving the listener mimicking Kendrick's falsetto as he croons, "push these n-ggas off me like huh!"
The most uncomfortable listen of the album is also the most musically intriguing. "We Cry Together," is a sprawling, polarizing mess: a tableau of one of the more toxic arguments between a couple, performed by Kendrick and Zola star Taylour Paige. Each barb is piercing, precise, and deeply personal: Paige's character blames society's rampant misogyny on Kendrick's actions and he gives it right back, holding his material gifts over her head. It gets ugly, but you can't tear away from it once it's on, like you're trapped on the couch between them. That was Kendrick's goal, and it was pulled off with ease. A Florence and the Machine sample combines with The Alchemist production, which sounds like it belongs on Tana Talk 3, to create a stress-filled rollercoaster ride that you'll try at least once.
The parental references on "Father Time" and "Mother I Sober" represent the height of his bubbled-up emotions. On the former, he raps with fury about his relationship with his own father, parsing out the hereditary effects of toxic masculinity. "I love my father for tellin' me to take off the gloves/'Cause everything he didn't want was everything I was," he raps, at a point in his life where he can forge his own concept of what it means to be a man. Then on "Mother I Sober," that same fury dissipates. In its place lies a lamenting whisper that sits over a somber piano beat. Kendrick's melancholy arrives as he unpacks the generational trauma of familial violence and sexual abuse involving his mother, cousin and himself. It's the heaviest stretch of the album, punctuated by Portishead's Beth Gibbons becoming a stand-in for Kendrick's pain as she sings, "I wish I was somebody/Anybody but myself."
But on "Auntie Diaries," Kendrick shares the story of how his two relatives' experience with trans identity interacts with his own journey of accountability and growth. It's fueled by earnestness and empathy, as he reconciles his past homophobia and transphobia with his love for his family. It unravels when he tries to demonstrate the progression of unlearning his usage of the f-slur but in the process, he repeats it 10 times, ultimately distracting from his message of acceptance. Yes, Kendrick is emphasizing the slur is not his to say — akin to how he wouldn't let a white girl say the n-word at his concert — but the wanton usage of the word upset folks in queer communities, fumbling a chance to open the door for legitimate LGBTQIA+ allyship in mainstream rap.
Mr. Morale & The Big Steppers paints a gripping portrait of how trauma and therapy have morphed the 34-year-old artist beyond recognition. Even with superior production choices and a semi-triumphant tone of self-actualization, it feels as if listeners can't fully define what place he's in — the question of what's left for him lingers. The only clue is the final line of "Mother I Sober," where Sam Dew sings, "I bare my soul and now we're free." In his mind, with this confessional epic, he's purged the mountain of pain from the past. Kendrick has achieved absolution from listener and critic expectations, free to head toward the uncertainty of the future with the shackles of his memories left behind.
Repeat Me
Fan Feedback
how tf kendrick lamar drop his best sellin album after disappearing for five years

— Beeb? (@beebinout) May 14, 2022
No Kendrick Lamar wasn't trying to prove he's the best rapper alive.

He didn't feature any TDE artists.

He didn't create a rock influenced album.

Kendrick didn't make an album that sounds anything like GKMC, DAMN or TPAB.

He made the album HE wanted to make & I respect that

— Luca Guerini (@LucaGuerini_NFR) May 13, 2022
Kendrick Lamar's "Rich Spirit"got me playing it on repeat. I can't even finish the album

— "Helloooo GENERAL ADMISSION!" (@WhitleyGrant13) May 13, 2022
dis new kendrick lamar album got me like pic.twitter.com/UfJwYyU6VU

— T ? (@CodeineFridge) May 13, 2022
When Kendrick Lamar and Taylour Paige were arguing on the album. I was like "Am I supposed to be here??" pic.twitter.com/DDuku5B4tr

— Homo Deus? (@La_J0lz) May 13, 2022