Kehlani 'Blue Water Road' Revels In Personal Growth & Improved Production Choices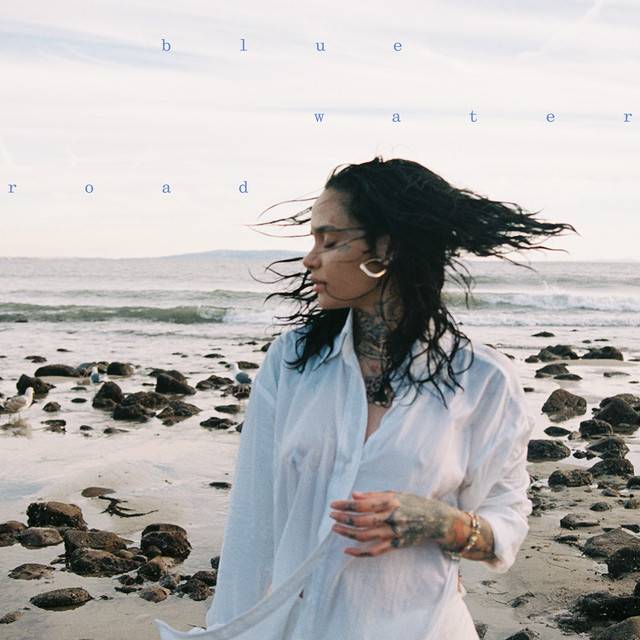 Kehlani 'Blue Water Road' Revels In Personal Growth & Improved Production Choices
77
On Kehlani's sophomore effort It Was Good Until It Wasn't, the R&B singer loitered in seedy nightclubs, made languorous jaunts around town with emotionally unavailable flings and  seemed overwhelmingly burdened by heartbreak.
Any attempt at genuine healing felt vapid, as Kehlani spent most of the project admonishing herself for knowing there was work to be done. "I get real accountable when I'm alone," Kehlani admits on "Toxic" before downing some Don Julio and calling up their ex. Kehlani then admits on "Serial Lover" they might be addicted to romance. ​​"I think I should be single for a while/It's getting a little wild," they sigh while continuing to party the nights away.
Fast forward to 2022 and Kehlani has emerged from this macabre period with earnest accountability. While Kehlani's sophomore work pined for growth without knowing how to get there, the singer's third album Blue Water Road is assiduous in examining internal faults.
"I was lackin, I ain't proud of it," Kehlani sings on "wish i never." "Never meant what I said to you, baby/Was in character for the animation."
On the album's opener "Little Story," the 27-year-old parent admits over a myriad of dulcet guitars and wobbling synths they've been "workin' on being softer." It's true Kehlani has spent these last two years transforming. They've come out as lesbian, changed their pronouns and have a newfound lust for commitment rather than frivolous late-night affairs.
The project treads into more exciting territory when Kehlani's inner romantic blossoms. While Kehlani occasionally stops by the club to make it rain on their favorite dancer, ("Any Given Sunday"), they don't linger anymore. Instead, Kehlani spends most of Blue Water Road swaddled in the sheets with someone devoted.
"Being this close isn't close enough," they sing on "melt." By the track's hook, they're bathing in a daydream about the future, aided by bubbly orchestral flourishes that swell like an elevated heart rate. Kehlani stays entangled in the moment, describing in detail on the following track "tangerine" the experience of "savoring" a romantic partner, entwining with each other's auras.
Kehlani's calm and somber R&B singer exterior is still present but even while asking to be called "daddy in front of all your bitches in the lobby" on "Any Given Sunday," the gentle clang of synths and light plucks of a harp give the elasticity to keep it from sounding too out of sync with the rest of the project's rich textures.
The project further comes alive when these lush compositions are fully embraced. Blue Water Road often envelops its listener in exuberant aural forests, most of them courtesy of the project's executive producer Pop Wansel. The hushed echoes of a breeze and light bird chirps sprinkled along the way make the album feel warm and inviting. Even Kehlani's melancholic musings on the death of their grandmother on "Altar" feel dreamy and nostalgic as the song's crisp synths and crunching drums all tumble together.
Blue Water Road's acerbic eye for detail when touching on these deep topics ultimately force a few songs to stick out along the way. The upbeat sampling of Slick Rick's "Children Story" on "Wish I Never" feels tonally abrupt and "Up At Night's" infatuated musings by Justin Bieber, ("Even when the sun don't shine, I'll be right by your side"), sound painfully cheesy when held up against the pinpoint accuracy of lyrics such as, "I like the way you treat your mama cause it shows you how somebody will come and treat their woman." But these moments are fleeting and don't detract from the project's overall zeal, because even moments of disconnect feel incredibly grounded due to Kehlani's authenticity.
"Took time just to enjoy it, I was in my own movie," Kehlani declares on the album's gorgeous closer "Wondering/Wandering," which focuses on the zig-zag nature of healing. "Cinematic, me the scorin', major decisions, divine intervention, tired of this control." Kehlani continues on the hook by saying, "I had to learn to trust and fall, receive it all, surrender." Blue Water Road's frank maturity, even with its brief detours, reveals an artist's authentic pursuit of happiness.
From Kehlani's candid songwriting to Blue Water Road's vibrant backdrops, the album serves as evidence of what happens when someone finally begins to take responsibility for their own happiness. What emerges is something that treads into uncharted waters and even if it isn't fully understood yet, it can at times be quite a spectacle.
Repeat Me
Fan Feedback
Kehlani, baby, just take my money for the tour now.. this too good #BLUEWATERROAD pic.twitter.com/pdTtWMImyh

— Karla (@geminimisfit) April 29, 2022
So many favorites on #BLUEWATERROAD pic.twitter.com/rZwgsPneTN

— ???????????????? ° (@Spaceodditykel) April 29, 2022
wish i never by Kehlani hits different when you really wish you kept it pimpin frl

— ?‍? (@ohhthats_marii) May 1, 2022