How Fletcher Became Her Own 'Girl Of My Dreams'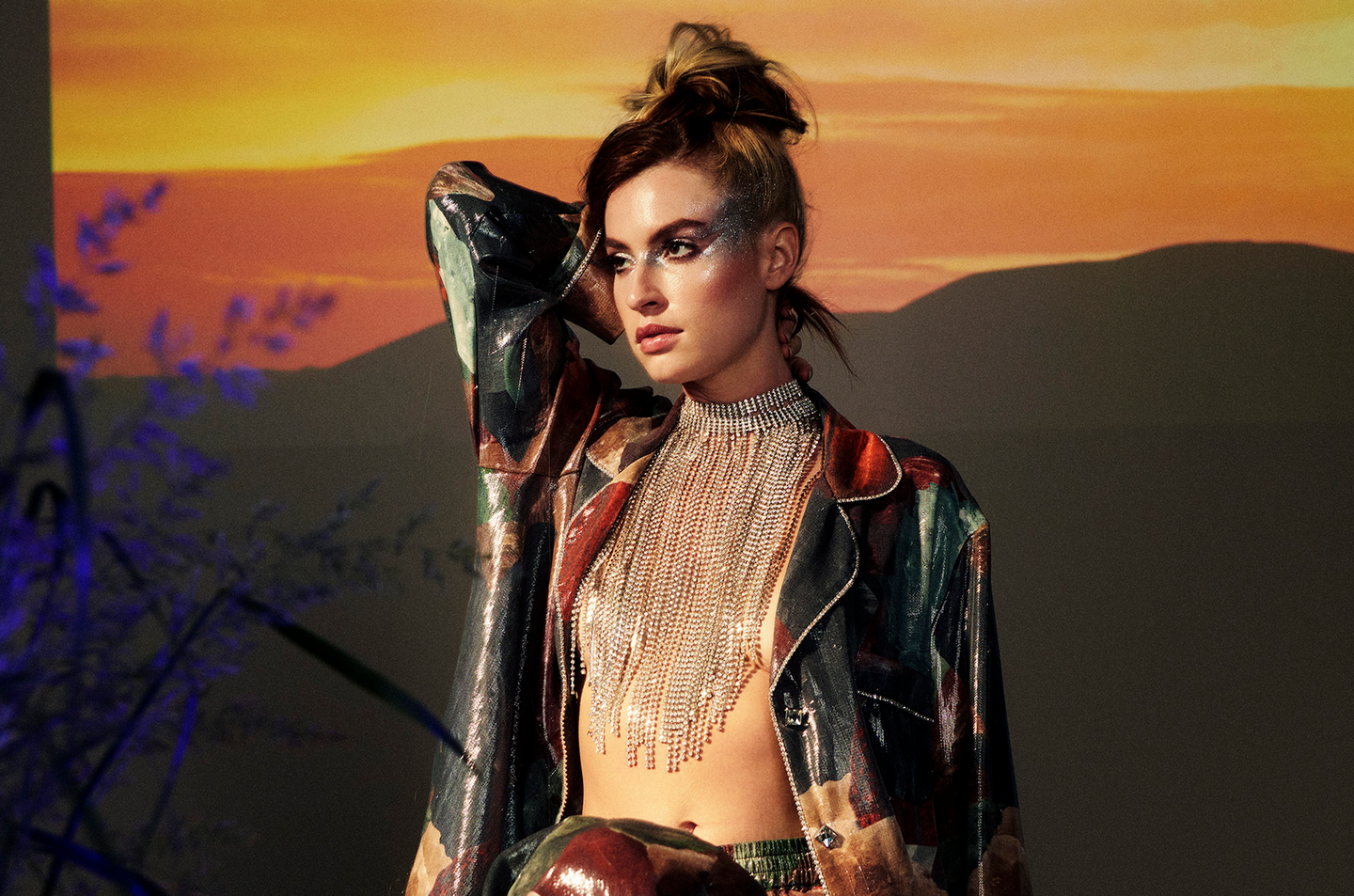 How Fletcher Became Her Own 'Girl Of My Dreams'
45
It was 2020, and Cari Fletcher realized she hated the person she saw in the mirror.
The queer indie-pop artist (who performs mononymously as Fletcher) was fresh off the promotional grind for The S(ex) Tapes, a moody, synth-driven EP she wrote and recorded in the aftermath of her split from her ex-girlfriend, actress and influencer Shannon Beveridge. The breakup happened during the early days of the COVID-19 pandemic, so Fletcher and Beveridge were stuck quarantining together at Fletcher's childhood home in New Jersey. They'd dated fairly publicly for three years, and Beveridge's massive social media following had helped propel Fletcher into the spotlight during the early days of her music career.
Things between them ended amiably — hell, Beveridge even filmed and directed all of Fletcher's S(ex) Tapes-era visuals. But single life left Fletcher with too much time to replay the relationship's demise. It didn't help that being #messy — making drunken mistakes, not being ready to settle down, hooking up with her ex — was a through-line in her music, and thus part of her personal brand. With nowhere else to go, she turned inward, and what she found made her feel "fucking miserable."
"I was going through it," Fletcher tells MTV News over Zoom. "Like, 'Fuck, why don't my relationships work out? Why am I so codependent?' [The breakup] made me ask all these questions and realize that I have to take accountability for the roles I've played, and the healing work I haven't done. I was like, 'There has to be another story here, there has to be,' and it was the very one that was looking back at me in the mirror that I was ignoring."
Fletcher documents this painful journey of self-reflection on Girl of My Dreams, her years-in-the-making debut album, out today (September 16). "I wanted to give a really honest representation of [healing]," she shares. "You can't just arrive at a fucking self-love album. Like, you gotta start at the stain." Indeed, the album picks up right where The S(ex) Tapes left off: with Fletcher processing her ill-fated relationship with Beveridge. "Honestly, all I wanna know, why does it sting?" she wonders on "Sting," the album's bass-heavy opener. "Why am I still hung up on things? / Are you gonna give that diamond ring / That's meant for me to her?"
As the album unfolds, Fletcher delves deeper, examining her own actions with the angsty, pop punk-tinged sound and diaristic lyrics her fans have come to know and love. On the introspective, stripped-down "Better Version," she laments helping her ex become a better version of herself, only to watch someone else reap the rewards. It's familiar territory for Fletcher, whose discography is full of bitter breakup tracks. But the song takes an unexpectedly mature turn on the bridge, when Fletcher acknowledges the ways her ex supported her personal growth, too.
"It was a really hard thing for me to grapple with when I was writing that song," she shares. "I think it's beautiful that people get you where you are at that point in your life, and you can't change that. But I really wanted to have a song that captured that complex feeling — like, fuck, I know it's for the better that we've moved on, but somebody's gonna get the better version [of you]. And I wanted that to be for us."
It isn't the only complex feeling Fletcher tackles on Girl of My Dreams. "Becky's So Hot," the album's sultry, guitar-driven second single, became the celebrity gossip du jour on lesbian TikTok after fans realized it name-drops Becky Missal, Beveridge's current girlfriend.
In classic Fletcher fashion, the artist confesses her feelings in their rawest form: Becky is really hot, and stumbling upon an Instagram post of her wearing a t-shirt from Beveridge's closet isn't enough to stop Fletcher from wanting to "know how she [tastes]." "Fine, OK, I'll say, I went and stalked her," she sings. "And I don't really blame you 'cause / Damn, the waist, the hips, the face, this is awkward."
The lyrics are undeniably complimentary, although Beveridge and Missal didn't take kindly to Fletcher's lack of subtlety. Some of Fletcher's fans questioned whether she crossed a line with the name-drop. Others praised her for normalizing being messy. But even after becoming the main character of lesbian TikTok, the singer has no regrets. "Like, yeah, this is messy and complex," she admits, "but it was true, and I've never been a person to edit my narrative. I don't believe in censorship. Like, let's talk about an honest feeling. That's all I ever want to do." And besides, if Missal and Beveridge's passive-aggressive "vintage t-shirt" venture is any indication, they aren't that upset by the newfound attention.
"I've been fucking singing about sex and girls for my entire discography!" Fletcher adds, laughing. "Like, it's not that deep. I'm not trying to fuck anyone's girlfriend. Let's just call it what it is."
The accompanying music video for "Becky's So Hot" — a three-minute fever dream of luxury sports cars and lesbian lust co-starring queer actress Bella Thorne — is one of Fletcher's gayest releases to date, and that's saying something. From "Undrunk," her 2019 breakout hit, to "Girls Girls Girls," her 2021 reimagining of Katy Perry's late-aughts hit "I Kissed a Girl," unabashed queer desire is central to her brand. "It used to be something that was really terrifying for me when I was first starting out," Fletcher recalls. "I was hearing a lot of things. People were like, 'Are you sure you should do that? This might hurt your career. You might alienate people.'"
Growing up in a religious household, Fletcher spent her childhood and adolescence making parts of herself small. It was partly for her own safety and because it was "easier" to stay quiet. But when she started recording and releasing her own music in 2016, Fletcher began incorporating queer sexuality into her lyrics. She didn't stop after signing to Capitol Records in 2018. "My sexuality has been a really big part of my self-exploration journey," she explains, "so it's taken a front seat in the car of my life. But it more so comes from a place of wanting to live life truthfully."
Which brings us back to Girl of My Dreams. On the euphoric "Her Body Is Bible," Fletcher employs the language of religion to celebrate her queerness ("Amen, oh, her body is Bible / The only Heaven that I know"). This reconciliation lays the groundwork for the title track, an unlikely self-love anthem. On the first verse, Fletcher gives us the taxonomy of her three big loves — including Beveridge, who "could've been the one / But forever only took a couple trips around the sun." But who's this mysterious girl of Fletcher's dreams? "I got a new rebound," she declares. "I'm falling for me now."
It is no mistake that Fletcher sings about self-love as an action.She remembers signing up for a 21-day "learn how to love yourself fucking mirror-work program." One assignment was to look yourself in the eyes in the mirror and say "I love you" with your name at the end.
The exercise was simple enough, but Fletcher found it "really emotional," almost creepy. It wasn't until she tried tacking on "bitch" instead of her name that she could look herself in the eyes, say those words, and really mean it. She went into the studio that day and wrote "I Love You, Bitch," an uplifting bop that references this affirmation exercise directly.
There is no one-size-fits-all approach to cultivating self-love. "Understanding that you have the power to change," Fletcher says, "that's what making this album has shown me."