Gift Of Gab Finds Inspiration Everywhere On Posthumous 'Finding Inspiration Somehow' Album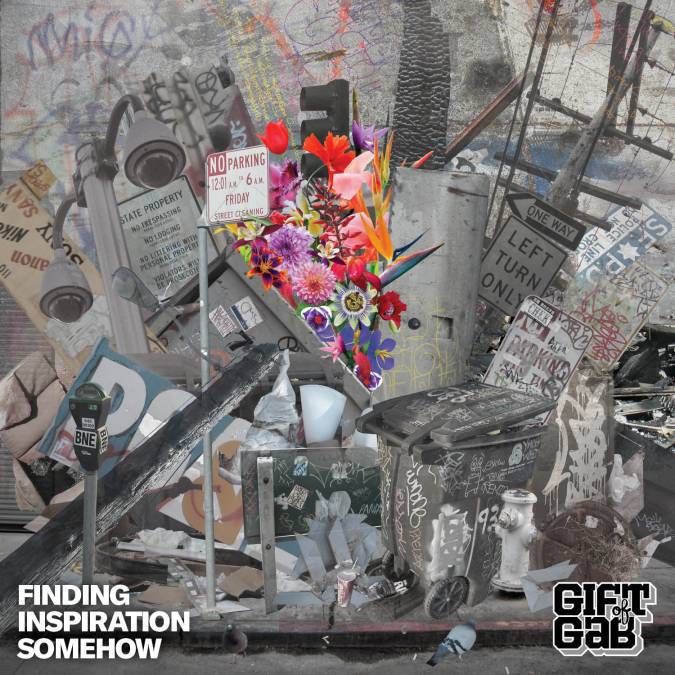 Gift Of Gab Finds Inspiration Everywhere On Posthumous 'Finding Inspiration Somehow' Album
88
British actor Daniel Radcliffe—best known for playing Harry Potter in all eight of the Harry Potter films—bravely took The Tonight Show Starring Jimmy Fallon stage in 2014 and destroyed the Blackalicious song "Alphabet Aerobics" with the help of backing band The Roots.
Recreating Gift of Gab's lyrical gymnastics on the 1999 NIA track was no easy task, but Radcliffe rose to the challenge, earning a roar of applause along the way. Before Radcliffe showed off his rhyming skills, Fallon noted "Alphabet Aerobics" was one of the "trickiest, fastest songs" he knew, an accurate assessment.
Gift Of Gab was born with an innate ability to rattle off words like water cascading from a waterfall—hence his well chosen rap moniker. Rhyming was his passion. It was his art. It was his, yes, gift.
But his life was brought to an unexpected end on June 18 when he died of natural causes at 49 years old, roughly 16 months after receiving a double kidney transplant. The news rippled through the Hip Hop community like an aftershock. After all, Gab sounded strong and was anxious to get back on the road where he could reconnect with his fans again. Like his peers, the raging COVID-19 pandemic had him holed up for over a year but being on anti-rejection drugs made his situation even more precarious, and he was rarely able to leave his home for fear of contracting the potentially fatal disease.
As Quannum Projects family members such as DJ Shadow, Lateef The Truthspeaker, Lyrics Born and Blackalicious partner Chief Xcel grappled with the enormous loss, Gab's team was busy putting together his first posthumous release, Finding Inspiration Somehow. As the title suggests, even through kidney failure, the subsequent transplant and paralyzing COVID-19 pandemic, Gab was able to dig deep into his creative well and produce some of his most powerful work to date.
Much of it was written from the dialysis center where Gab would sit for hours three times a week as a machine removed the toxins from his blood, something he faced on the album's second single "Alchemy," one of the first times he really goes into detail about his condition.
But in true Gift of Gab form, he put a positive spin on it with lines such as "The sun still shines and the sky's still blue/I still write rhymes and the crowds still come and still feel young and I still don't feel like I'm halfway done/In a marathon of thoughts/Hey, halfway's one step into infinity, run, run, run/Life's really all about your perception/I'll be making fresh songs while I'm counting blessings."
Accented by light flute notes, the frenentic beat provides a feeling of urgency for Gab's voice to ride and makes it painfully obvious just how delicate his health was at the time. But those moments are few and far between. Like most of Blackalicious' catalog, Gab continually aims to uplift, especially on album highlight "You Gon' Make it In The End" featuring Vursatyl and Lateef The Truthspeaker.
Gab does what he does best with the hook when he reminds his listeners to, "Push forth, push forward, move on/Push through, live up, live long/Rise up, be more, be strong, go hard/Fight odds, keep on," a message he likely applied to himself as well. Musically, producer Nick Andre brilliantly enlisted the sounds of a live stand-up bass to replace the track's original electronic version then added the keys and strings for a swanky lounge aesthetic.
But those 4:50 minutes of chill are short-lived. The following track, "Vice Grip," bustles in like a freight train and finds Gab hungrier than ever, rapping with the voracity of a Asiatic lion. From there, the album goes into the '80s-heavy bop "The World Without Money" produced by Headnodic, another strong offering from Gab who insists "money should not define who you are" as he imagines a life without capitalism.
View this post on Instagram
Then there's the reggae-tinged "Slaughtah Dem (Godly)" featuring Wingstrom and delicate piano and speaker-rattling bass on "Going Farther" that allows Gift of Gab's lyrics to soar, proving what makes him so revered by fellow wordsmiths.
Or "The Gentrification Song (Remix)," which is pleasantly reminiscent of the magic of "Make You Feel That Way" off 2002's Blackalicious classic Blazing Arrow. Much like the sharp observations on "The Idea Of America Is Beautiful" in which he eloquently spells out America's shortcomings, the organ-laden "Gentrification Song (Remix)" cooly addresses his every day musings on the Bay Area's transformation as the gentrification process continues.
"It's like this place has lost the essence of the place I'm from," he laments. But then he's quickly back to appreciating life with the Curtis Mayfield-sounding "A Weekend In Venice," which finds Gab looking back on a brief weekend romance in Italy.
Nearly every song on the project benefits from tight song structure, Gab's lazer sharp rhymes and introspective explorations but slips a little with "Enter The Dragon" featuring Quannum singer Joyo Velarde. The chaotic production toward the end buries Gab's lyrics, leading to an overall muddled effect. "Breathe In," while undeniably catchy, also borders on too much of a "Kumbaya" moment with its Jack Johnson vibe.
Eerily enough, the album ends with the somber yet gorgeously layered "Back To The Light," an intriguing title considering he's no longer with us in physical form. But it's Gab's belief in an afterlife that almost makes it easier to digest his absence. He'd be the first to say, "You know this isn't the end, right?"
Finding Inspiration Somehow could have also been titled Finding Inspiration Everywhere. Gab's penchant for delivering diverse soundscapes is inherent, and like a wide-eyed child, he pulled ideas from everywhere and everyone around him. He was a prime example of an MC who could murder any beat and a human who could elevate someone's mood with just one conversation. While his voice will be missed, it will live on in his music, the greatest gift he could have left behind.
REPEAT ME:
FAN FEEDBACK:
@TruthspeakerHQ and the much missed Gift Of Gab – two of the finest rappers of their generation. Check out Gab's new album. It's excellent. https://t.co/fpY7Yc5sHC

— The Gaslight Troubadours (@GaslightTroubs) September 10, 2021
RIP Gift of Gab. Thank you for this album. You left knowing we needed it.https://t.co/Rl7ItJeXr5

— matt oak (@mattoak) September 15, 2021
Rest in power King 👑- Gift 💝 Of Gab – BOOM 🤯- Enjoy ☺️- You're welcome 😇- One ☝🏾 of the best yet hands 🙌🏾 down get familiar! This album 💿 is dope he recorded it while battling severe medical issues his condition worsened over time but he completed it.https://t.co/TUyul9Zzvp

— Neville Oliver (@oliver_neville) September 15, 2021