From Twice To TXT, These Are The 21 Best K-Pop B-Sides Of 2021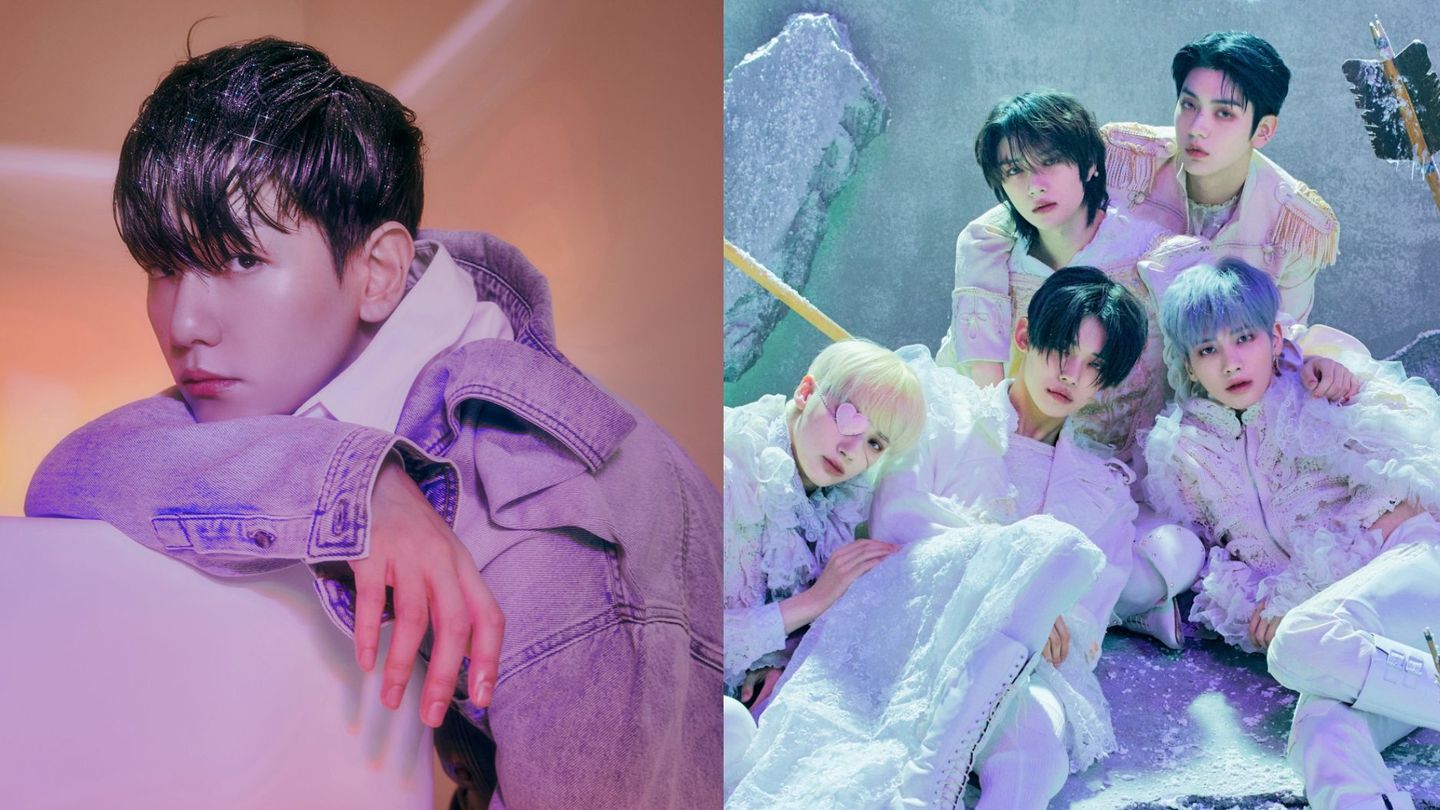 From Twice To TXT, These Are The 21 Best K-Pop B-Sides Of 2021
61
By Elizabeth de Luna
Back in 2020, we looked toward K-pop to see what it could be and where it could take us. The industry made swift, graceful pivots to accommodate the pandemic, leading the rest of the world into an era of virtual concerts. By the end of the year, many were cautiously optimistic as the first vaccines were approved. "Wouldn't it be great," we thought, "if by this time next year, we'd be going to live shows again?"
Just a few weeks ago, we were close to realizing that bright wish. P1Harmony performed at the Korean Culture Center Night in Los Angeles in what might have been the first in-person K-pop concert in the United States since the pandemic began. BTS sold out a four-night run at the shiny new SoFi Stadium in the same city. Ateez, Monsta X, and Twice all announced North American tour dates for early 2022.
Today, as Omicron spreads, that hope flickers. But in the face of what seems like near-constant uncertainty, perhaps we should be grateful that K-pop exists at all.
In March, hundreds of songs disappeared from Spotify as the platform tussled with Korean distributor Kakao M. Entire playlists of curated musical memories vanished. It took nine days for them to return, and during that time, fans nearly lost their minds. It was a reminder of how much art and fandom affect our happiness, health, and well-being, even when we can't physically be together to experience them.
So while the K-pop industry expanded and experimented this year — creating new opportunities in both the physical world and in the metaverse, in real-world dollars and NFTs — its most compelling draw remained, as always, the music. Below are the 21 best K-pop B-sides of 2021.
Cravity: "Bad Habits"

After a solid 2020 debut, Cravity committed to a new aesthetic in 2021. The concept saw them revving literal and metaphorical engines on title tracks "My Turn" and "Gas Pedal." Cravity's strength lies in their ability to augment their natural differences — Seongmin's sugary highs, Woobin's power vocals, Minhee's soft vibrato, and Serim's powerful raps — with clever production. On "Bad Habits," they drop into surreptitious whispers and balance the textured depths of their ranges with airy pre-choruses. Their experimentation on hip-hop-driven tracks is so successful that it's easy to forget that the group can sing almost anyone under a table.

Bobby: "In the Dark"

It was a big year for boisterous Bobby, who's built a career on endearing individualism and unconventional charm. He tested the limits of that public image in August when he announced that he was both engaged and expecting his first child with his fiancée. It was a bold move, considering that adverse fan reactions to romantic relationships can threaten an idol's career, but Bobby's never been one for subtlety.

His January album, prophetically titled Lucky Man, was released ahead of these life-altering developments. He ricochets like an errant pinball between animalistic rage ("U Mad," "Devil") and doe-eyed devotion ("Lilac," "Ur Soul Ur Body"). It's especially heartwarming to hear him sing about love, knowing what lies ahead. On "In the Dark," he repeats a two-word chorus to imitate the recurring thoughts that keep him awake: "At dawn, at dawn, at dawn, I think of you."

CIX: "Bad Dream"

The fact that CIX hasn't absolutely blown up is one of K-pop's most perplexing mysteries. Their potential is evidenced in two of the best singles of the year ("Cinema" and "Wave"), stunning choreography, stellar live performances, and a solid catalog of EPs in both Korean and Japanese. Something isn't adding up.

While "Cinema" and "Wave" were buoyant, bright, and boyish, "Bad Dream" is an exciting evolution of the quintet's inky, glistening signature sound. The contrasting releases are proof of what we already knew: that CIX's dynamic versatility is worthy of broader recognition.

ONF: "The Realist"

ONF largely flew under the radar internationally until they appeared on the reality competition Road to Kingdom in 2020. Their second-place win in a battle against six other groups raised their profile and helped them land their first appearance on Korea's Gaon Digital Chart and Billboard's K-pop Hot 100 with the finale track "New World." "The Realist" is a knowing nod to ONF's sci-fi concept. The song pulls you across time and space, into multiple dimensions, like a traveler looking for the right exit. Five of the group's six members enlisted in mandatory military service this month, so while we won't hear much from ONF for a while, "The Realist" is a more-than-acceptable parting gift.

Chaser: "Woodz"

Another year, another great Woodz EP. The multi-hyphenate nabbed a spot on last year's list, and this year's collection Only Lovers Left proves he has staying power. He clinched his first music-show win with single "Waiting" and, while his talents were never in doubt, it's a relief to see him enjoying a stable solo career after completing stints in two boy groups, a production collective, and as a writer for other artists.

At every turn on Only Lovers Left, Woodz is burning, bleeding, and puckering up first for kisses and again when it all turns sour. On "Chaser," he rushes through the night in search of an elusive lover, her plastic heart in his hand, in a race against time to reach her before it melts away.

Younha: "Oort Cloud"

The tracks on Younha's End Theory are so consistently good that any could feasibly place on this list. After much deliberation, the folksy "Oort Cloud" won out for its infectious positivity and unusual tap dance break. Named after icy debris at the farthest reaches of our solar system, the song is a stirring call to action urging listeners to "break the shell" and move beyond the last layer of their limitations.

Many mysteries about the Oort Cloud remain unsolved, but it is believed to be the birthplace of comets with the longest orbits. That's an especially fun fact considering that Younha was nicknamed the "Oricon Comet" for her ability to shoot up Japan's music charts in her teens. She is moving into her 18th year in the industry as bright as ever.

AKMU ft. Sam Kim: "Everest"

Brother-sister duo AKMU earned their seventh No. 1 Korean single this year with "Nakka" off their collaborative EP Next Episode. On deep cut "Everest," singer-songwriter Sam Kim duets with vocalist Su-hyun in a meditative ode to frosty peaks that stretch so high "you can touch the night." They imitate the slow climb up the mountain by layering guitar and vocals, then kick drum and cymbals, like sheets of fresh snow. "Our new album has a piercing message of transcending freedom," her brother Chan-hyuk explained at a press conference. The duo hopes the collection encourages an "inner freedom, which allows people to remain unfazed by external forces."

Key: "Eighteen (End of My World)"

After dropping Don't Call Me and its repackage Atlantis as a member of Shinee, Key wrapped his 13th year in the business. A beloved multi-hyphenate prone to snarky cackling and tipsy livestreams, Key has become a reliable soloist in recent years with standout singles like "One of Those Nights," "I Wanna Be," and now "Bad Love." Key's tender tribute to his younger self is a favorite B-side on his September EP Bad Love. "['Eighteen'] is what I want to say to 18-year-old Key," he told NME. The result is a love letter to the past that urges little Key to "dream and fly more." "My eighteen," he sings. "I would love to watch the end of my world with you."

B.I: "Waterfall"

Former leader of iKon, rapper B.I returned in June with his first musical release since 2019, when allegations of drug use resulted in a public fall from grace. On this album, B.I seeks redemption through brutal self-evaluation. He opens "Waterfall" by calling himself a "monster, sinner, and hypocrite," then explores the benefits of owning up and moving on: "If I wash away all of the shameful past… My blood flows properly after I let go… Understanding it, I can picture a new future." Toward the end of the track, distorted horns herald his second coming. Washed clean by confession, B.I repeats, "Waterfall, that begins with falling down / That's me."

Twice: "Espresso"

Twice's album Formula of Love: O+T=<3 is bursting with banger B-sides in both Korean ("Cruel," "Last Waltz," "Push and Pull") and English ("Icon" and "Hello"), but the addictive "Espresso" is the one to beat. The nine members sing with impressive elasticity, as if their voices are being stretched into taffy. They purr, "E.S.P.R.E.S.S.O, that's who I am," over tongue clicks. Four years ago, the group would have interpreted these lyrics with an airy sweetness or a cheerleader's infectious pep. On Formula of Love, those girls-next-door of yore have evolved into impossibly cool girl-crushes, as potent as coffee itself.

Baekhyun: "All I Got"

"All I Got" is what the eyes emoji would sound like if it were a song: thirsty as hell. "Two small beds stacked next to each other… On a night when there is nothing to watch on TV / What can we do?" Baekhyun asks innocently before pulling out his ace: a goosebump-inducing falsetto. As the night wears on, his voice rockets to stratospheric heights, his love as expansive as his vocal range.

Weeekly: "Yummy"

Weeekly seemed to bubble under the surface in 2020, but they turned up the heat to a roiling boil in 2021. Their single "After School" was one of the best releases of the year and they continue to dole out B-side delight after B-side delight. "Yummy" is a chipper, staccato banger with the same irresistible you-can-do-it energy of a children's show soundtrack. The group always delivers lyrics that celebrate the freewheeling joys of adolescence, and on "Yummy," that freedom tastes extra sweet. "Run noisy for 24 hours… it's OK to make a mistake," they sing. "There will be more exciting things!" For more sonic bliss, treat yourself to other divine B-sides like "Uni," "La Luna," and "Memories of Summer Rain."

Chung Ha: "Flying on Faith"

This year, Chung Ha paved her own lane via the souped-up Querencia, a superbly super-sized album and the first in her five-year solo career. Hits like "Gotta Go" and "Snapping" strengthened her reputation for intricate choreography and earworm choruses, but Querencia is a statement of self.

Chunga Ha learned the word "querencia," which means a conceptual home or place of strength, from her therapist. The album is a manifestation of the term, as Chung Ha jumps comfortably between strengths, singing and rapping in Spanish, English, and Korean across 21 tracks and a handful of genres, including dance-pop, rock, reggaeton, and samba. "Flying on Faith" is perhaps its catchiest B-side. Chunga Ha speaks directly to a partner, explaining how negative thought patterns from past relationships make it hard for them to succeed as a couple.

Gaho: "Afraid"

If Gaho's voice sounds familiar, it may be because he sang the theme song to 2020's wildly popular K-drama Itaewon Class. The gig made his pipes recognizable, but not his face or name, as evidenced by a Pixid skit where two members of the Korean public have absolutely no clue who he is. When he starts to sing, their eyes light up in recognition.

Though Gaho began releasing music in 2014 at 17 years old, his first full-length album, Fireworks, arrived just this year. Already unmatched in his mastery of power ballads, Gaho offers new insight into his potential as he plays with modern pop and rock influences on "Part-Time Lover" and "High." "Afraid" combines those elements with Gaho's athletic vocal range to capture the buzzy bliss of believing in yourself against all odds — and even when few know your name.

Jeon Soyeon ft. BIBI and Lee Young Ji: "Is This Bad B****** Number?"

Yeoboseyo!? Jeon Soyeon calling! The leader of (G)I-DLE and the most prolific female producer in K-pop dreamt up this collab with rising singer-songwriter Bibi and rapper Lee Young Ji for her solo EP Windy. The finished product is an explicit chain of phone calls made in search of a bad bitch. Young Ji asks, "Do you know who the fuck you're talking to?" before a melancholy Bibi talks sleepily about fellatio and offers to include you in a game of marry, kill, fuck. Soyeon finally hangs up and asks herself, "Why did I make a phone call elsewhere when I'm here?" Then she checks in to make sure we're all on the same page. "You can't help but just want to be part of it, right?" Right.

Oh My Girl: "Dear You"

Last year, Oh My Girl's smash hit "Nonstop" set a record as the longest-running girl group song in the Top 100 of MelOn's Daily Chart, before their B-side "Dolphin" dove in and beat it. This year's EP Dear OhMyGirl is a darling collection of soft songs emanating nostalgic warmth. The sweetest among them is "Dear You." The lyrics welcome spring as if it were a person, greeting the little green buds stretching upward from the sleeping ground with fond reverence. Thoughtful production keeps the song from veering into childishness, enabling it to reflect the soft-hearted outlook of a sentimental adult.

Kai: "Come In"

Kai's Peaches is a near-perfect, no-skips collection of songs hand-picked like fruit at their ripened peak. "Come In" is the most intoxicating of the bunch. Dreamy in its distortion, the song envelops you in ambient warmth, then uses hypnotic repetition to lull the listener into soporific comfort, like musical ASMR. "I get closer to your ear / So that only my breath can reach you," Kai murmurs above a pulsing rhythm that slowly begins to resemble a heartbeat. "Don't leave me alone, come into me."

Dreamcatcher: "Whistle"

Masters of mystery and magic, Dreamcatcher may be most at home among heavy rock and metal, but they pull off this cool dance-pop bop with aplomb. The majority of the group's songs are produced by the same team — Leez and Ollounder, the duo behind much of Ateez's music — which means there is a satisfying consistency across Dreamcatcher's discography, no matter the genre. The group usually delivers dark dominance, but went for lighter, brighter fare on this year's EP Summer Holiday, resulting in this breezy track about a lover they worry will "disappear in the morning fog," like a whistle on the wind.

Seventeen: "Anyone"

When Seventeen debuted seven years ago, their first six singles revelled in the sweaty-palmed thrills of puppy love: racing hearts exploded into confetti at the sight of their crushes, and they stoically held back tears over broken hearts. This year, Seventeen proved they're still romantics at heart. "Ready to Love" and "Rock With You" are as sweet as those early singles, with lines like "I'm a fool of love for you" and "No words are enough for you!" While it's hard to pass up the delicious 8-bit silliness of "GAM3 BO1," the truth is that "Anyone" easily eclipses all their other B-sides and even outshines "Ready to Love." With maturity in their corner, Seventeen are more self-assured but no less devoted. "Not anyone can change the only rule in the world," they promise. "No matter where I am… I'll say it's you."

Tomorrow X Together: "Frost"

All hail the inimitable TXT, who held court this year as the reigning princes of K-pop. After solidifying their status as fourth-generation royalty with 2020's Blue Hour EP, they iced out the competition with an almost prescient take on this year's pop-punk resurgence. The Chaos Chapter: Freeze — released just 10 days after Olivia Rodrigo's genre-reviving Sour — and its repackage, Fight or Escape, bounce between emo sentimentality ("0x1=Lovesong," "Loser=Lover"), disco-infused buoyancy ("Magic") and this stinging lament. TXT opens Frost with a playful homage to co-writer Ashnikko's signature giggle, then snarls bitter grievances that echo our pandemic-era uncertainty: "Spring's here but warmth is nowhere to be found… I'm hollowed out once again… Really lost my mind… Suspended time, within it I'm dying."

Onewe: "Aurora"

In this ode to a lover that shines like the polar lights, vocalist Younghoon's voice explodes into an airless vacuum with all the brilliance of an aurora itself. Choruses come and go in blinding flashes, with the flickering interplay of drums, cymbals, and an electric guitar that shimmers like ribbons of light in the night sky. The song snaps and fizzes in the ear like Pop Rocks on your tongue.

Co-composed by guitarist Kanghyun, with additional lyrics from vocalist Yonghoon and rapper CyA, "Aurora" has inspired fan tattoos and advances an impressive lineage of space-themed lyrics and imagery. Guided by humble beginnings (their earliest gigs were Saturday busking shifts on the popular university thoroughfare in Seoul's Hongdae district, and they donated their earnings to Korea's aging comfort women), three-year-old Onewe leads a growing faction of K-rock groups bringing new and exciting color to the genre.