Flor Recruits Misterwives' Mandy Lee For Heartfelt Cover of Coldplay's 'Yellow': Exclusive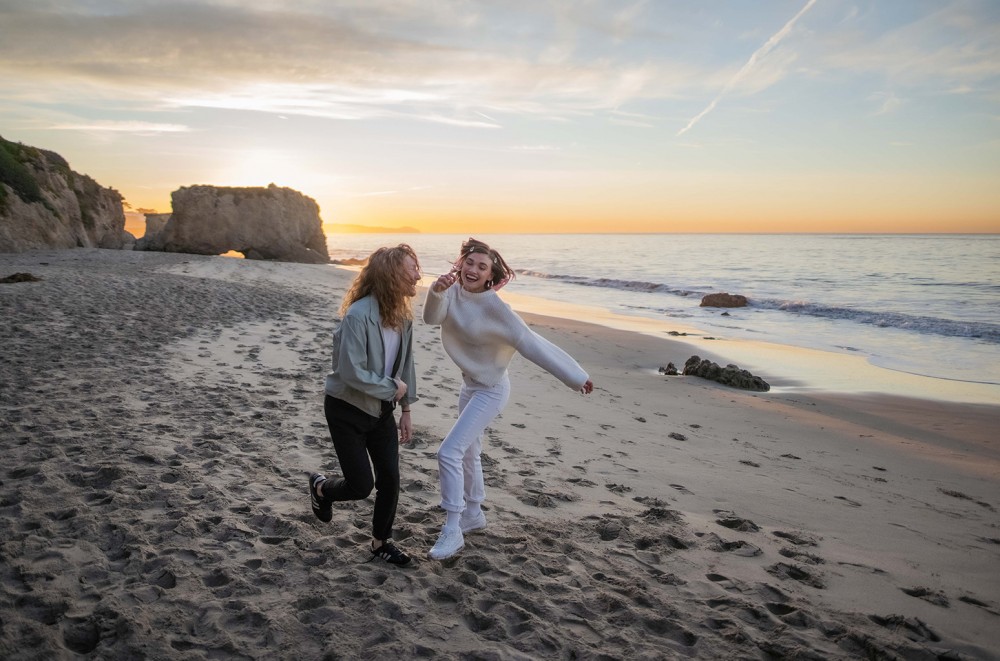 Flor Recruits Misterwives' Mandy Lee For Heartfelt Cover of Coldplay's 'Yellow': Exclusive
85
Zach Grace of indie band Flor and MisterWives frontwoman Mandy Lee have teamed up for a cover of Coldplay's "Yellow," premiering exclusively on Streets Talkin today (Feb. 7).
The accompanying visual is a reimagining of the 2000 music video, and features Grace and Lee on a moodily-lit beach.
"'Yellow' is such a spark of magic, that we've always admired," Grace tells Streets Talkin. "We wanted to put our spin on a song that had such an impact on our band and the world."
"I absolutely adore these lads and was honored when they asked me to sing on this compelling rendition of a Coldplay favorite," Lee adds, explaining that she and her Fueled By Ramen labelmates shot the video at sunrise in Malibu "on two hours of sleep, sans coffee because I wore all white (rookie mistake)!"
The group was able to laugh through it, though, and get the stunning results they needed.
"That, to me, is testament to how much good energy, talent and fun exists within the band," Lee says, "and I was lucky enough to be invited into their fam for a day."
"Yellow" appears on Flor's new three-track EP (also out today) of stripped-back songs, titled Reimagined.
Watch the new video for "Yellow" below, and see Flor's tour dates after the jump.
Flor US Headline Dates
February 7, 2020 – Las Vegas, NV – The Toyota Yard at TopGolf
February 8, 2020 – Tucson, AZ – 191 Toole
February 10, 2020 – San Antonio, TX – Paper Tiger
February 12, 2020 – Birmingham, AL – Saturn
February 14, 2020 – Tampa, FL – Crowbar
February 15, 2020 – Jacksonville, FL – Jack Rabbits
February 16, 2020 – Charlotte, NC – Neighborhood Theatre
February 18, 2020 – Richmond, VA – Broadberry
February 19, 2020 – Baltimore, MD – Baltimore Sound Stage
February 21, 2020 – Uncasville, CT – Wolf Den @ Mohegan Sun
February 22, 2020 – Amityville, NY – Revolution
February 23, 2020 – Asbury Park, NJ – House of Independents
February 25, 2020 – Cleveland, OH – Cambridge Room @ HOB
February 26, 2020 – Buffalo, NY – Rec Room
February 28, 2020 – Ann Arbor, MI – Blind Pig
February 29, 2020 – Indianapolis, IN – Hoosier Dome
March 1, 2020 – Madison, WI – UW-Madison
March 3, 2020 – St. Louis, MO – Blueberry Hill
March 4, 2020 – Omaha, NE – Slowdown
March 5, 2020 – Kansas City, MO – Encore at The Uptown Theater
March 7, 2020 – Colorado Springs, CO – Black Sheep
March 8, 2020 – Aspen, CO – The Snow Lodge
June 5-7, 2020 – Cincinnati, OH – Bunbury Music Festival*
*festival appearance