Fivio Foreign 'B.I.B.L.E' Smooths Brooklyn Drill's Hard Edges With Mixed Results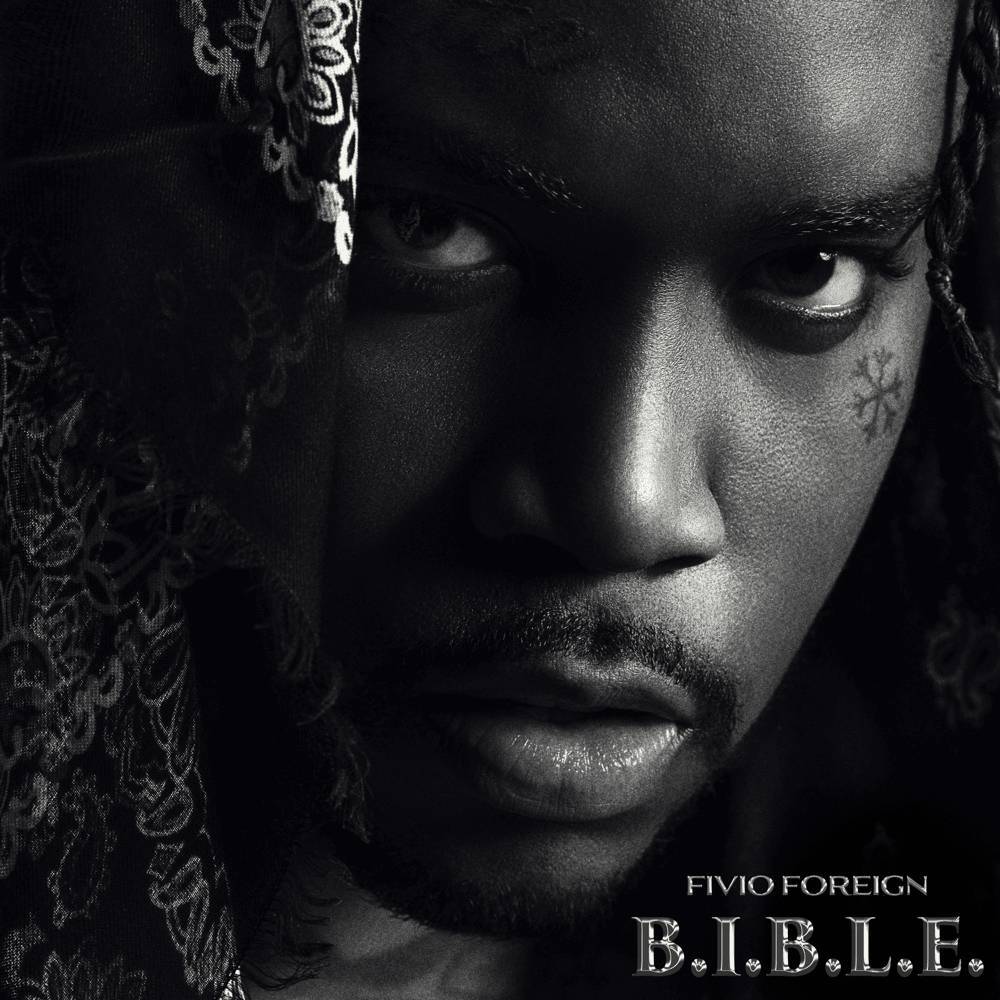 Fivio Foreign 'B.I.B.L.E' Smooths Brooklyn Drill's Hard Edges With Mixed Results
77
Few newer acts have had the run of Brooklyn drill frontrunner Fivio Foreign. Since rising to prominence in 2019 with his breakout single "Big Drip," he's been an in-demand collaborator, working alongside new school heroes such as Lil TJay and the late Pop Smoke as well as cultural behemoths such as Drake and Kanye West.
Most recently, his Grammy Award-nominated feature on Kanye West's "Off The Grid" showcased his abilities to a wider audience, going down as one of the most acclaimed features of the year. But that moment also came with a dark side. Since then, Fivio has been used by everyone to capitalize on drill's sound. The problem is he has no barrier for entry. Like So-Ho House, just seem somewhat important and they'll probably get in.
As a result, some cringeworthy attempts to surf the wave have allowed tracks such as Mary J. Blige's much-meme'd and maligned "On Top" and, even more heinously, "Champions" by former All-Pro receiver Antonio Brown, to exist and water down the sub-genre under Fivio's watch (with his verses acting as de facto hall passes).
Two things feed this paradox: a desire to be more than a "Brooklyn Drill kingpin" and drive to make the sound more accessible and lucrative. Why allow R&B singers and pro athletes to get their woo off and bask in his glow? Fivio Foreign wants to become a full mainstream rapper.
His 17-song debut studio album B.I.B.L.E. does less to push the full-blown drill sound that birthed his fame and more to put him in a position to attain overarching success from audiences who may typically shy away from its rawness.
"Through The Fire" sees Fivio fully in his pocket, teaming up with Quavo to skate over a drill-hearted gospel affair with the ferocity of Nathan Chen. The album opener "On God" with KayCyy captures this airy, minimalist feeling allowing the Brooklynite to show he can rap, something that can't be overstated. The reflective "Can't Be Us" is another excellent example of the ability to stand on his bars, not just his production: "They wanna rap too 'cause they see how rap changed my life/But, lightning never strikes in the same spot twice," he cheekily raps.
While the drill roots are unmistakable on this album, listeners will notice they've been manipulated, tweaked and smoothed out with a grand vision of pushing Fivio past the proverbial ceilings of the sub-genre's echo chamber.
B.I.B.L.E. isn't necessarily a bad album; there's a lot to love. But Fivio attempting to continue widening the drill audience leads to lulls where the music is neither for his core audience nor interesting enough to hold long-term attention spans in a fast-paced mainstream media cycle.
"Love Songs," a Ne-Yo-featured flip of the singer's 2005 platinum hit "So Sick," hops on the ever popular sample trend, adding not much more than mildly catchy fluff to an already bloated tracklist. The Destiny's Child-sampled "What's My Name" with Queen Naija and Coi Leray is similarly neutral, not really pushing the needle either way. The R&B vibe of "Hello" featuring Chlöe and KayCyy is yet another attempt at giving women fans something to get excited about—to stream worthy results.
That ultimately feels like the point of the album: crossover, use flashy features, gather streams, get paid. The ultra skip-worthy "Left Side" featuring Blueface and the cringe-y DJ Khaled feature on "B.I.B.L.E Talk" don't help change the narrative.
It would be a bit too far to say Fivio is riding the coattails of Pop Smoke's memory and drill's popularity for his benefit. However, it's quite glaring how he unabashedly holds the torch while declining to share the moment with anyone else from the bubbling scene. The Kanye and Alicia Keys-featured "City Of Gods," a youthful take on the energy created by JAY-Z and Key's "Empire State Of Mind" 13 years prior, feels like a missed opportunity to put on the next wave of drill rappers.
Fivio can spit and has painted himself as a go-to feature if artists want to take advantage of the worldwide drill phenomenon. Drill makes New York Mayor Eric Adams, oblivious gentrifiers and record labels nervous. There can't be squeaky profiles when rough-edged up-and-comers such as Kay Flock are getting arrested. It's a scene threatened by street violence, police meddling and the overall lack of support from every governmental institution of New York. It's clear these institutions haven't learned anything from the trials of Chicago drill, where bright glimpses of superstardom extinguished at alarming rates. Brooklyn drill is being met with the same challenges.
Fivio finds himself simultaneously able to be a leader of his cohort and give acts with no business on drill beats the opportunity to share in the glory (without losing any market share). While B.I.B.L.E. doesn't break any new or exciting ground and lacks any song of the summer contenders, it is solid enough to command streams and further prove his commercial viability. Hardened listeners may not appreciate all the pivots, but it's difficult to deny the album opens many doors, even if it's doing it for the benefit of Fivio and not the culture that helped make him.
REPEAT ME
FAN FEEDBACK
@FivioForeign B.I.B.L.E , best album of the year rn !!! Wooooooooo

— "Only The Familia" (@PokeMaxFamilia) April 21, 2022
I've never really gravitated towards Fivio Foreign like that, but I'm really fucking with B.I.B.L.E. so far

— Hannah OJ (@IamHannahOJ) April 21, 2022
Fivio Foreign's B.I.B.L.E is hard asf, solid body of work this one!

— Darkseid (@evilWuese) April 20, 2022